We sit with renewed sadness for individuals and communities who have been impacted by residential schools as we mourn the loss of the 215 children whose remains were found buried at the Kamloops residential school. Our hearts are with the Tk'emlúps te Secwépemc First Nation as well as Indigenous children, communities and families across Turtle Island.
This is a time for a collective and national mourning. It is a time for acknowledgement of the ongoing work of survivors' families and communities for truth, remembrance of loved ones and justice. It is a time for renewed calls for truth seeking, truth telling and collective action.
At Facing History and Ourselves, we are committed to using our platform and voice to continue amplifying Indigenous voices, teaching the truth, and supporting educators and students in standing up for justice.
As educators, we have the responsibility to advocate for the truth to be known, to understand its legacies and to speak up loudly against the inequities that continue today. We have outlined a few ways you can do this in your classroom and school community.
Before you Begin
We recognize how important it is to support and care for students while discussing the news in a culturally safe, trauma-aware and identity affirming way. We encourage you to begin by consulting the Indigenous lead(s) at your board, district or education authority to seek specific contextual and culturally appropriate practices, supports and responses.
Preparing the Classroom
Discussing difficult content with student safety and care at the forefront- Your students may be feeling shocked or overwhelmed by recent news reports. The safety and care of all students needs to come first when discussing difficult content.

1. Before engaging in difficult conversations, we suggest reflecting on the following questions:
What is my relationship to the events in the news? What might be troubling for all students and for students with direct connections to residential schools?

Have I prepared the classroom to be a community that can acknowledge and process emotionally difficult events together? What do I already know?

What other specific supports are available for students directly affected by the news (i.e. affinity spaces for students who are directly affected, culturally specific supports, crisis hotline numbers, school counselors or community supports)?
The National Indian Residential School Crisis Line (1-866-925-4419) is available to those needing support.
2. Prepare a s

elf care plan

with the students you teach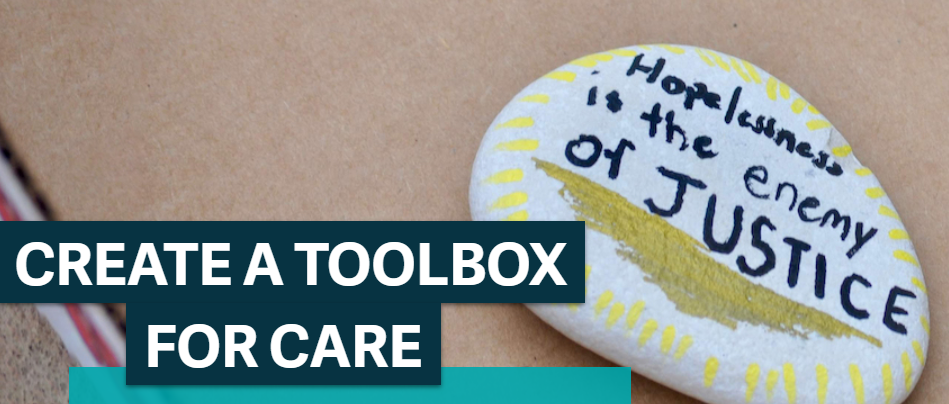 Screen capture from our Create a Toolbox for Care activity.
Students can follow along with J'net Ayayqwayaksheelth as they introduce an art-based self care activity, in conversation with Facing History staff on Indigenous Voices: Preparing for Conversations on Genocide with Self-care and community-based care.

This lesson on Creating a Toolbox for Care can also be adapted for students to reflect on their tools and capacity for self and community care.
3. Create space for responding to emotionally difficult news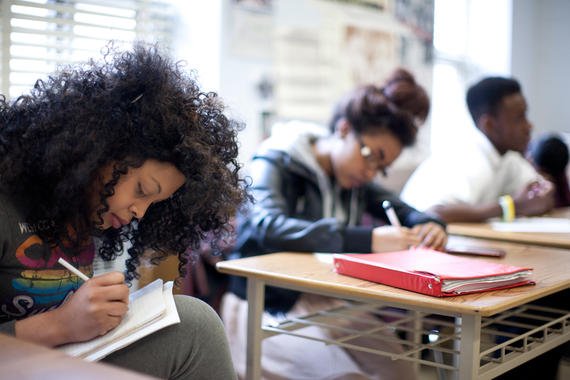 Students write in their journals / thoughtbooks in response to learning on difficult histories of genocide. Image courtesty Nick Kozak for Facing History and Ourselves.
Select one of the in-person or remote learning strategies for responding to emotionally difficult events from our current events checklist and find ideas and key questions to guide your planning. Hold time for personal reflection, paired sharing using a listening strategy, or hold a sharing circle (referencing a source such as this one, and accompanying teachings for this protocol). Communicate with students to be mindful that grief and coping can look different in each person, and at different paces.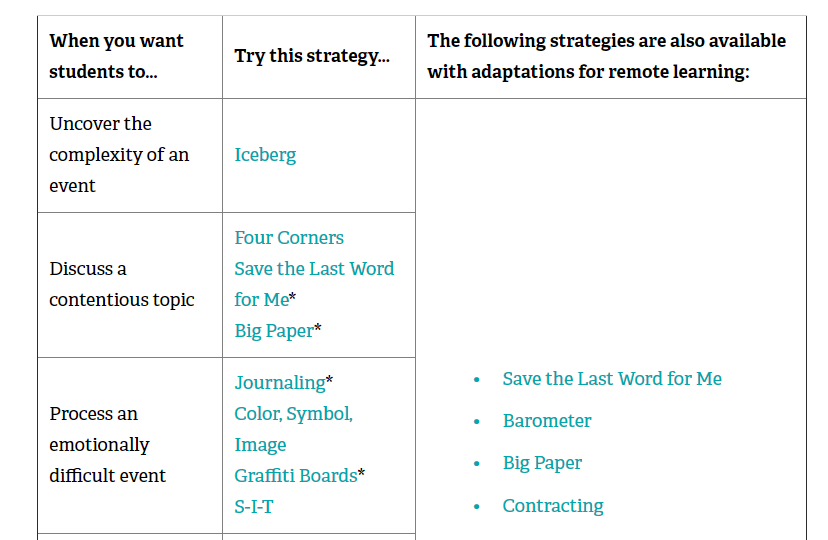 A screen capture of teaching strategies from the Current Events Toolkit
Deepen the Learning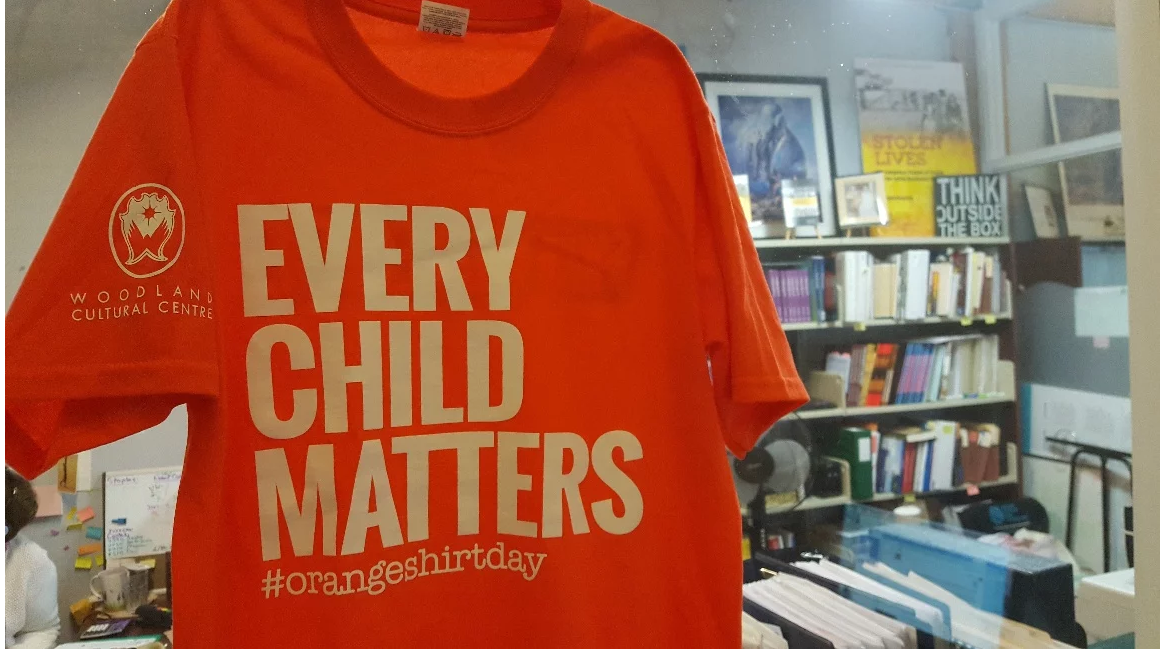 On May 31st, Tk'emlúps
te Secwépemc
Chief/Kukpi7 Rosanne Casimir wrote:
"We ask all Canadians to reacquaint themselves with the Truth and Reconciliation Commission Final Report and Calls to Action – upholding the heavy lifting already done by the survivors, intergenerational survivors, and the TRC. In addition, to show your solidarity, we encourage you to wear an orange shirt and start conversations with your neighbours about why you are doing so."
For resources and ideas to engage young people in conversations about orange shirt day that centre Indigenous voices, read our blog post

5 teaching ideas for teaching about orange shirt day.

The Truth and Reconciliation Commission estimated in its 2015 Report over 6,000 children died in residential schools between 1870 - 1994. Deepen your understanding of the patterns of neglect, abuse and silence that followed:
Take Action and Choose to Participate
This important work has to be done with intention, guided by Indigenous communities' wishes, with justice and healing at the centre. Invite students to participate in public commemoration, advocacy and giving through one of the activities below: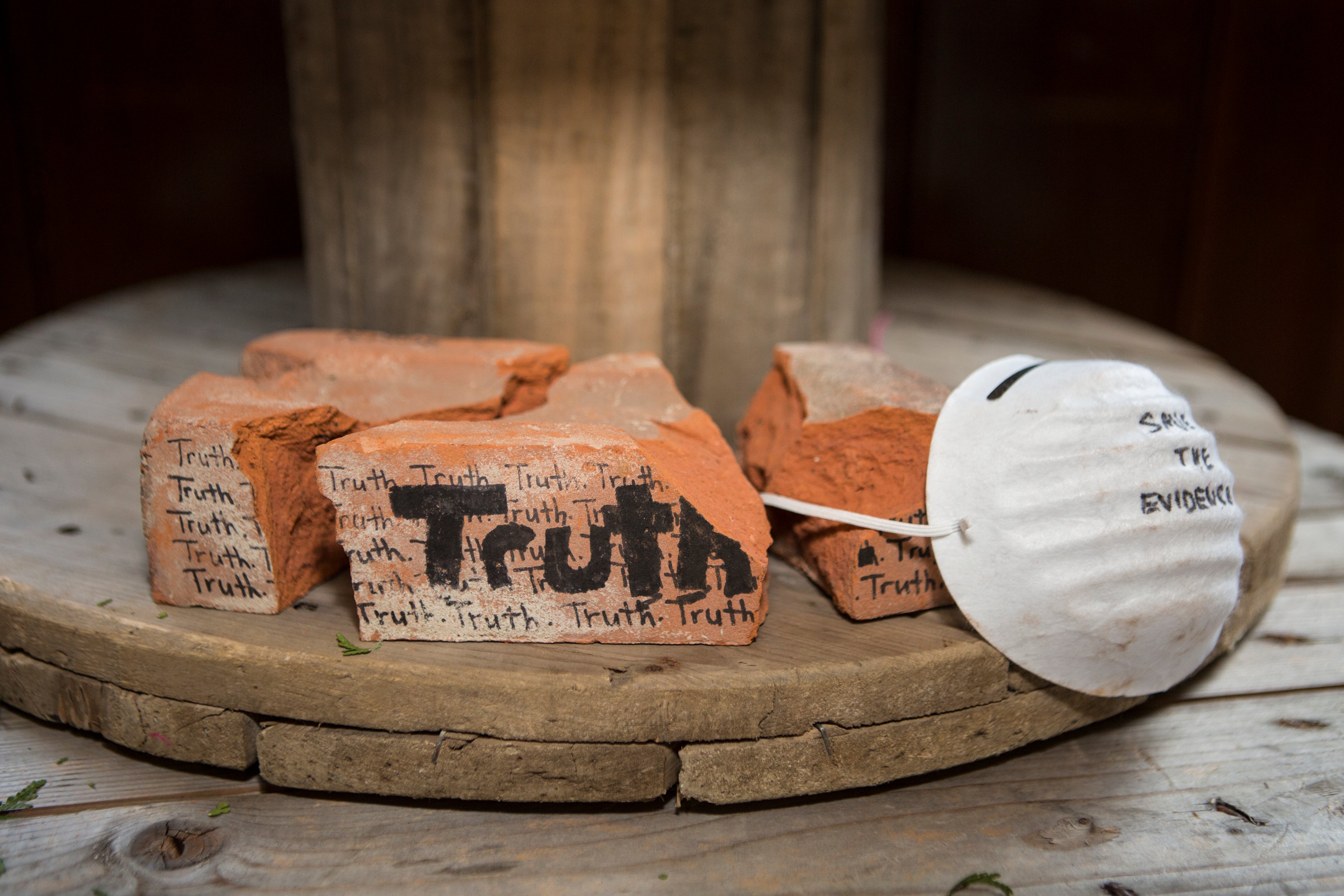 Students create a model memorial for residential school survivors and those who did not survive in response to a visit to the former Mohawk Institute residential school and contemporary testimony of intergenerational survivor Kim Wheatley. Photo courtesy Nick Kozak for Facing History and Ourselves.
As individuals or as a class, write to your local MP to let your leaders know how you would like them to respond to the TRC's request for funding to search for, identify, document and commemorate this and other burial sites at residential schools located across the country.
As you learn more about the advocacy work of the Truth and Reconciliation Commission, the Missing and Murdered Indigenous Women and Girls' Commission, the First Nations Caring Society, and many other Indigenous leaders and advocates for rights, consider how you can add your voice in support of justice.
2. Discuss and Take Part in Commemoration
Ask, "What do remembrance and commemoration mean? What roles do they play, and for whom? How can commemorative actions honour individuals rather than numbers? How can commemorations hold victims' families and impacted communities' wishes at the centre?

Look at how are others have responded and ask, how do we wish to take part?
Placing children's shoes and stuffed animals in public spaces for remembrance
Children's shoes were placed in front of a church in Kahnawake, in memory of the 215 children whose remains were found in a mass grave at a residential school in Kamloops, British Columbia. (Chloe Ranaldi/CBC)
3. Donate to support
Tk̓emlúps te Secwépemc
For schools that wish to raise funds to support Tk̓emlúps te Secwépemc, Chief/Kukpi7 Rosanne Casimir posted that donations can be sent to donations@kib.ca. No other fundraising initiatives have been authorised as of May 31, 2021 at the time of posting.
Engage in Ongoing Learning and Action
June is National Indigenous History Month and National Indigenous Peoples Day is on June 21. Throughout the month, and beyond, we encourage you to make the necessary space to amplify Indigenous voices and celebrate the rich cultures and civilizations of Indigenous Peoples while also giving time to reflect, remember and seek justice in response to the history and legacies of residential schools and colonial genocide.
"It is your responsibility to figure out what you can do, and what you can offer. Once you know this, you can ask the person that you know- is this the right thing to offer? Is this good enough?" -Lorrie Gallant
Please remember, the burden should not be on Indigenous peoples to figure out what non-Indigenous people can and should be doing. In these moments, it's important to first do our own homework and think about where was have influence, where we can have a voice and what we can do before asking for guidance. Non-Indigenous educators need to be cautious not to ask Indigenous students to tell them what to do as educators but rather ask them- what do you need? Here is what I'd like to offer- does this work for you? Here's how I can support you.
Further Learning with Facing History and Ourselves: