Last week I had the honour of participating in the Facing History and Ourselves: Holocaust and Human Behaviour summer seminar at the Ontario Institute for Studies in Education. Throughout the week, seminar participants were introduced to Facing History and Ourselves pedagogy and methodology, which is also called the Scope and Sequence. The resources and strategies below represent some of the ways in which I will bring the learning I experienced with Facing History and Ourselves into my classroom this school year.
1. Creating a Safe Space:
Having a classroom environment where students feel safe is important for any teacher. Early in the seminar we were introduced to the contracting strategy. Using this strategy, facilitators and seminar participants negotiated the rules and norms for the week ahead of us. I plan on utilizing this strategy throughout the school year to help me build the necessary safe space in my classroom where students feel welcomed and valued every day.
2. Examining Identity:
As a grade seven teacher my students are at an age when the question of "Who am I?" is becoming increasingly important in their lives. It is important for students to grapple with this question and to understand how their identities shape their decision-making. During our seminar session about identity we were introduced to Identity Charts. I intend on starting the year with a unit dedicated to the examination of students' identity. This strategy will be very helpful when beginning this examination with my students. I also plan on using the video and story The Bear That Wasn't,about a big brown bear's struggle with maintaining his identity despite his unfamiliar surroundings, to deepen student understanding by exploring the many factors that can impact their identities.
3. Discussing the Impact of Choices:
When we discussed "othering," we heard the story of Eve Shalen in The "In" Group, a reading from Facing History and Ourselves: Holocaust and Human Behavior resource. The reading is a great way to examine how people can get swept up in the opinions of others, and how that can have a direct impact on the choices they make. This is a notion many students deal with on a daily basis. Using Eve's story in my classroom will hopefully help facilitate deep discussion about choice and help my students become more aware of the choices they make.
4. Incorporating Survivor Testimony:
One of the most powerful moments from the week was hearing the testimony of Holocaust survivor Nate Leipciger. This was the first time I had the privilege of hearing testimony from a survivor firsthand. That experience made me even more aware of how important it is to have survivor voices heard in my classroom. I plan on using the Exploring Survivor Testimony resource to help me create a successful classroom visit from a survivor.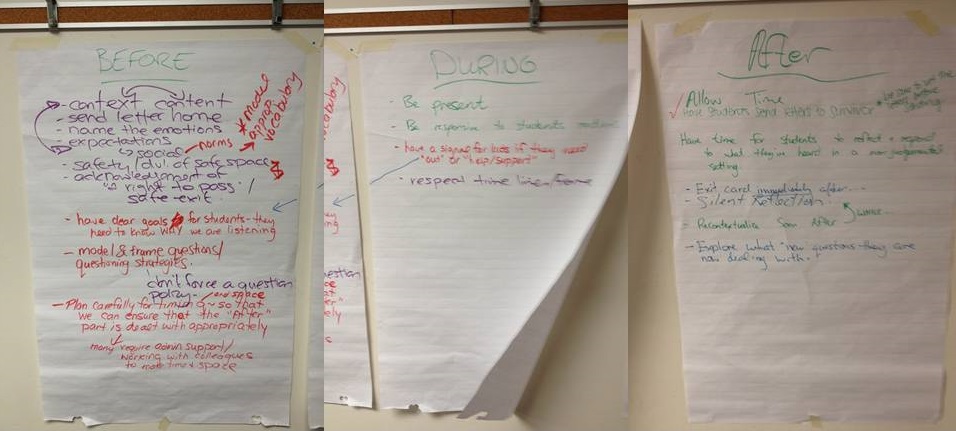 5. Helping My Students Discover Their Voice: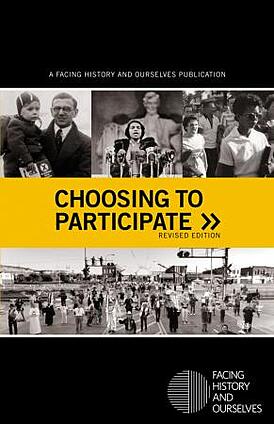 One of my goals as a teacher is to help my students realize that they have a voice and that they are capable of making change in their community and in the world. On the last day of the seminar we heard from Feathers of Hope, a youth-led initiative that facilitates dialogue between young people, First Nations leadership, and government. The speakers shared their inspirational story of how they helped Indigenous youth in Northern Ontario have their voices heard. Using their story along with Facing History's Choosing to Participate resource will help show my students that their voices can be heard and that the choices they make can have a positive impact.
6. Providing Time for Reflection:
Throughout the seminar, participants received time for reflection. At the end of each day we completed Exit Cards, answering particular questions on a piece of paper that we turned in before leaving. I found this strategy helpful with processing the learning experienced throughout each day. It also gave us the opportunity to ask any lingering questions, which were then addressed at the start of the next day. At various points during the seminar we also engaged in journaling. Journaling provided an opportunity to reflect on key learning and/or feelings we were experiencing. I hope to utilize journals in my class to help students "slow down their thinking" and reflect on what is happening in our classroom and the world.
Attending the Facing History and Ourselves: Holocaust and Human Behaviour summer seminar was truly one of the most transformative experiences I have engaged in as an educator. I hope that many more educators take advantage of the professional development opportunities, resources, and teaching strategies offered through Facing History and Ourselves.
What strategies do you use to create safe space and engage the learners in your classroom?