The Facing History resource "Pigeon" demonstrates the impact a short film can have. Set amid the tension of occupied Europe during World War II, it is an example of the power an individual has to make a difference, if they choose to do so. A viral video is a video that results from online distribution and sharing, an excellent route to engaging our students. Finding short videos online is, therefore, a powerful teaching strategy.

Video clips are accessible to many learning styles, and of particular value when teaching the applied and essential level student. As 'clips', they are brief, thus benefiting shorter attention spans and working well in the structure of the 3-part lesson for the 75 minute classroom. They are easily shared if a student is absent (unlike a film) and easily re-watched (either individually or collectively) without generating a great burden on classroom time, which is so precious. And they play to the sensibilities of the digital generation (which in turn allows us as teachers to create the pretense to a shared sense thereof).

The following is a list of viral videos that might be used as a guide through the "Facing History Journey", which also develop Historical Thinking concepts embedded in the new upcoming (September, 2013…) Canadian and World Studies curriculum (and with some suggestions for the English classroom as well):

The Individual and Society

1. "To This Day," by Shane Koyczan (7m37s)

This animated poetic story delivers a powerful anti-bullying message and serves as an excellent tool to help students answer those questions of individual and society: "how is my identity formed; how do I see myself; how do others see me; how do these choices shape the choices I make?" From this resource, we can begin to have student's complete identity charts (see The Bear That Wasn't as another resource), having them reflect on how their own identities have been shaped. We can further discuss values and agency. And, of course, this is an excellent little clip to challenge bullying in any classroom.

For further resources to follow-up on themes of bullying see: FHAO 'BULLY self-paced Workshop'; FHAO 'BULLY Guide, Film, and Resources'; FHAO BULLY 'Educational DVD and Toolkit'; or 'The Bully Project'.
A short follow-up by Koyczan can be found at Ted.com.

For supports in working with agency see: Historical Thinking Project – Cause and Consequence.

2."A Call to Men," by Tony Porter (11m14s)


In promoting Gender Based Violence Prevention, Porter commands us to address issues of gender (in particular, concepts of masculinity) in our society. He discusses social influences on concepts of gender and the negative consequences that sometimes follow therefrom. His discussion of the man box makes a poignant introductory activity for any discussion around gender and identity (see "The Box" and "Life in a Box" activities attached). This video is particularly relevant for the upcoming "Gender" course (in the Social Science and Humanities curriculum) or in teaching digital media literacy.

A related film, Tough Guise: Violence, Media & the Crisis in Masculinity, explores these issues in great depth (or see the condensed clip "Tough Guise").

We and They

3. "The Danger of a Single Story," by Chimamanda Adichie (18m49s)


[ted id=652]This is an excellent clip to introduce any topic around racism and/or discrimination. Adichie tells her own story of growing up in Nigeria and the lens through which she saw the world – 'a single story' – and how this was mirrored in others' treatment of her after she came to America. For senior level English courses, this clip is a powerful and accessible introduction to literary theory such as Orientalism and Postcolonialism. It is, moreover, a powerful call to provide varied points of view in our literary selections across levels (see The Absolutely True Diary of a Part-Time Indian, Night, and Red Scarf Girl as excellent resources for applied and junior level students). In the History classroom, Adichie reminds us of the importance of perspective, and how easy it is to stereotype. It is a potent reminder of the need to teach critical literacy skills across the curriculum.

For support with perspective see: Historical Thinking Project – Historical Perspectives.

4. The Censored Eleven (~7m each) Early Merrie Melodies / Looney Tunes cartoons


The Censored Eleven are wonderful primary resource material to teach the history of racism in 20th Century English-speaking world, but with these clips context is paramount. The racism in these clips is blatant, to the point of vulgar. I do not recommend showing these videos to students without first preparing them. Make sure that students understand why you are examining these videos, that we approach them as historical documents. And, in the end, as always, we must know our students and consider if they are mature enough to handle the content. That said, these cartoons are an accessible document for visual learners and are a great place to begin teaching critical media literacy skills (see attached). In these clips we see 'the danger of a single story'. Remembering that the target audience for these cartoons was children, we might ask students what effect viewing them would have on how kids would come to see the world and themselves in it (ask them the effect it would have had on little white kids who would learn stereotypes, and on non-dominant groups depicted therein, who would learn a profound sense of social disconnectedness). From these we might connect with subtler variants in modern films (e.g. treatment of Arabic people in True Lies) or discuss Said's 'Other' (per Orientalism).

Also of note are some of the films that did not make the Censored Eleven lists like 'Bugs Bunny Nips the Nips', 'Tokio Jokio' (these two remained in syndication even after the Censored Eleven were pulled from distribution), and 'Injun Trouble' (though rarely seen, unlike the others listed here, this was produced after the ban of the Censored Eleven, speaking to the pervasive stereotyping in dominant culture at the time).

For support with primary source documents see: Historical Thinking Project – Primary Source Evidence.

History

5. "Taking the Right Side"(6m57s) [from The Corporation, Chapter 19 (Zeitgeist Films, 2003)]


A Chapter from the documentary film The Corporation (based on the book of the same name by Joel Bakan), this seven minute clip quickly illustrates how business was complicit in the Holocaust. The clip focuses on IBM's role in helping the Nazi government navigate the logistical nightmare that was the Holocaust, but also alludes to the collusion of several other corporations such as Coca-Cola and GM. The clip weaves in primary and secondary sources, referencing documentary evidence, professional and academic opinions and illustrates Historical Thinking in action. When considering the questions of perspective and ethical dimensions, the clip is a great hook (see viewing guide). From here you might have students research or review the roles of other corporate activities during the Holocaust (see attached) or consider other modern human rights violations (such as the oil industry in Nigeria).

For support with significance see: Historical Thinking Project – Historical Significance; and for continuity and change see: Historical Thinking Project – Continuity and Change.

Judgement, Memory, and Legacy

6. "The Barber of Kigali," by Jamie Cohen (7m10s)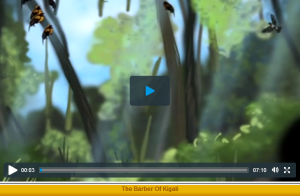 This short film is an excellent introduction to the difficulties of reconciliation in a post-genocidal state and the issues of guilt and punishment that arise. In the History classroom, the story is a powerful example of both continuity and change (how the past affects and drives the present) and historical significance (how the individual story can represent a greater truth). In the English classroom the story is a short but powerful example for narrative structure. The "Barber of Kigali" demonstrates effective exposition (and juxtaposition, using animation for exposition and live-motion for the narrative itself) and illustrates how conflict (man vs. man, man vs. society, and man vs. self) drives narrative and theme. This resource also complements the short story "'Lather and Nothing Else" by Hernando Tellez and the graphic novella "Smile Through the Tears" by Rupert Bazambaza (see resource package) and works as a hook to each.
Further supporting resources can be found at the Institute for the Study of Genocide, or the Holocaust Memorial Day Trust.
For support with significance see: Historical Thinking Project – Historical Significance; and for continuity and change see: Historical Thinking Project – Continuity and Change.
Choosing to Participate
7. "Lost Generation," by Jonathan Reed (1m45s)

This poem is a creative challenge to modern cynicism and works well as an introduction to the teaching of poetry and activism. In teaching genocide it is easy for students to become cynical and suggest that the world is too far gone to improve. Written by a young college student, the palindrome is a powerful exemplar of how students can begin to challenge cynicism and promote change. You might ask students to create their own poem to challenge discrimination. An example that has worked for me has been to have students write a response poem to the Kipling's "White Man's Burden". Have your student's read Kipling, and then have them read contemporary responses such as "Black Man's Burden" or "Brown Man's Burden" (you can view editorial cartoons of the same theme from the day and have students draw their response for differentiation).
For further ideas on how to incorporate poetry into the Facing classroom, you might review the resources provided in a Facing History "Literature Workshop" from earlier this year, or better yet, keep an eye out for the next one and attend it yourself.
And, of course, if you are feeling brave, have your students create their own video as a testament and go viral: share it with the world…
If I missed a good one, and I probably did, please share it with us! Some sites to begin a search for relevant videos include: Facing History, TED.com, Vimeo, The BBC, Learn 360 (password required – see you school librarian), and TeacherTube.