The following post is a collaboration between Facing History and Ourselves and the Azrieli Foundation's Holocaust Survivor Memoirs Program.
Remembrance Day is an opportunity for all Canadians to consider who we choose to remember and the lessons we can learn from people with first-hand experience of war. We invite our students to think deeply about the immeasurable costs of war, to weigh the sacrifices made for freedom and to honour the memory of Canadian soldiers. We bring testimony from soldiers and their loved ones into the classroom to deepen our students' intellectual and emotional connections to those who fought and those who died. This Remembrance Day, bring a story about liberation — its necessity and its impact — to your students. Meet Claire Baum and learn her story.
Meet Claire
Among the millions of civilians in Europe desperately hoping for an end to years of war and occupation were European Jews, targeted by Nazi Germany for total destruction in the program of persecution and murder that we now refer to as the Holocaust.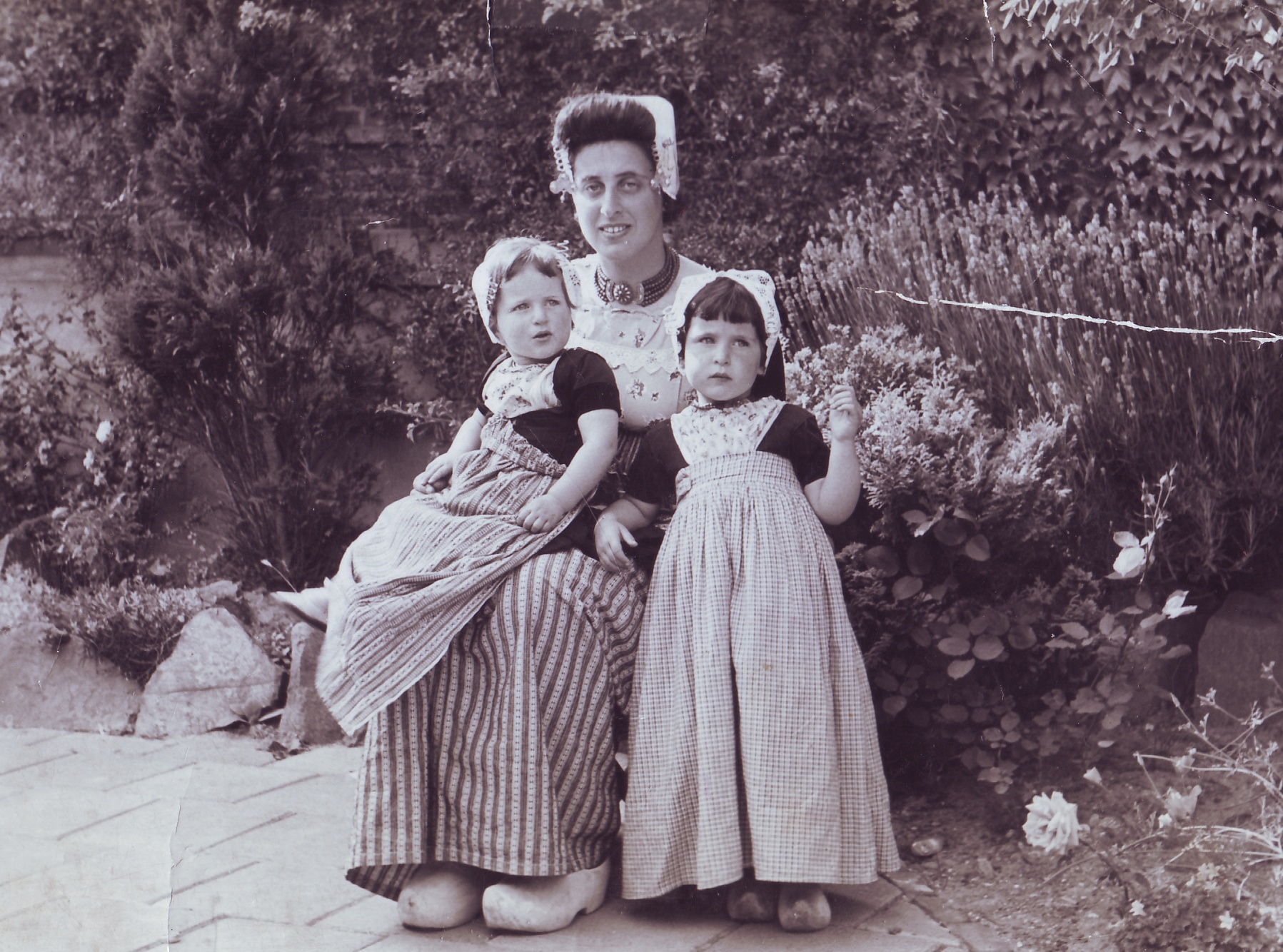 Claire, right, with her mother and sister in Dutch costume in the village of Volendam, circa 1940.
One such person was Claire Baum, a young Jewish girl who was living in the Netherlands when World War II began. When they were unable to escape the coming Nazi occupation of the Netherlands, her family - like all the Jewish people throughout the Netherlands - began to face increasing threats to their freedom and live under increasingly intolerable conditions. As the war arrived, Claire's father - a member of the Dutch Resistance - sent her and her sister into hiding with Christian families, first in a seaside town, and then with Tante Nel (Aunt Nel).
Take a moment to open Claire's family photo album. Consider showing your students these beautiful photos to help them better connect the idea of war and persecution to people with names and faces. Which photo did you connect with or want to look at more closely? Why?
Living with Intolerance, Persecution and Fear
During her three years in hiding, six-year-old Claire and her younger sister, Ollie, lived apart from their parents, stayed indoors instead of going to school and were forced to lie about who they were by pretending to be Christian relatives of their new caregivers. The girls lived in constant fear of a Nazi German raid or search and worried about the safety of their parents, who were in hiding in a different location. Their survival hinged on the humanity of others and the choices that others made to protect or expose their identity. Jews who were arrested were sent to concentration camps and killing centres, where nearly all were killed or died from the terrible living conditions.
Wartime Hunger in the Netherlands
With war and destruction came conditions of extreme deprivation. During the "Hunger Winter" of 1944–1945, 20,000 Dutch people died of starvation. The Dutch, famous for their tulip flowers, resorted to eating tulip bulbs because there was so little food available. In this short memoir excerpt, you can read about the hunger Claire experienced.
Claire's story of fear, separation, uncertainty and deprivation represents just one of the millions who experienced fear, loss, persecution and hunger during World War II. These stories underscore the significance of what Canadian soldiers did next, not only for Claire and her family, but for millions more living under the tyranny, persecution and influence of the Nazis and Nazi ideology.
Celebrating Liberation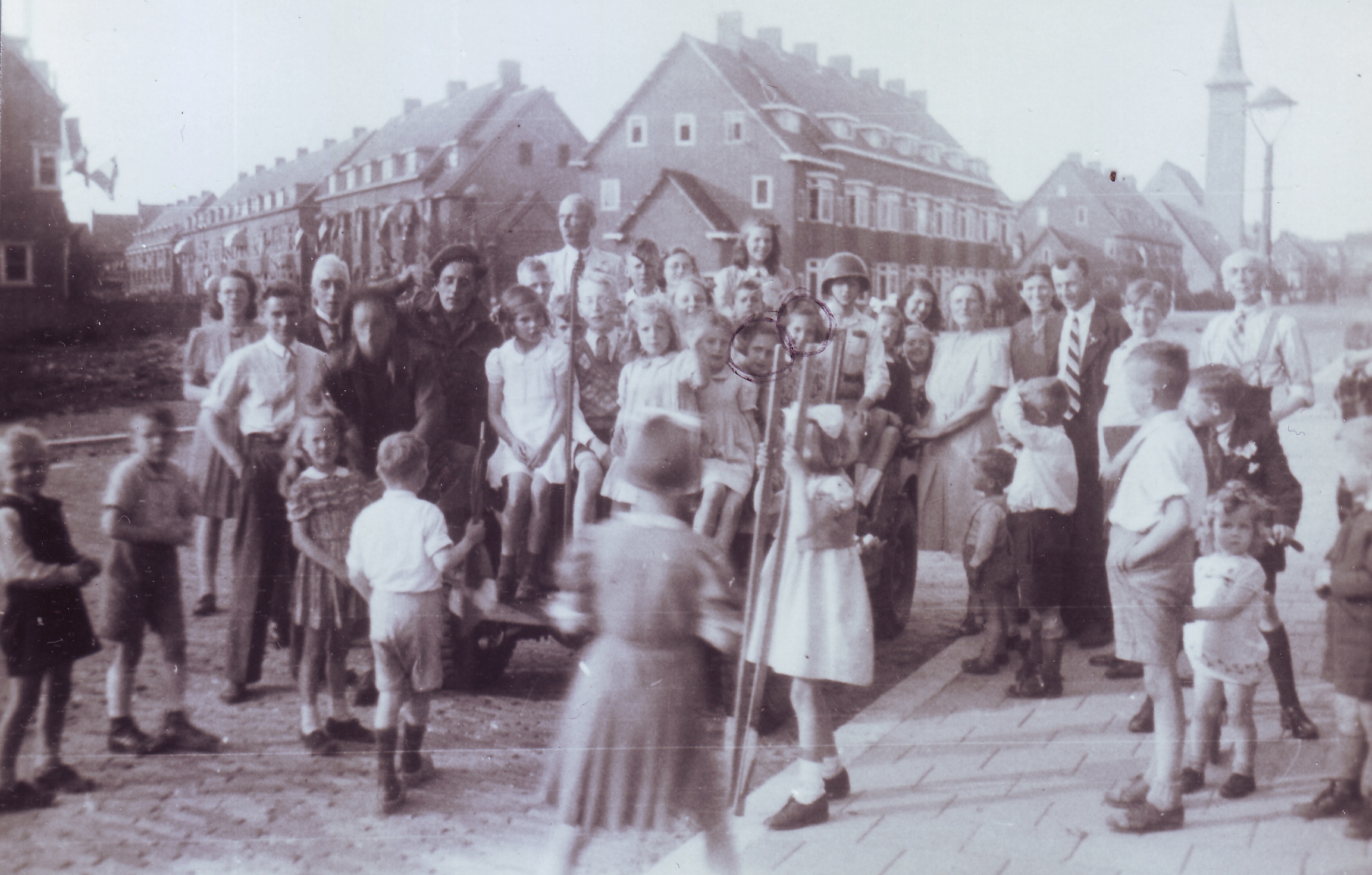 Liberation in Rotterdam, May 5, 1945. Claire and her sister Ollie are seated on the jeep behind the stilts. Photo courtesy of the Azrieli Foundation and Claire Baum.
Claire and her sister survived the war. Although she was just a young girl, Claire remembers vividly Liberation Day in the Dutch city of Rotterdam. In her memoir she wrote:
"On May 5, 1945, we were liberated by the Canadian Army. We were so excited to see Canadian soldiers on their Jeeps in Rotterdam. Our friends ran over to our house and screamed, "The war is over, the war is over!" They were jumping up and down and hugging us. They said that they were going to ask the Canadians if they could sit on one of their Jeeps and Tante Nel let us go with them, knowing we were safe. After we came back, we told Tante Nel that not only did we sit on a Jeep, but the soldiers had also given us chocolates and chewing gum while they took our picture. It was the most memorable and exciting day of our young lives! And when we looked up we saw all kinds of planes and, out of the sky, packages were raining down. Each package contained food and our first piece of bread in such a long time. It was so delicious! Tante Nel called it, "Manna from heaven." She said that it was a miracle." (Claire Baum, The Hidden Package, p51)
Take a closer look at the photograph above taken on Liberation Day, May 5, 1945 perhaps using the Crop It strategy. Imagine the children rushing out to greet the soldiers. Witness how the shock, relief and excitement felt by the newly liberated Dutch people is captured. What stories do each of these emotions tell us? This photograph, like many others taken during liberation, reveals the joy and celebrations that erupted at liberation in this country.
Reflecting on Claire's story
Liberation Day in the Netherlands happened 72 years ago and was followed three days later by VE Day — the end of the war in Europe. Remarkably, Claire's parents also survived and the family moved to Canada in 1951, bringing home for us the legacy of those soldiers' actions on Liberation Day. Today, Claire still lives in Toronto.
What lessons can we learn from hearing Claire's story and remembering the soldiers who freed her country?
We learn about the terrible suffering experienced by civilians during war. Adults, children and families witnessed violence and dealt with extreme deprivation. In the Netherlands, the Allied soldiers brought with them food in addition to bringing freedom. Their actions remind us of the possibilities of, and indeed the necessity for, hope and compassion in times of terror and violence.
We learn about the added threat faced by Jews during the war and the Holocaust. Claire experienced family separation as well as constant fear of discovery and arrest. For most Jews in the Netherlands, there was no family reunion like there was for Claire's family. Out of the Dutch population of 150,000 Jews, more than 100,000 were killed during the Holocaust.
We learn about the Dutch population's joyous reception of the Canadian soldiers, who came to liberate a continent, knowing that people had suffered but not knowing the extent of it.
We learn about how people experienced war and the Holocaust and we remember how Canadians sacrificed for their freedom, so that we can move towards a future that has no place for hatred, violence and genocide.
Remembering the Past and Engaging in Conversation About Our Responsibility Today
This coming Remembrance Day, include a story about liberation in your classroom or school assembly. Use this story to honour the memory of the soldiers who sacrificed to save the lives of others. Remind students that hope and compassion can exist in times of terror and violence. Challenge students to consider our responsibility to the memory of Canada's soldiers who fought for freedom: What can each of us do to honour the best of their intentions and actions? How might we work to ensure that the freedoms they fought for — freedom from oppression, from hunger, from persecution and from hatred — are the freedoms we fight for on behalf of those who need it most?
For Benjamin Ferencz, a former prosecutor at the Nuremberg trials, witnessing war and its aftermath spurred a life-long dedication to using the law to prevent mass violence. In the film, Watchers of the Sky, he reflects that
"the only way to stop atrocities is to stop war making. It has never been, and there never will be a war without all the atrocities I have seen in war. So how do you stop it from happening again? I just do the best I can and I will continue as long as I can. I can't stop."
While Ferencz works tirelessly to build the tools of international law for his purposes, as educators we have memory, teaching, dialogue and testimony as our tools. These are our tools for inoculating students against hatred and arming them with the lessons learned in the aftermath of war. We do the best we can and continue as long as we can. Because we can't stop.
Want More?
To read, watch and hear more stories of Canadians who survived the Holocaust, explore the Azrieli Foundation's Holocaust Survivor Memoirs Program's free digital resource, Re:Collection.
Consider reading "The Black Messiah," Sonia Weitz's poem about her liberation from by American soldiers on Facing History's website and creating a reader's theatre piece to add another story of liberation to your Remembrance Day lesson or assembly.