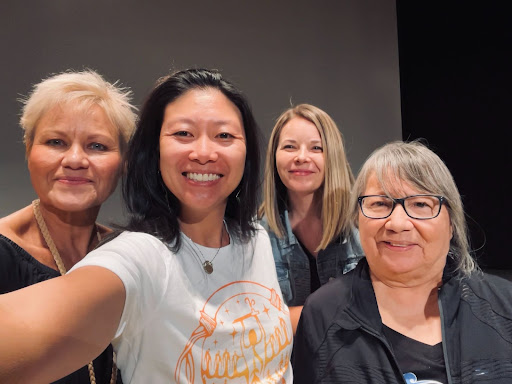 L to R: Facing History staff Lorrie Gallant and Jasmine Wong snap a quick selfie with our newest staff member Amanda Baric, and Elder Sherlene Bomberry, during a summer workshop
Hello, my name is Amanda (she/her). I am an educator, a certified yoga therapist, and a graduate student in the department of Curriculum, Teaching and Learning at the Ontario Institute for Studies in Education (OISE), U of T, where I am completing my Masters thesis in wellbeing in education and holistic pedagogy. During my graduate studies, I have also developed and delivered trauma-sensitive group wellness workshops and communities of practice for pre-service teachers at OISE.
As a history, genocide studies, Indigenous studies and English teacher on my own personal journey of self-discovery, my hope has always been that my students feel seen, heard, and encouraged to explore their own identity, nurture their curiosity, challenge and speak up against injustice, and celebrate the unique gifts that they each bring to our shared space.
Throughout my teaching career, I've had the privilege of participating in many life-changing professional development sessions offered by Facing History. These have transformed my teaching practice and my relationship to myself, my students, and the larger school communities I have taught in.
I currently reside in Whitby, on the traditional and ancestral lands of the Great Mississauga Nation, signatories to the Williams Treaty, which include the Mississauga of Scugog Island, First Nations of Alderville, Beausoleil, Curve Lake, Hiawatha, Chippewas of Georgina Island, and Rama.
My family of four loves spending time together, connecting with extended family and friends, being immersed in nature, frequenting local farmer's markets, and creating and enjoying the arts and delicious food every chance we get. In my spare "me time", you might find me meditating, walking, reading, photographing, or leading therapeutic yoga sessions for members of my local cancer support community.
I am so excited to begin my role as a Program Associate with Facing History Canada where I look forward to engaging in important conversations, nurturing collaborative partnerships, and co-facilitating meaningful professional development that prioritizes equity, inclusion, wellbeing, and belonging for all.