As a grade 7 History teacher I talk a lot about evidence and historical significance in my class. We discuss how history is constructed and interpreted from artifacts and evidence left behind. We also discuss how the tradition of oral stories has impacted the telling of some histories, especially those of indigenous peoples. Listening to Ken Setterington speak about his book, Branded by the Pink Triangle, I thought about this tradition of oral history again.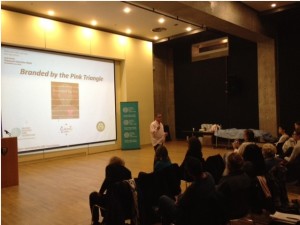 As a parent, my children often ask questions about what they were like when they were younger and what I was like as a child. They love to hear stories of my experiences growing up and how I dealt with difficult choices. As I sat listening to Setterington, I found myself thinking about how these stories were shared. They were not passed down through generations, they were not spoken of around the dinner table. These men did not have anyone to share their story with, no one to tell what they had experienced No one to keep their voice alive.
I am embarrassed to admit that prior to my Facing History Summer Seminar, Holocaust and Human Behaviour, I had no idea that prisoners were identified with triangles let alone that there was a pink triangle to identify the gay men. I am ashamed that my education brushed over the Holocaust as if it was a terrible but simple tragedy that led to the deaths of million of people and one diary from a little girl. There are so many more stories to tell, so many more people who were impacted and are still impacted by this event.
As I left New College with my mind spinning with emotion I began to think of how far I feel we have come. My best friend and his partner walked down the street of Toronto with linked arms looking happy and in love. Then as we crossed a street I watched as another person looked at them with disgust and they immediately dropped arms. They joked about the look, as I am sure they do quite often, but it reminded me how we have not learned from our history. We continue to treat each other as if there is a hierarchy and some of us are worth more than others. When will we learn?
Teaching grade 7 and not covering the Holocaust as part of my curriculum, I struggled with a way to share my learning with my class. I decided to approach it from another angle and not during a History lesson. In my current unit in Drama, students are moving into scene work as a member of a family. For my introduction activity I randomly assign students roles to demonstrate the various family organizations, step parents, extended family, single parents, and same sex parents. As a part of the assignment students are expected to complete character identity maps to establish their characters history.
Before I went on to my next lesson, I asked a question about family history and how the students know about their family's past. Every student responded with a variation of, "someone told them a story and showed them pictures." We talked about the tradition of oral history and where else we see this practice. This started a discussion about histories being changed over time. I then asked, "What if you have no one to tell your story to. How does your history survive?" This stumped them. "Why would you not have anyone to tell? Why would you not want your story to be told?" They questioned. This is how I brought in the conversation about the text Branded by The Pink Triangle. I also shared my experience walking home.
The students were upset about the treatment of my friends but more so about the stories lost. "How can we ever know the truth if no one shares their story?" one student asked. "How can we learn about these people without them telling us what happened?" asked another. These questions hung in the room for a while.
It was a great place to start and I really liked how it was not during history class so the students saw that history is a part of everything.
I am sure many of you deal with difficult topics, and not just in history class. I would love to know about your experiences. Please share in the comment section below.