This past semester, my course team for Academic Geography decided to focus on making the Grade 9 course more issues based. In turn, we made changes to how we structured the units. Additionally, we wanted to embed the Geographic Inquiry Model into our lessons as well as major assessments. Our goal was to further develop students' critical thinking skills as they examined different issues within Canadian Geography.
In the introduction to the course, we began to teach students about the Geographic Inquiry Model.
The Geographic Inquiry Model
Define the issue

Impacts of physical Geography

Impacts of human Geography

Effects of issue on the whole planet

Possible solutions
We decided to apply the model to our study of Canada's Indigenous peoples in our human geography unit.
Since Canada was in the middle of a federal election last fall, there were several issues impacting Indigenous peoples that were coming to the forefront. As such, my colleagues and I decided to create an Indigenous Issues in Canada Infographic culminating activity. An infographic is a visual representation that presents information or data quickly and clearly. For this assignment, students researched a particular issue currently affecting Indigenous peoples in Canada. They then used their research to create an infographic, which explained the issue and provided solutions using the Geographic Inquiry Model.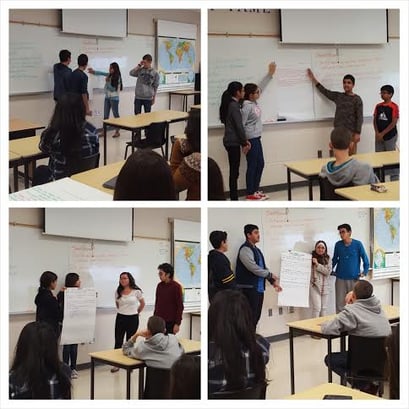 Before students started working on the infographic, we taught a series of lessons that would help students develop a better understanding of Indigenous peoples' history and culture, as well as the challenges that many of them face in today's society. We began by looking at the federal election platforms of different political parties to see what specific promises they had made with regards to Indigenous peoples if elected. Students did an excellent job of researching and analyzing these campaign promises in small groups after which they presented their findings to the class.
Ms. Scott's Grade 9 students sharing the federal political parties' election platforms with regards to Indigenous peoples.
Additionally, students learned about Canada's Indigenous communities, their worldviews, and mapped the various First Nations groups including Algonquian, Dene and Iroquoian. Afterwards, we looked at the residential schools, the process of assimilation as well as the Truth and Reconciliation Commission (TRC) findings. We discussed the intergenerational impacts of the residential school system, such as loss of language, which are still apparent today. Students also watched Episode 3 of 8th Fire: Whose Land is it Anyway, which is hosted by Wab Kinew, to gain a better understanding of land claim issues. Upon further reflection, this is a part of the unit that I would like to develop further using Facing History's new resource Stolen Lives: The Indigenous Peoples of Canada and the Indian Residential Schools. The resource provides first hand accounts of different Indigenous individuals, and this would allow me to bring more Indigenous voices into my classroom.
After each of these lessons, students wrote journal responses using prompts that we had provided. This gave students the opportunity to formulate their own opinions and critically analyze the issues faced by Indigenous peoples.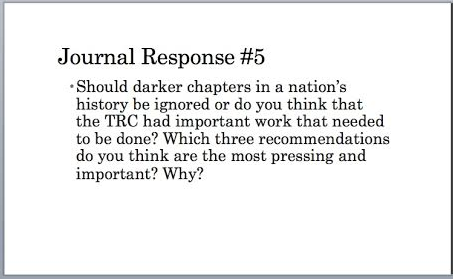 Below, an example of a journal response prompt that students in Ms. Scott's class completed after exploring the TRC website (questions adapted from What in the World Article, "Bringing Indigenous Languages Back to Life.")
"I think that darker chapters in a nation's history should be explored, because hiding or ignoring a chapter isn't going to make the situation any better. To truly understand what the Aboriginals have gone through, we must look at their past. This will help us gain a better insight on the issue and create sympathy in our hearts for them. The TRC need to do important work so we can be educated about the Aboriginals, and the Aboriginals themselves are getting the right amount of care. According to atpn.ca/news/2015/06/02/read-94-recommendations/, the 3 most pressing and important recommendations that will help solve all the others are these 3:
Child Welfare
Education
Language and Culture
One of the sub-recommendations for child welfare on this website states: "Requiring that all child-welfare decision makers consider the impact of the residential school experience on children and their caregivers." The TRC should focus on the "impact of the residential school" on the Aboriginal people, as this is a big part of their history, and they should be supported. It also says: "Providing adequate resources to enable Aboriginal communities and child-welfare organizations to keep Aboriginal families together where it is safe to do so, and to keep children in culturally appropriate environments, regardless of where they reside." This means that the TRC condemns assimilation. They want the Aboriginal children to be in a safe environment so they can learn their own culture and not be forced into another religion, like what happened in the residential schools. If the child is happy, then they can live their life depression-free. This means less suicide rates, which means that the Aboriginal population will not decrease as much. It starts a positive feedback loop."

For their infographic assignment, students could choose an issue that they were interested in from a list of options. Some of these options included Missing and Murdered Indigenous Women, access to clean drinking water, First Nations education funding and loss of language, just to name a few. The students used piktochart.com to create their infographics. Although many of them had not used the website before, it is very easy to navigate and the students produced excellent infographics. They effectively defined and explained their issue while also highlighting how it impacts Indigenous peoples. Many also provided thoughtful solutions to help solve their particular issue, which showcased how their critical thinking skills were developing. For a majority of the students, they did not know that these issues existed in Canada, which illustrates the importance of completing such an assignment.
As a possible extension for this assessment, students' infographics could be shared on social media. The whole point of an infographic is to spread information and/or raise awareness about a particular topic. My hope is that student created content, like these infographics, can help shed light on critical issues that are affecting Indigenous peoples today.
Above is an example of an infographic that one of Ms. Scott's students created about the issues surrounding loss of language amongst Indigenous peoples.
Next Steps
How can you help your students analyze current issues facing Indigenous peoples in Canada?
What other types of technology can allow students to be content creators?