"Ms. Payne, we are so privileged to witness these survivors' stories. We must do something with this knowledge."

Such a mature and poignant statement. This is what we want from all of our students: Not to be passive listeners, but to contemplate and then choose to participate.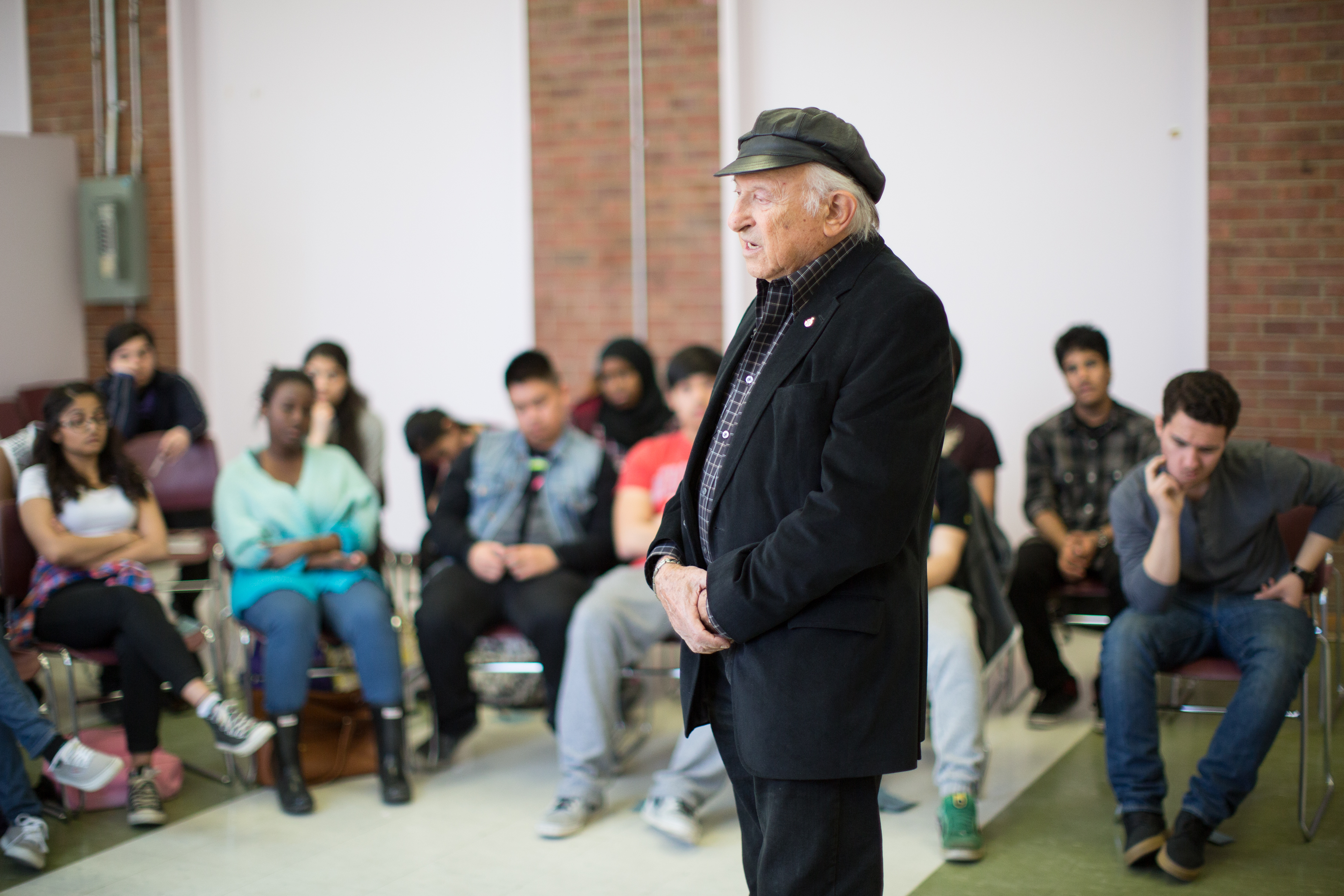 Holocaust survivor Nate Leipciger giving his testimony to students in 2014. Photo credit: Nick Kozak
Although dates, names, and events are important in history education, history education is more than the sum of these facts. Students need to learn that history is made of choices, and that their choices make a difference. Most of our students will not be historians, but all of our students will go out into the world, and it is our role as history educators to teach students how to learn from the past, to honour the memory and legacy of the stories that they hear, and to be ethical citizens today. When one of my Grade 11 students in my Genocide and Crimes Against Humanity class said to me, "Ms. Payne, we are so privileged to witness these survivors' stories. We must do something with this knowledge," our class decided to create something to showcase all that we had learned. That became our Human Rights Pavilion.
The Making of a Human Rights Pavilion
After completing the Facing History scope and sequence by studying several case studies of genocide throughout history, each student chose a genocide or crime against humanity in which they were interested and explored their topic in-depth. Then they created an interactive exhibit, which we could share with our school's entire student body. Through the assignment, students demonstrated:
Their understanding of studying a moment in history, including considering historical perspective, cause and consequence, and the ethical dimensions of the past and present.
Critical media literacy skills in their selection of online sources.
Research skills for a historical moment using multimedia, primary, and secondary sources.
Ability to write and communicate with clarity, creativity, and persuasiveness.
To download the assignment and rubric we used, click below:
From Research to Action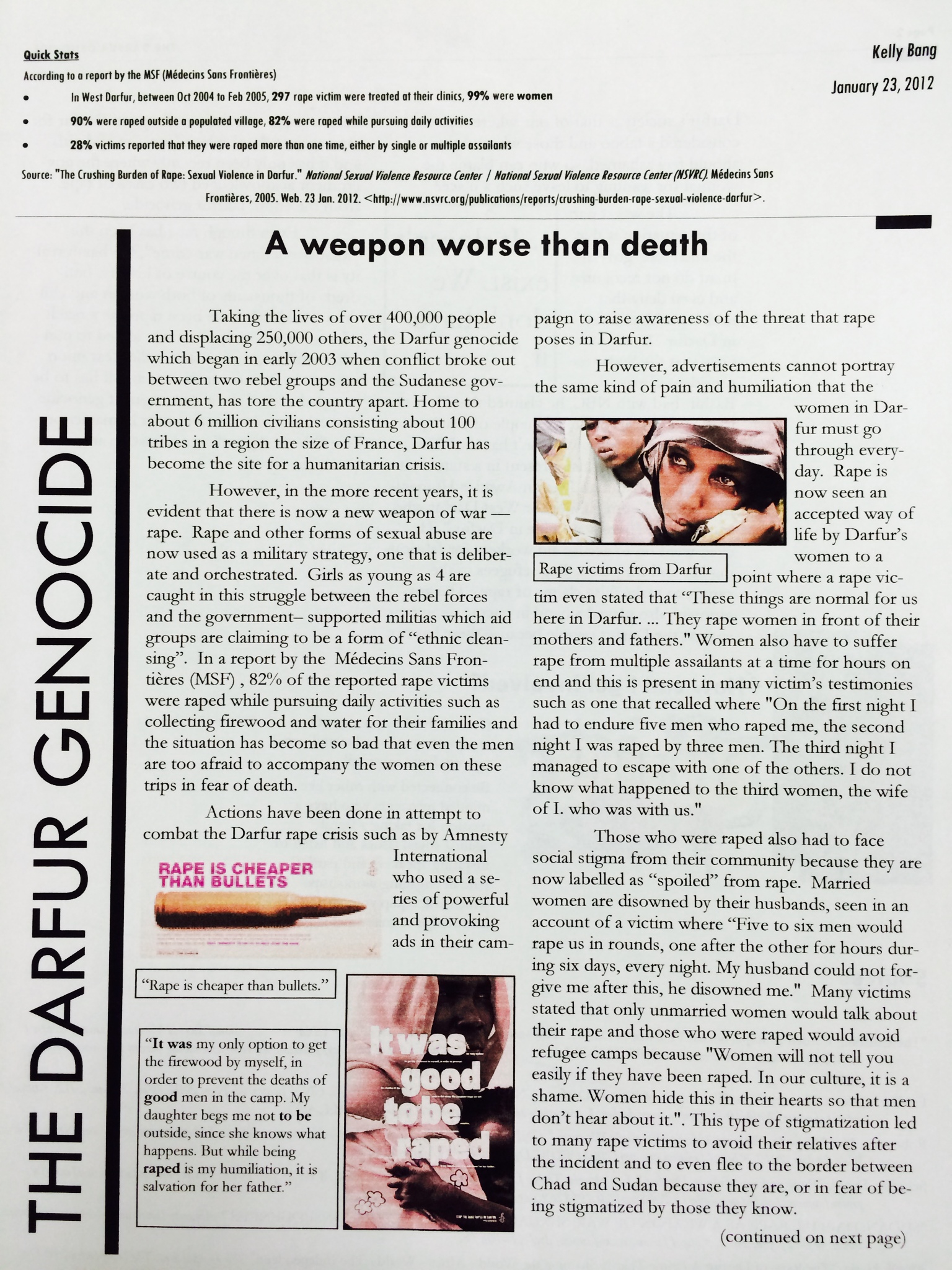 One student wrote and distributed this article on the plight of women during the genocide in Darfur as part of the 2012 Human Rights Pavilion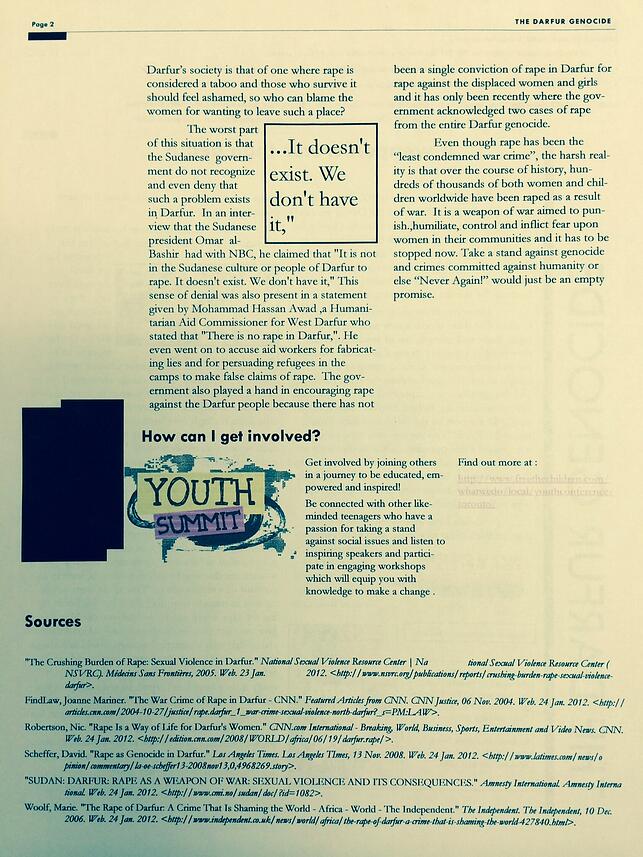 back page of the article
We created the pavilion using a series of poster boards, informational displays, and videos. We set it up in a prominent place where students gather. Students included statistics, maps, photographs, stories, quotes, and informational text in their displays. In addition, we incorporated activities that encouraged visitors to participate in meaningful change. The students examining sweatshops included a petition on Change.org that viewers could sign. Other students asked people to boycott certain products, while another group encouraged visitors to sit down and write a letter to our local Member of Parliament.
A week before we did the project last year, former South African president Nelson Mandela passed away. His passing gave students a greater sense of purpose. In fact they were so inspired by his life that they created buttons for the school and hung Mandela quotes from large banners in the library. The positive energy, as well as this new sense of purpose, was exciting. It provoked my students to work harder and, I believe, became an opportunity for each of them to pay their respects to Nelson Mandela, his legacy, and to carry his call to action.
It is amazing what students will create when they are given the freedom and opportunity to delve into something they are passionate about. I saw that my students truly felt empowered. The passion of the day spilled beyond our pavilion and had students talking about various issues. For a day, they put their apathy aside, learned about the plight of others, and became agents of change.
One Person's Voice Can Make a Difference
It was an absolute delight to witness this pavilion of positive change. The Genocide and Crimes Against Humanity class not only educated their peers, but also prompted them to make meaningful change. I did not imagine this outcome, and I am grateful for the opportunities from Facing History to expose my students to the voices of survivors in a framework that pushes students to move beyond empathy and into action. I am also thankful for the student who felt so compelled after hearing a survivor testimony that he voiced the need to take action in response. One student's choice to participate has had a lasting impact on my Genocide course–it is now part of the yearly summative. His response reinforced for me how important it is to expose our students to a variety of voices and opportunities…you never know where they might take you.
Have your students taken you on a different path that you did not expect? What do you do at your school or with your students to encourage active learning? How have your students chosen to participate based on their learning? Please share your ideas and responses.