With the holidays approaching many of us are busy organizing family dinners, making or buying gifts for our loved ones and maybe even preparing for travel. As we anticipate this festive time of year, it can feel like the weeks are passing extra quickly with little time to slow down and savour the moment. Before you and your students break for the holidays, I wanted to leave you with a few ideas to spur reflection and personal growth in yourself and your students - ideas I hope will bring new energy into the new decade.
8 Ideas to Spread the Holiday Spirit in a Meaningful and Impactful Way
At Facing History and Ourselves, we often use the Universe of Obligation as a framework for understanding the choices we make towards those around us. People/relations in our Universe of Obligation are those who we will support and assist no matter the circumstances, often including family and close friends. While the holidays are largely a time to be present with our loved ones, it is often a time we consider those outside of our day-to-day universe of obligation.
Choosing to participate this holiday season can be done in both large and small ways -here are eight Canada-wide ideas for you to spread the holiday spirit in a meaningful and impactful way:
Facilitate a mini lesson on generosity and/or conscious consumption in your classroom this holiday season


Equip your students to have reflective conversations about issues of justice and injustice when they arise at the holiday dinner table with their families using Diane Goodman's 'Responding to Biased or Offensive Comments' (printable summary linked below). Urge students to listen for opportunities to share what they are learning about in the classroom and remind them that have a voice at the table. Goodman's resource provides effective ways to respond and react to difficult conversations that may arise at the dinner table, which will allow people to engage and listen rather than get defensive.



Donate to your local toy or clothing drive and/or make a

monetary donation to an organization serving those in need. Help make others' holidays merry and bright by supplying grocery gift cards and warm clothing to complete a family's Christmas experience.


Sit with a friend or family member over a hot beverage and volunteer your time to do pertinent advocacy work together by drafting letters and writing to local government leaders about the issues you are passionate about. You can find the contact information for your local MP here: Here's a few issues of justice and equity we'll be writing about: UNDRIP, justice for victims of mercury poisoning in Grassy Narrows, a plan to address the Calls for Justice for Indigenous women and girls, 2SLGBTQQIA people, water advisories, Jordan's principle.


Show kindness- Invite a neighbour, friend, or community member who does not have family locally to celebrate the holidays with you. Let that car into your lane in traffic. Say thank you to the cashier or server at the shop or restaurant you go to. Small acts of generosity can spread a lot of cheer.



Be present and spend undistracted time with loved ones.

Ask questions, actively listen and foster meaningful conversations about topics you care about. While we can't all get our beloved grandparent an iPad for Christmas (get a tissue box ready if you watch the ad!) we can make them feel special with kindness and love!


Plant some seeds indoors and think about how beautiful they'll be in the spring when the frost breaks.


Honour a teacher, a mentor or a student upstander by making a gift to Facing History and Ourselves in their honour :)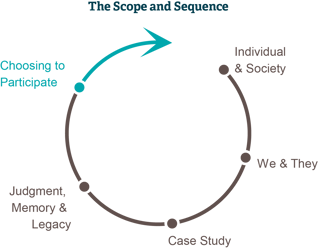 I hope you have a beautiful holiday seasons spent with loved ones and filled with many meaningful moments. Here is to another year of growth and choosing to participate!
---
Diane Goodman's 'Interrupting Biased and Stereotypic Comments"