Knowing that experiences of loss, isolation and disconnection caused by the pandemic have exacerbated the everyday challenges many face, we ask, what could it mean for students if they had an opportunity to tell their story or speak out on an issue that they care about? And what if students could feel heard?
The 2020-2021 academic year has been filled with many challenges. In response, we've prepared tools, resources and an "un-workshop" on April 27 (register here!) to help close the academic year by making your work lighter, deepen students' learning and empowering students to speak, and be heard. Watch to learn more!


Welcome from Facing History and Ourselves & High Resolves!
In this video, hear from Facing History and Ourselves and High Resolves about this "unworkshop" and the creative, student-centered culminating project.
Facing History & Ourselves Framing
Videos for Change offers students tools and space to surface and explore issues that are important to them by creating 1 minute videos. Facing History adds a proven approach, tools and resources to help students raise and discuss important questions about identity, equity and justice in a brave, intentional and inclusive classroom environment.
Hear how to use Facing History's resources and teaching strategies to prepare students for Videos for Change.
Below are links introduced in the video, "Approaches, resources and tools for engaging, honouring and empowering students"
1. Learn how to structure your curriculum and teaching to empower student reflection and action with our Scope & Sequence.
2. Consider how this educator contracts and how Untitled Poem by Beth Strano * adds to a conversation about fostering mutual respect and learning.
3. Foster connection and develop greater understanding by beginning with readings and an identity self-reflection activity
4. Use this
Universe of Obligation
activity to guide students through a reflection on
who and what matters to them
5. Guide students through learning that engages compassion, empathy, academic learning and ethical reflection using one of our
case studies
,
literature guides
, or
current events
teaching ideas.
6.
BONUS RESOURCE
:

This
Iceberg or Tree Diagram
Teaching Strategy helps students to visualize and connect moments in history, literature or contemporary society to underlying causes.
*Note from Facing History: This blog post was updated in July 2021 to correctly reference a poem by Beth Strano, "Untitled," posted to Facebook June 25, 2021. We originally posted a version of this poem attributed to Mickey ScottBey Jones. After learning that Jones' version was plagiarized, we have replaced it with the original poem by Beth Strano. Please use Strano's version going forward.
---


We envision students using this analytical tool to deepen independent research and thinking, and connect curriculum-based learning to their 1 minute video topic

s!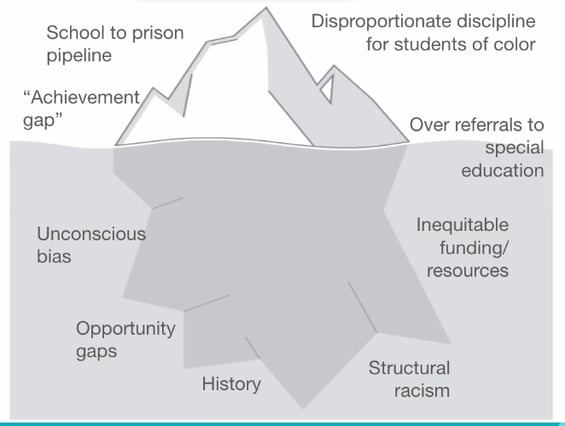 This example iceberg reflects the underlying causes (below the iceberg) and the visible patterns (above the iceberg) of inequities in education. This was developed by Rose Sadler for Facing History & Ourselves.
We hope that these Facing History resources will help provide reflective and meaningful framework to set students up for a Videos for Change project!
High Resolves: Videos for Change
Learn how to use and integrate Videos for Change into your classroom from Cora-Lee who will guide you through the important steps in the Videos for Change project.
The Videos for Change program will guide and support students in creating 1 minute videos to address contemporary issues that they care about by exploring the following questions:
What kinds of contemporary issues are you passionate about?
What are the legacies and connections between histories?
How do they continue to manifest today?
Videos for Change #1- Watch Video
Videos for Change #2: Planning & Creation
Videos for Change #3: Editing
Videos for Change #4: Sharing & Reflections
We hope you will join us on April 27th to learn more about this project and ask any questions you may have. Register here!