We work with so many amazing educators who give their students exceptional learning experiences. For this blog, we sat down with history teacher and 2017 Governor General's Award for Excellence in Teaching History Award winner Rob Flosman to find out what he has learned about engaging students and communities in learning history through building a classroom museum, the Waterdown Museum of History.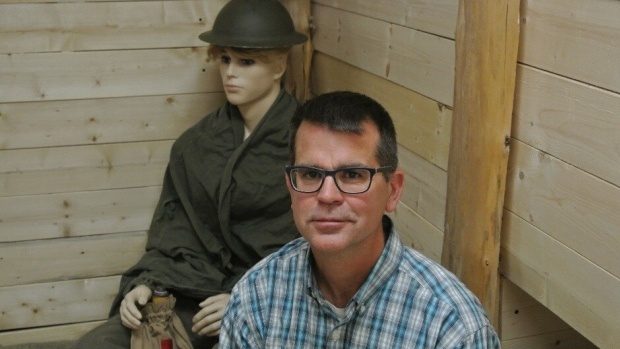 Rob Flosman is sitting in the trenches, in a section of a WW1 exhibit at the Waterdown Museum of History that he created with his students. (Hamilton-Wentworth District School Board)
Facing History: Congratulations on winning the Governor General's award for Excellence in Teaching History!
Rob: Thank you! Receiving the award was a surprise.
FH: Let's start by talking about the museum. What was your motivation for creating the museum?
R: I've always wanted a museum. For 10 years, it frustrated me that kids would go to a museum once in their high school career and that's it. So I thought, why can't kids do this themselves and create something for their community in a school?
Through Facing History advisory board member Madeleine Levy, Waterdown High was able to host the Dutch Resistance Propaganda exhibit from the Anne Frank Centre in New York. The students were docents and guides for the community when they toured the exhibit and were so enthusiastic. Their reaction confirmed to me that we have got to have a museum set up permanently, but I didn't have any funding until I applied and received seed money from Facing History's Margot Stern Strom Innovation Grant.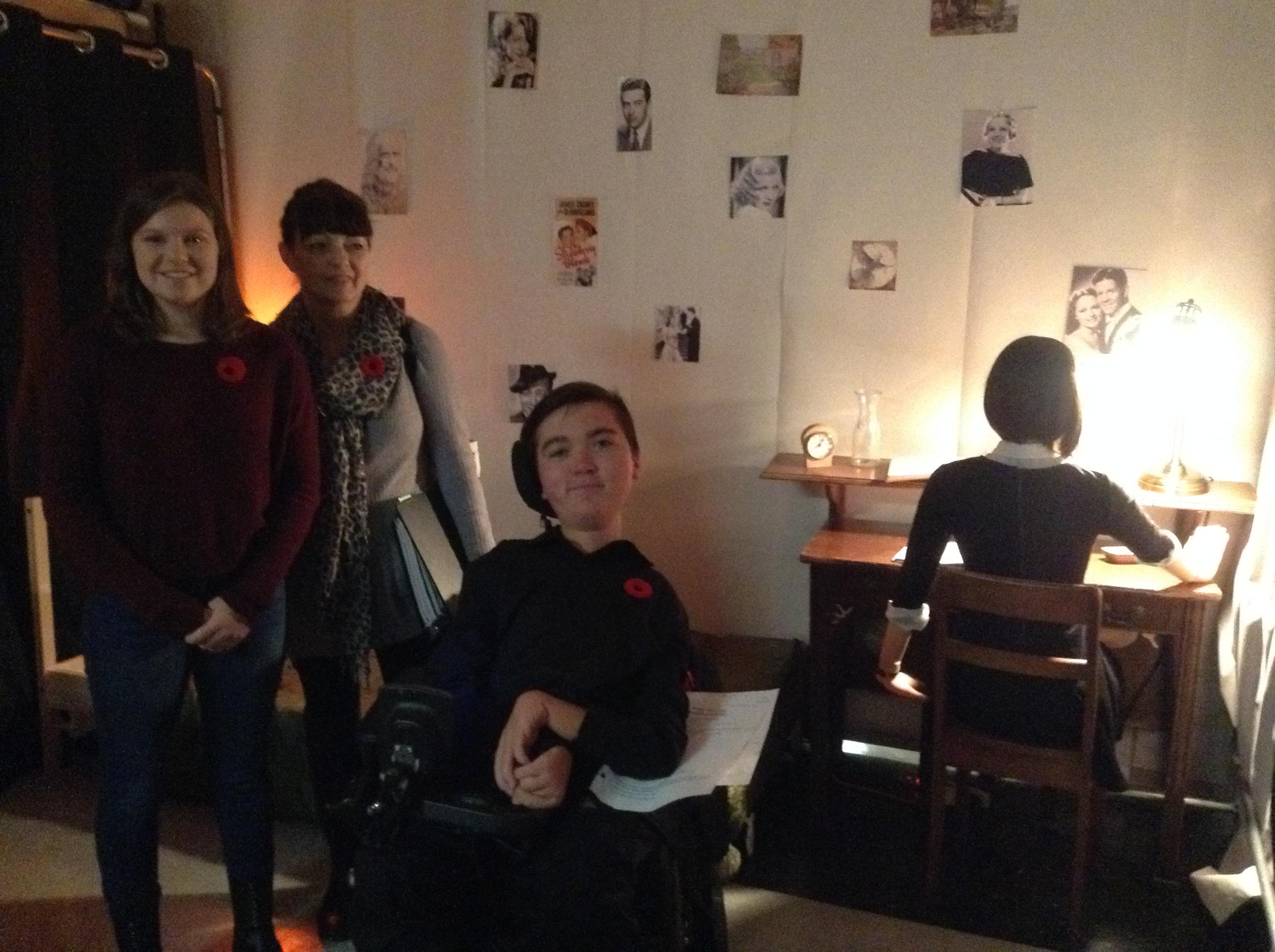 Ben Flosman and friends check out the Ann Frank exhibit (Submitted by Rob Flosman)
FH: What's in the Waterdown Museum of History?
R: We get artifacts donated to us from the community. Then students in my (first semester) Grade 11 Genocide and Crimes against Humanities course look at those artifacts donated and say, I really like this, can I build an exhibit? We started with 10 items but it has grown immensely. We now have over 700 items. The museum takes up two classrooms. To give you an idea of the scope, we have a full walk-in World War I trench in the classroom.
This year we had artifacts donated that represent the Cold War so five young people got together and said, "Let's do an exhibit on 100 years of communism (November 7th, 1917- November 2017)."
One of our teachers' father's fought in World War II. He attended the Mohawk Institute Residential School in Brantford and didn't get his medals or pension until after he died because he is Indigenous. His medals and story are [also] part of the museum.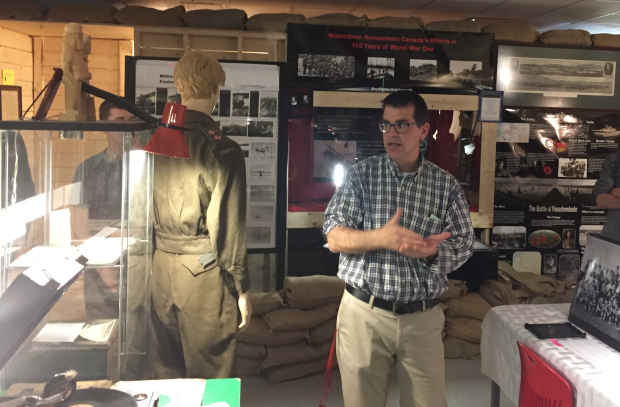 Rob in the Waterdown Museum of History (Submitted by Rob Flosman)
FH: How do students benefit from the museum?
R: Students can read all the history books but their interest and learning reaches new heights when they are able to handle items from the past and from there do an investigation into that period in history. The museum doesn't only build community within the class and school, but it's about students' families and connecting their history to the history of Canada and the world. Through studying history, students should be learning how their story fits into history.
For example, I taught the three siblings of the Lang family. The first of the siblings to come into my class knew that her family hid Jews during the Holocaust and I encouraged her to find out more. The second sibling attempted to discover more of that history. The third sibling, Matthew, was able to build on their research efforts and found some answers. In May 2017, he and his grandfather found the Jewish person they hid. In August 2017, his grandfather and the Holocaust survivor his family hid reunited in Alexandria, Virginia. Now there is an exhibit in the museum that explains the rescue.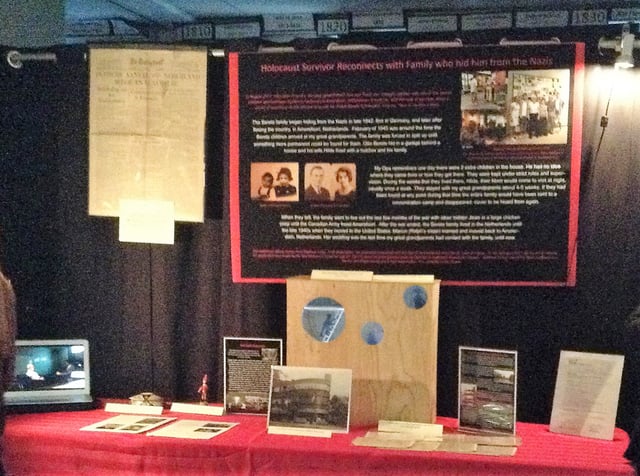 Matthew Lang's exhibit about his grandfather, Tom Van Roon, whose family hid Ralph Berets during the Holocaust. (Submitted by Rob Flosman)
FH: How does the museum bring together the school and its greater community?
R: Students in the (second semester) Genocide and Crimes Against Humanities course... take all feeder school grade eight classes through a whole day of Holocaust education, and World War I & World War II boot camp. The museum is also open during lunch hour and most students in the school visit it.
The museum is open to the public four weeks a year with students acting as visitor guides. Nothing is more satisfying than seeing an elderly person with a surprised look on their face when they realize that a 17 year old knows more than they do about one aspect of history that they had lived through.
The Rotary and Optimist service clubs and Facing History have all contributed money to building the museum. Families donate items for the exhibit. We invite all these contributors back to see the museum.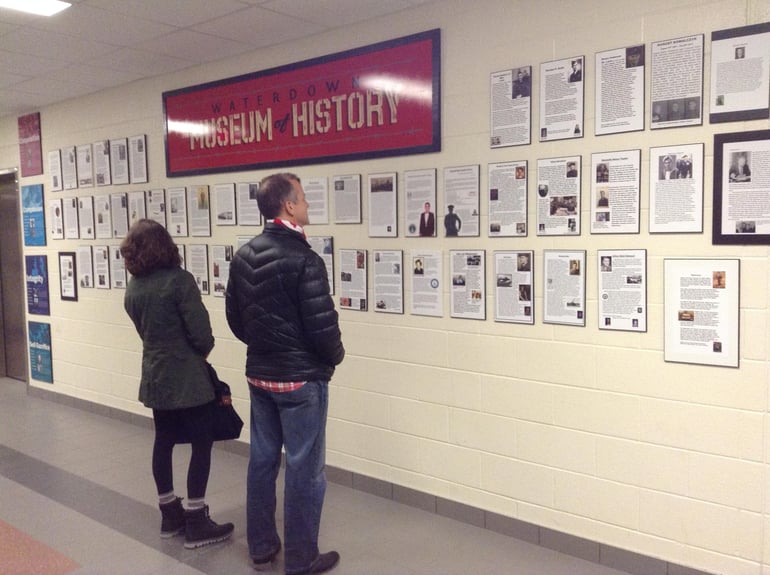 Visitors touring the Waterdown Museum of History Hall of Fame, which documents students' research on family members who have made noteworthy choices in the past that have impacted the lives of others. (Submitted by Rob Flosman)
FH: Shifting gears from the museum to your teaching, what motivates you as a teacher?
R: I love working with young people. Adolescence is a very tough age and students need guidance. They need someone to have faith in them and also bring out their direction and self confidence.When they have victories like the museum or in class it's such a good feeling. There is nothing I think is more important than working with young people.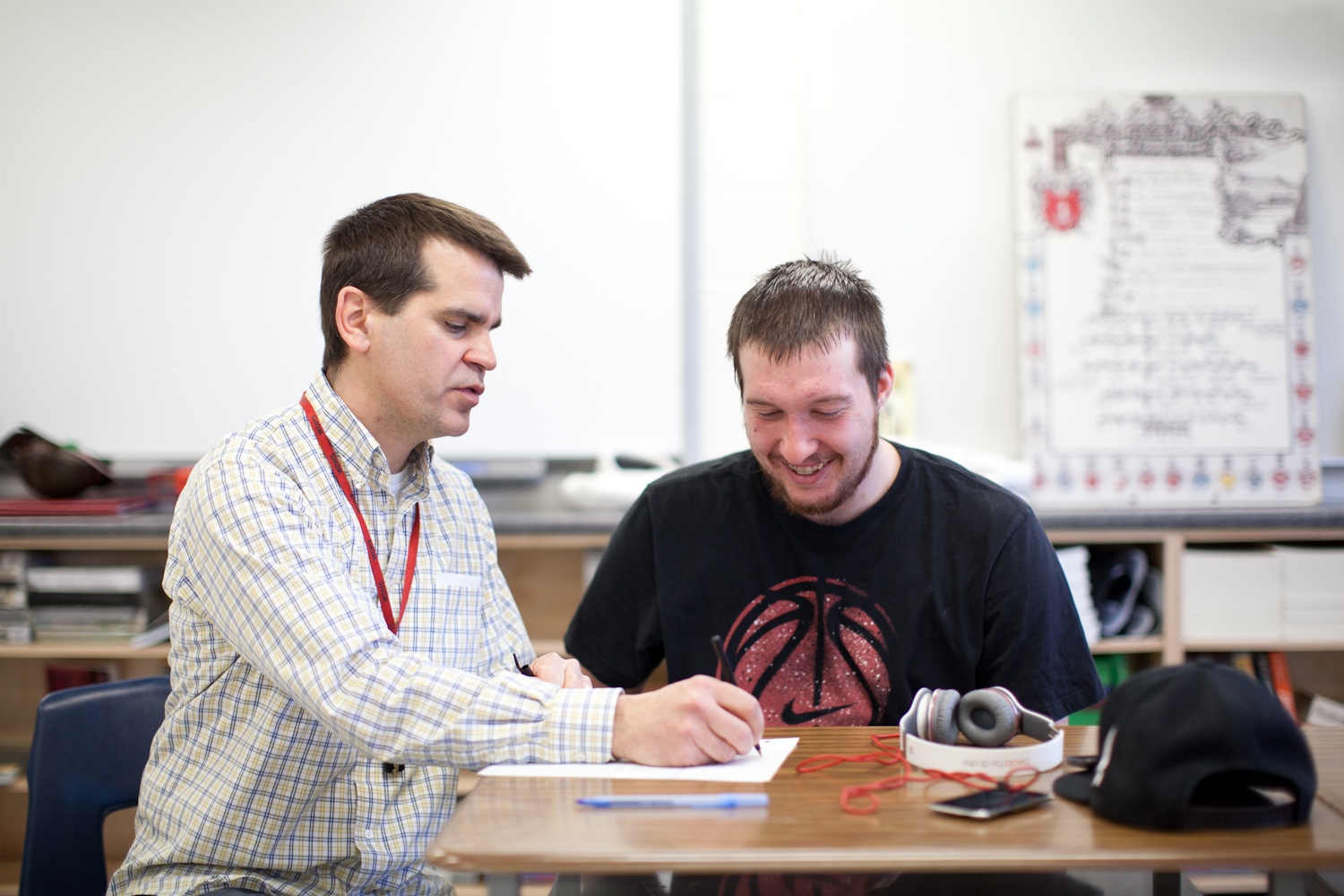 Rob working with his student in his Genocide and Crimes Against Humanities class (photo courtesy Nick Kozak)
FH: Amazing. How has Facing History impacted your teaching practice?
R: Oh my goodness, do you have an hour?
I went through a low period in teaching. It wasn't as if I was burned out or cranky. I was still a fairly successful teacher. I have always had a fire in me when teaching but by year 14 I was starting to notice that something was missing in my teaching. My colleague and I said, "I think we need to offer a genocide course in our school." It was (Facing History and Ourselves Canada board member) Madeleine Levy who called me and said, "If you are going to teach the Genocide and Crimes Against Humanity course, you need to take Facing History and Ourselves' professional development." I told Madeleine, "I've been teaching the Holocaust for years, I know what I'm doing." But she kept on me until I said I'd take the Facing History seminar.
So I take your seminar, and it was a mid-career injection.
All teachers need this injection because sometimes you don't even realize that you need to improve. It threw a lifeline to me. So many of us have worked hard through our professional lives to bring experiential inquiry to our students. Yet at times, we all need a new and fresh perspective. If it was up to me, every teachers college in this province and country would teach Facing History as the basis of history teacher training. I know a few other teachers who did your program, and they say the same thing, Facing History was the mid-career boost that they needed. There are a lot of people who need Facing History. They just don't know it yet.
Facing History helped me frame the units in the genocide course so nicely. Instead of students being bogged down by facts, the lessons provided points of discussion. Where the real learning happens is when you have these kids talking about choices.
Facing History gave me a great deal of confidence and an amazing amount of resources to help me. I have taken 3 seminars with you now and I continue to learn and evolve with you as an educator.
FH: Can you recount a story of students' learning from the Genocide course and museum?
R: I get emails from students often. One of my past students is now a PhD student in geology at a university in the U.S. She wrote to me saying that with Charlottesville and everything going on in the U.S. the relevance of what we learned in class is now so important. It was a shock to me that she remembered!
I got an email last week from a past student named Bella who is about to graduate from the University of Guelph in history and museum studies and she told me that the museum inspired her to become a museum curator.
Since I've gotten the Governor General's award people are calling me and saying, congratulations, I had you as a teacher and I still love those lessons. It's still shocking to me that it stays with the students.
FH: Thanks for speaking with me today.
R: My pleasure! I never get tired of my favourite organization. I tell everyone: Facing History is my favourite professional development because it's the best and it's the only accessible professional development.
I say to my colleagues: How many times have you had professional development where they throw worksheets at you and you never hear from them again? I call Facing History if I have a question about the Armenian genocide and what do I hear on the phone? "Hey Flosman, how's it going?" It's like a friend reaching out. We chat and the program associate says, "I can connect you with a speaker and I can send you this resource."
It's professional development for your career.
---
To learn more about the history and developmenet of Rob's Waterdown Museum of History, read his previous blogs and schedule a visit!
Making a Case for History (Part I)
Turning a Class Into a Museum: Bridging Continents (Part II)
To learn more about Facing History and Ourselves' professional development, take a look at our online and in person offerings