In a Facing History and Ourselves classroom, teachers are often developing creative ways to engage students in learning history. In this blog post, Elise Bigley tells us how she created a digital game- and invites students to create their own digital game- to deepen student learning from primary testimonies and source documents. She introduces us to the Vancouver Holocaust Education Centre's incredible archive of the experiences of Jewish refugees who were deported from Great Britain as enemy aliens during WW2 and interned in prison camps in Canada. These stories allow us to uncover a lesser-known moment in Canadian history and raise important questions about stereotypes, racism and the choices we make towards those who arrive at our borders.
---
I have always been fascinated with how digital tools can enhance our interaction with, and understanding of, history. While I was a Master's student in the Carleton University History Department I also completed a specialization in Digital Humanities. I focused my studies on the internment of Jewish refugees in Canada during the Second World War.
I had worked with the Vancouver Holocaust Education Centre on their Survivor Testimony Project and helped create the Enemy Aliens Research Guide. This often-unknown history of Canada has become an important part of my advocacy on the effects of racism and othering in spaces least expected.

Using Digital Games for Exploring History:
During my time as a Master's student I explored the ways history and digital humanities interact and the impact it can have on learning. One of the results was a digital experience or game titled A Jewish Refugee's Journey to Canada. I define the term game in the context of this blog as a digital or interactive experience designed to provide an opportunity for education. It is not defined in the traditional sense of the word referring to entertainment.
It was created using Twine, an open-source, web (or desktop) based program for telling interactive and often nonlinear stories. What I appreciate most about Twine is its approachability for students who may not already know how to code. However, it has the capacity to create more complex stories using CSS, JavaScript, images, etc. if users have the knowledge.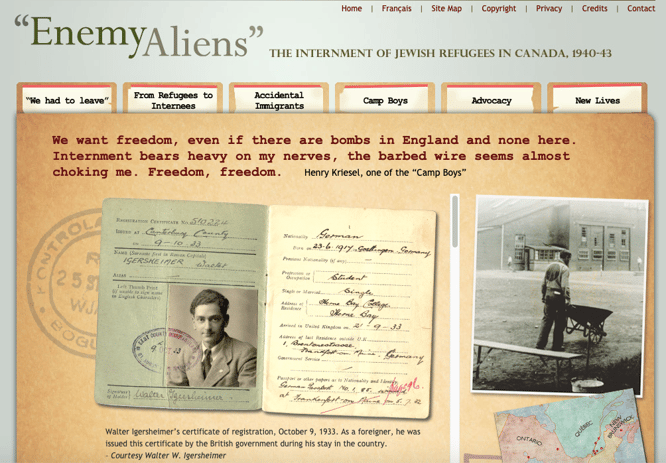 The game was created as a digital experience and tool to complement the Vancouver Holocaust Education Centre's online exhibition "Enemy Aliens": The Internment of Jewish Refugees in Canada, 1940-1943. Its purpose is for each student to contemplate the mindset of these young male Jewish refugees and the decisions they were forced to make during the Second World War. If you open the game, you will see on the first screen that you are asked to choose a character: Raul, Abraham, or Jacob. They each carry a different story. The questions that follow are based on the content of the online exhibition. Most of them can only be answered after reviewing and studying the exhibition. There are also points of reflection in the game, asking the students what emotional, intellectual, or ethical responses learning about the Jewish refugees evoked for them.
The game is currently limited to Jewish refugees' experience from their time as refugees in England in 1940 until their arrival in Canada. It does not cover the entire online exhibition as the game is meant to serve as an example of what could be created. This game can be used in the classroom today, as is. It will only take about 5-10 minutes to go through. It is suitable for older students, who are currently undergoing Holocaust education in their curriculum. It can be done individually or in pairs, to allow for the students to discuss their answers to the reflection questions throughout the game. This exercise would touch on the core competencies of the new curriculum (Thinking, Communication, and Personal, Social, and Cultural Awareness and Responsibility) and links closely to many of the learning objectives in the Social Studies curriculum.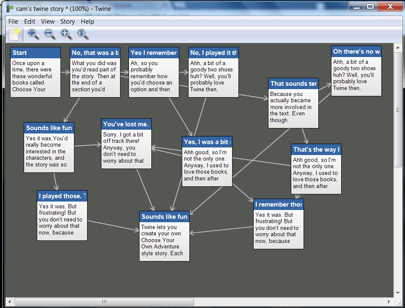 Sample image of student creating a game using Twine
Game Creation as a Tool for Engaging Students in Learning History:
As a further application, have the students go through the curriculum and online content. Then, I would suggest allowing the students to create their own Twine game based on the online exhibition and what they have learned. In the making of the interactive experience, the students will have to come up with questions based on the experience of the Jewish refugee. They will also have to communicate their findings and knowledge gained on a unique platform. This would be a good opportunity to have each student present the interactive experience they created and how the content spoke to them. This exercise will allow students to combine their knowledge gained from the curriculum and the use of digital tools, in hopes of them interacting with history on a different level.
---
How might students in your classroom relate to the stories of the Jewish refugees?
How does this add to our understanding of the way Canada considered its Universe of Obligation during the war? What questions does this helps us to raise in todays world?
How do you integrate technology and digital learning into your classroom?