Why is studying history relevant?
Canada Day, Independence Day, Bastille Day. Theses are days of celebration. People gather, wave flags, watch fireworks, and enjoy a long weekend in celebration. But what exactly are these days in celebration of? Why do we mark particular days with significance? Are these days equally as important for all people? Why do we honour the people we do? Are these people significant for all groups and generations? Can we change the way we remember individuals or honour new ones in light of new information?
2017 marked Canada's sesquicentennial, and with it sparked nationwide celebrations and discussions regarding our collective experiences and heritage over the past 150 years. Canadians from coast to coast learned about our various successes throughout our history and joined in the celebration. A criticism of Canada 150 was that it ignored the history of Canada's Indigenous peoples. This led to a greater discussion over what collective history and colonization mean, and how we can best remember it.
At the same time in the United States there was a larger discussion of remembrance and honouring history as the debate over Confederate Symbols and Memorials took center stage in the news. Many wrestled with the purpose of memorials and celebrations we have today. Some argued removing or altering how we remember the past is revisionist history and dishonours accomplishments and heritage. Others believed that history is dynamic and our understandings of the past should be ever changing and relevant to the present. This has opened a larger discussion around whose stories and voices get included in the national narrative we pass on from one generation to the next.
Why is history education relevant?
In the context of this national debate, alongside our colleagues, we began to discuss the purpose of teaching history and its relevance to our students' lives. Every student in Ontario is required to take the Grade 10 Canadian History course. The challenge that we face as history teachers is to reflect the diversity of the students who enter our classrooms in what we teach, and make the past relevant to their present lives. Our departments has been trying to address this by working to weave various voices and perspectives within contemporary narratives to engage students and foster curiosity. We have found that this gives students space to ask questions, to foster empathy, to become critically thoughtful, and ultimately to inform their own decision making and personal choices.
Framing the course
The grade 10 Canadian history class is a general survey course that covers over 100 years of history; an impossible task to cover everything. As such, our approach needed to change from content based teacher driven learning, to inquiry based learning. Over the past few years we have been redesigning our courses around a series of inquiry questions to drive the learning in our classrooms, to prompt critical reflection of past events, people, and their actions or decisions. We used the question "How do we remember Canada's past to better understand its present?" to drive the inquiry in our history course. Each unit has it own specific overarching question, but we would always revisit the course question.
We launched the course by outlining the concepts of celebration and commemoration, and developed criteria to use in order to answer our guiding question. Students were then asked to reflect on what they knew about what we celebrate as a nation. We found that many students genuinely did not have a strong background in this. Both the triumphs and the tragedies are not well known or understood by this generation. This became our semester long journey.
While we approached each unit chronologically, we interwove all the major events, concepts, and themes with this inquiry. Students would constantly reflect back on which events stood out to them, or had significant meaning to their lives. They were asked to make judgments- should these people or events of the past be celebrated or commemorated and why? How do they connect to events or issues today? Unit by unit students began to make links between past and present and began to think about how these aspects of Canada's history influence our world today and how they could be remembered.
Throughout the course, students were introduced to both historic and contemporary memorials celebrating and commemorating various countries' histories. They gained insight into how memorial can be used as a tool to foster understanding, promote discussion and evoke significant emotions.
The Culminating Assignment
The challenge posed to students was to design a public memorial and to create a pitch to Heritage Canada to justify adding to the contemporary understanding and discussion of our collective past.
As part of the design process, students investigated their chosen topic by going through primary documents and secondary sources to explore its historical significance and contemporary relevance. Students reflected on the personal connection or impact learning about that history had on them. Much like existing monuments, students were challenged to create designs to invoke emotions, spark questions and ultimately inspire action.
Students created "out of the box" memorial prototypes and discussed how and where they should be placed in Canada to best achieve their desired goals.
Student Work
Students created a wide array of monuments and memorials to both celebrate and commemorate their chosen topics. Whether it was designing a new coin or $20 bill, a Heritage minute, a mural, a poem or a VR experience, students showed their creativity in attempting to make those experiencing or viewing their work feel and reflect about something.
To commemorate the Holocaust, one student designed a maze that followed both survivor and victim stories through a path, some leading to forks in the road, others to dead ends. They hoped to foster empathy and recognize the strength of victims, resistors and survivors alike.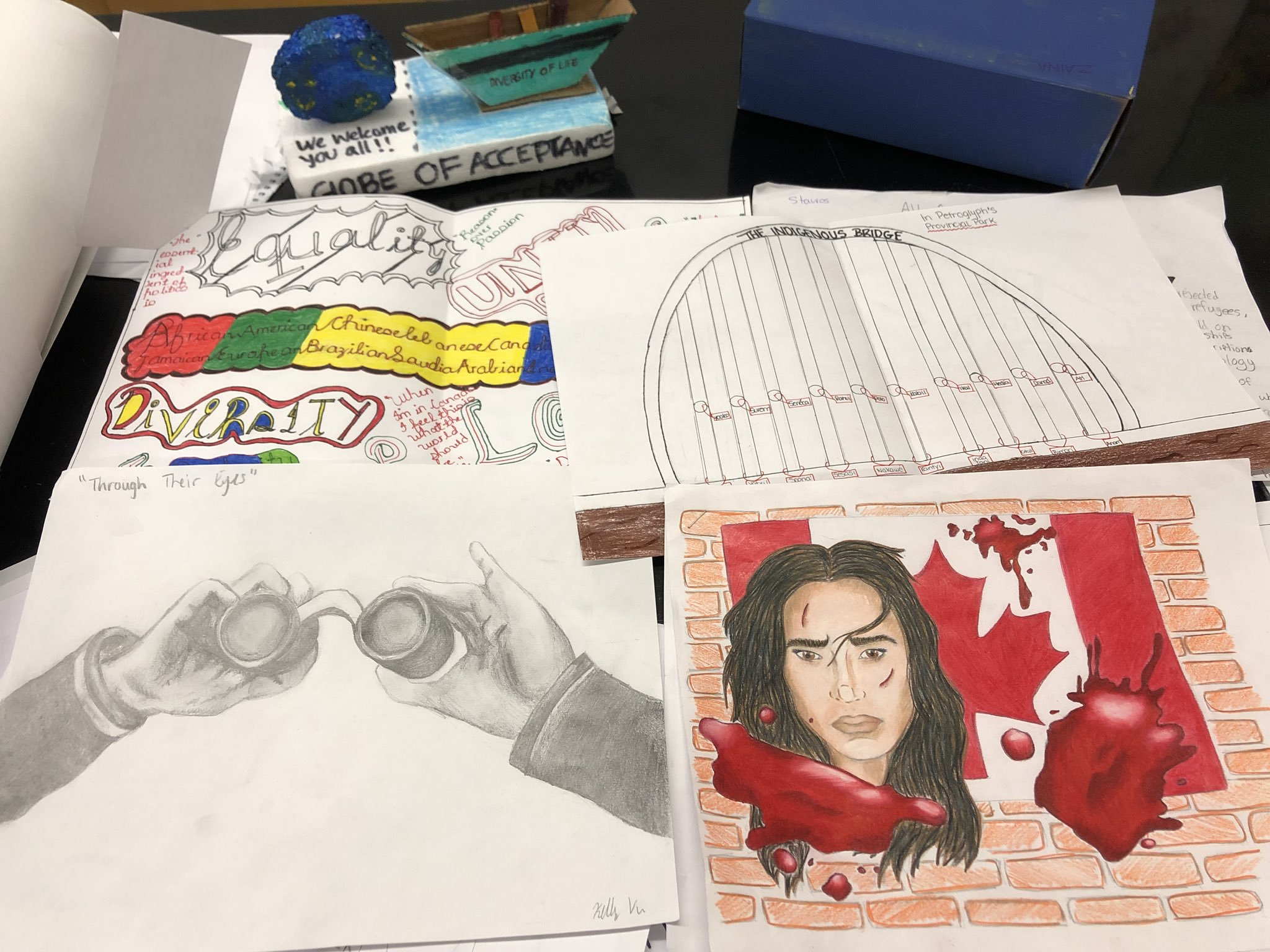 To celebrate the strength and resiliency of Viola Desmond, one students suggested hosting an annual film festival celebrating Black Canadian film and documentaries at the very theater Viola Desmond was removed from. The hope was to create a platform for Black Canadian narratives and foster pride and inclusiveness.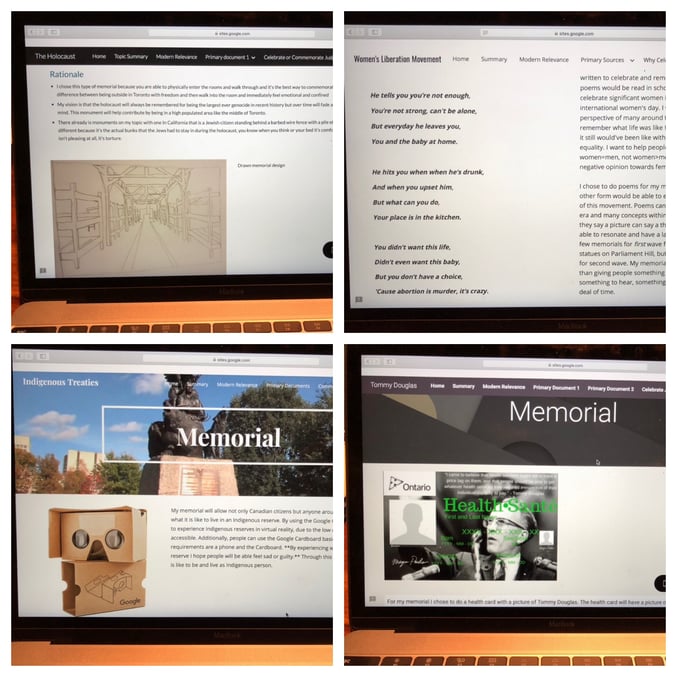 To make people critically think about the historic and contemporary barriers faced by Indigenous Canadians, one students designed parallel sidewalks. One of the sidewalks contained images of non-Indigenous Canadians and the second included a difficult and barrier obstructed path which became increasingly more difficult to navigate as you continued down the path. These barriers reflected the challenges Indigenous Canadians face in this country that non-Indigenous Canadians do not.
Final Thoughts
As the grade 10 history experience came to an end, students presented their memorial designs as part of their culminating task. Our hope was that everything would come full circle for them. We began the semester posing the question: "How do we remember Canada's past to better understand its present?" We hope they can confidently provide an answer to that question, more importantly, their answer.
We hope that throughout the semester we have created a safe space for students to explore and be reflective of Canada's successes and struggles, to hear different voices tell their experiences and stories, and ultimately draw their own conclusions about what a historic event means to us today. We hope that students develop the skills to be critically aware of not just our past but of the challenges we face today and begin to be a part of the larger conversation of how we can overcome them.
Ultimately we want our students to leave our course with a better understanding and appreciation of history's relevance. If this experience has taught us anything, it is that in order to do that students just can't be consumers of history, they have to be the creators.
Below are links to two various of the assignment adapted for each of our schools.
Next Steps
How have you made history relevant for your students?
How do you get your students to be creators of history, not just consumers?
Co-Authored by Kristen Drury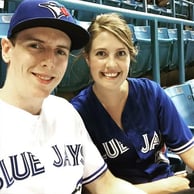 Kristen Drury is a history, social science and ESL teacher with the Peel District School Board. Kristen is passionate about finding ways to help students engage with history and wants them to feel challenged to take action. She strives to find new ways to incorporate inquiry based learning and critical thinking into her teaching practice. Follow her on twitter at @Ms_Drury.