Students love music so, when I tell my grade 11 College English classes that they are going to be creating CDs as their first project, students get excited. Inspired by Facing History's approach to teaching about genocide, I started the "Tracks Of My Life Project" to engage students in exploring the concept of identity that is foundational to our first novel, Indian Horse by Richard Wagamese.
In his novel, Wagamese takes us on a journey of self discovery that allows the students to think meaningfully about their own identities, racism in Canada and the dark history and legacies of the Indian Residential School System.
Here is the outline that I use for the project. Feel free to explore the steps below to see how you might incorporate a similar project in your classroom.
STEP 1: Establishing Personal Identity and Values Through Self-Portrait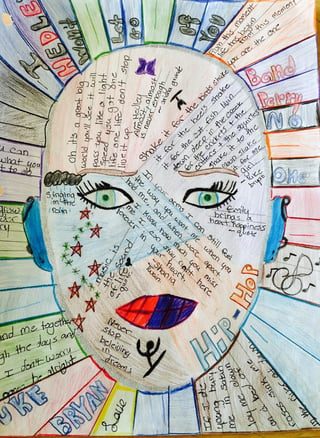 Students begin the project by creating a self-portrait that is both a visual and literary expression of self. In the portrait, students identify what they value, who they value, and how others see them. From the self-portraits, I want to be able to identify the student, without searching for their name.
This is probably the most important step in the project. This portrait will not only become a students CD cover, it will also communicate their values, beliefs, ethnic or community origins, and passions. This will prove to be the most valuable self-reflection students do as I begin to explain what was taken away from Indigenous children during the Sixties Scoop and the horrific times of the Residential Schools.
After completing their self-portraits, students delve further into an exploration of identity through music. Billy Joel once wrote, "I think music in itself is healing. It's an explosive expression of humanity. It's something we are all touched by." Music is one of the things that ties people together when language cannot. It is an equalizer and a powerful mode of communication.
How one educator created a safe classroom to discuss difficult topics
Teaching Strategy: Identity Charts
STEP 2: 10 Defining Moments
Through the next portion of the project, students explore defining moments, critical choices, pivotal people, and memorable places that have helped to shape their personal identities.
We usually begin this portion of the project by reading a short autobiography of singer/songwriter and author Jann Arden. Toronto Star writer Peter Goddard has a piece titled "Jann's Journey," which explores the defining moments that shaped her artistry and her character. This gets students thinking about their own defining moments, and how sometimes they are the most difficult ones that we go through.
Students then have the opportunity to brainstorm some of these moments themselves. They usually start with birth, but often explore successes, failures, arguments, marriages, divorces, injuries, wishes come true, etc.
Listen to Thomas King share his insights into the Truth about Stories
STEP 3: 7 Critical Choices - Reflecting On Decisions
Next, students examine seven critical choices that have helped fashion them into the people they are today. This is a major aspect of the assignment because it asks the students to look at the fact that they have choices which is pivotal to their understanding of how genocide begins…with choices.
Four stories that invite students to dig deeper into the choices that define us
STEP 4: Pivotal People - Influence Of Individuals On Self
In this fourth step of the project, students identify the people in their lives that have influenced them, whose values and expertise they rely on. Often students identify friends, family members, or teachers.
This portion of the assignment allows me as the teacher to connect with students as we move into our study of the Cultural genocide and explore the people who matter to us, and imagine what our lives might be like if those people were taken away. We explore questions like:
Who would you rely on if these pivotal people weren't there?
What effect would this have on you?
Learn more about the Life Road Maps teaching strategy
STEP 5: 3 Memorable Places - Location-Based Feelings
Location is imperative to the understanding of the genocide that we will study. Residential schools were often a minimum of 10 miles outside of Indigenous communities, thus forcefully removing the children from the people, places, and cultures that they knew. As my students read Indian Horse, they can see that the protagonist, Saul, feels very connected to specific times and places. In this portion of the exercise, students identify places that have brought them joy or places in which they feel safe.
Explore Words, Places and Belonging, from Stolen Lives: The Indigenous Peoples of Canada and the Indian Residential Schools resource book.
STEP 6: Master Track List
Once students have explored their defining moments, critical choices, pivotal people, and memorable places, it is time for them to do what they have been waiting for: Look for music to make their mix CDs.
Students spend about two class periods identifying songs that closely relate to the emotional or thematic nature of each of their defining moments. Utilizing a Master Track List, students begin to bring their songs together. On YouTube, each student creates a channel with the 25 songs that they wish to place onto their CDs. Each student chooses the songs from artists they find best express their moments.
STEP 7: LABEL & Assembly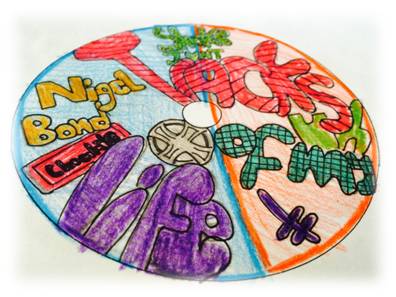 Finally students create an original label for their CD that has their name and a personal design on it. They download their music and burn a CD.
Their self-portrait is scanned and printed on the CD cover. The CD label is also scanned and printed to cover the CD. Their tracks and information is typed and printed in a card that is placed in their CD case.
Students have created something that screams their identity, what they deem important, and the moments, choices, people, and places that have made them into who they are.
Students are now ready to critically look at "the other" in our study of genocide, both as we read Indian Horse and throughout the class. The initial work they have done will serve as a great touch stone for further reflection as we continue to compare their lives as students to those of students in the residential schools. Unknowingly, students are preparing themselves for a journey of deep and meaningful exploration.
Learn more about resources and professional learning to support how you engage students in literature and history:
In order to better understand Facing History Approach to teaching History and Literature, and the important role that studying identity has, click here to learn more.
1.Facing History and Ourselves' resource Holocaust and Human Behaviour provides excellent readings, questions and activites for you to use with your students to help them grapple with themes ranging from Identity and "Othering" to genocide and justice.
2. Explore Facing History and Ourselves' resource Stolen Lives: The Indigenous Peoples of Canada and the Indian Residential Schools for both historical background information, primary sources and Indigenous voices to tell the history and legacies of Residential Schools.
3. Click here to check out Upcoming Workshops or to register today for a summer seminar on Teaching Stolen Lives: Indigenous Peoples of Canada and Indian Residential Schools or Teaching the Holocaust and Human Behaviour through History and Literature