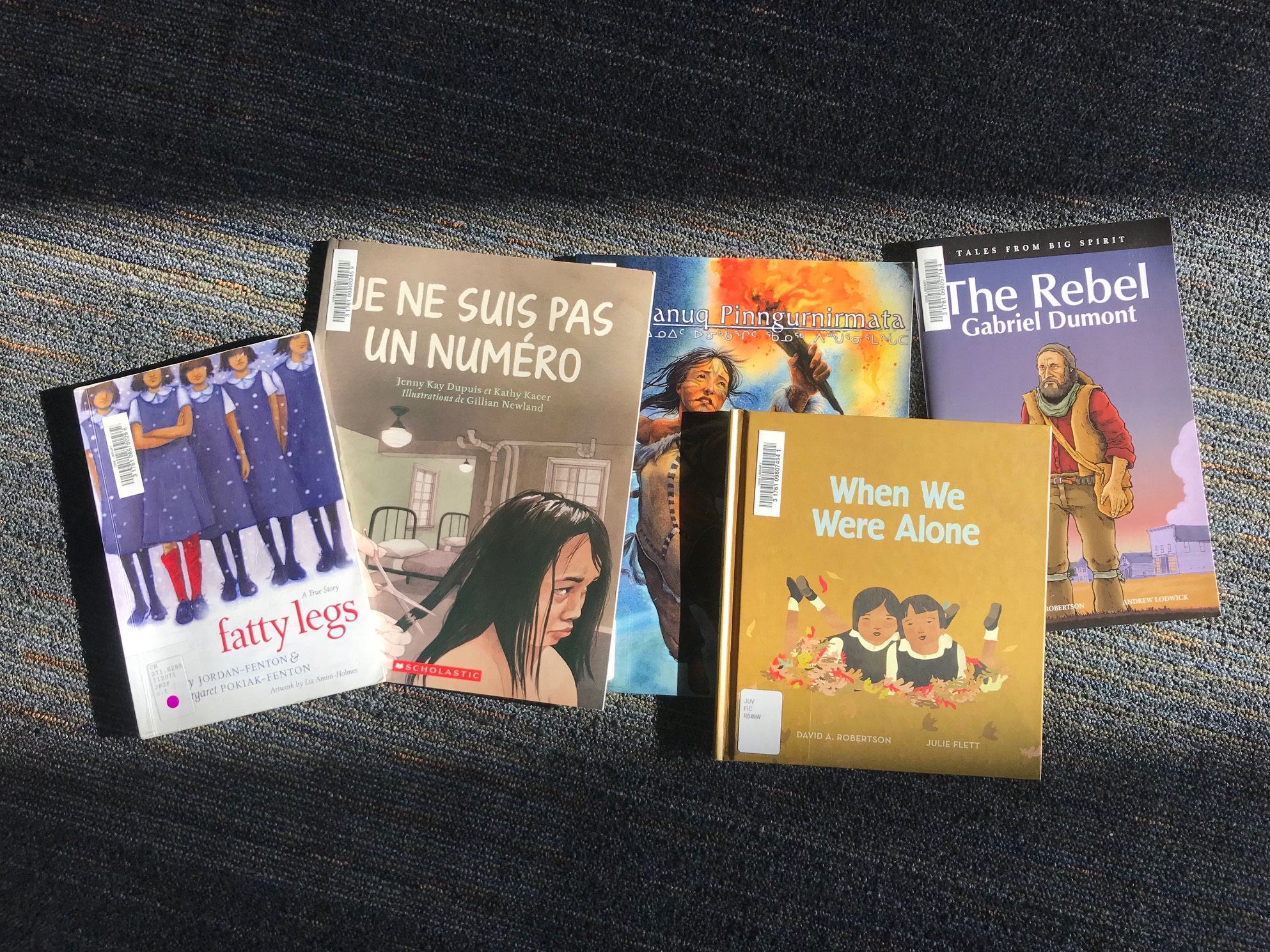 A sampling of Indigenous authored resources for K-12 classrooms from the OISE library. [Photo courtesy of Desmond Wong.]
In a talk titled, What is Reconciliation, Chair of the Truth and Reconciliation Commission, Senator Justice Murray Sinclair, reflects:
"It took us a long time to get to this point, in terms of the relationship between Aboriginal people and this country. Seven generations of children went through the residential schools. And each of those children who were educated were told that their lives were not as good as the lives of non-Aboriginal people of this country. They were told that their languages and culture were irrelevant...at the same time that was going on, non-Aboriginal children...were also being told the same thing... So as a result, many generations of children...have been raised to think about things...in a way that is negative when it comes to Aboriginal people. We need to change that."
Including Indigenous voices, worldviews and resources into classrooms throughout Canada is an essential part of that change. In doing so, it is equally essential to bring a breadth of resources into classrooms so students encounter a diversity and depth of lived experiences. The following post, written by Ontario Institute of Studies in Education librarian, Desmond Wong, helps us to do that.
Before I begin, I have learned from Elders that I should situate myself and describe how I came to this work. My name is Desmond Wong and I am a guest in Tsi Tkaron:tó (Toronto). I trace my ancestry back from Hong Kong and China but I grew up in Markham, Ontario. I am a librarian at the Ontario Institute for Studies in Education and among my responsibilities, I purchase Indigenous Education resources. As a settler-librarian, I work with educators to bring these voices into classes. I have experience working within Indigenous communities, including with the Cree community in Oujé-Bougamou, Quebec. I continue to learn from Indigenous colleagues, Elders and leaders in Indigenous communities, who inform my work as a librarian.
Below are some of the resources that I have come across over the course of my work. Unless otherwise noted, the resources below are created by Indigenous authors and organizations. I hope that these resources will help spur reflection and conversations about the role each of us has in Reconciliation and our responsibilities to strengthening a nation to nation relationships and our responsibilities to this Land.
School Section: K – 3
Treaty Baby by Sara General (2016) – This resource describes treaty relationships in a manner that is understandable to students in Kindergarten and primary grade classes. It is a wonderful introductory resource to the importance of maintaining treaties with Indigenous peoples.
When we were Alone by David Alexander Robertson; Illustrated by Julie Flett (2016) – This is a story about a girl who notices one day how her Grandmother valued her traditions and her family. When she asks her Grandmother about it, she is told about Residential Schools and how students in those schools were not allowed to be with their families, speak their languages or live in their traditional ways.
Coyote Columbus Story by Thomas King; Illustrated by William Kent Monkman (2007) – This book is a Trickster Tale about Coyote, who created the world, and her meeting with a peculiar man named Columbus. This story is especially compelling because it offers an Indigenous perspective on the arrival of European settlers and offers an Indigenous viewpoint in a format that is fun and easy for younger students to understand. As an added bonus, the book is illustrated by renowned Cree artist, Kent Monkman.
The Water Walker by Joanne Robertson (2017) – The Water Walker details the journey of Anishinaabe Nokomis (Grandmother) Josephine Mandamin as she walks from the Oceans to Lake Superior to challenge humanity to protect nibi (Water). This resource is an early introduction to Indigenous environmental stewardship and resistance against destructive uses of Earth's precious resources.
School Section: 4 – 6
Treaty Tales Trilogy by Betty Lynxleg; Illustrated by Scott B. Henderson and Amber Green (2015) – This trilogy centres on the main character Neepin, learning from her Grandmother about treaties and their importance to Indigenous peoples. Along the way, she not only learns about the history of treaties but also lessons about friendship and respect. The trilogy consists of three titles: The Handshake and the Pipe, The Friendship and We Are All Treaty People.
I am not a Number by Jenny Kay Dupuis; Illustrated by Gillian Newland (2016) – In this book, which is based on the experiences of the author's Grandmother, the main character Irene is forced to leave her family and go to Residential School. There, she is forbidden from speaking her language, and only referred to as a number. This is a frank portrayal of the abuse suffered by survivors of Residential Schools and is an important conversation starter for students.
The Rebel: Gabriel Dumont by David Alexander Robertson and Andrew Lodwick (2015) – Follow the main character Tyrese and his friends as they learn about the history of the great Métis leader Gabriel Dumont. This culminates in the Battle of Batoche in Saskatchewan, which is an important event in the formation of the Métis Nation. This title is part of a seven-part series Tales from Big Spirit.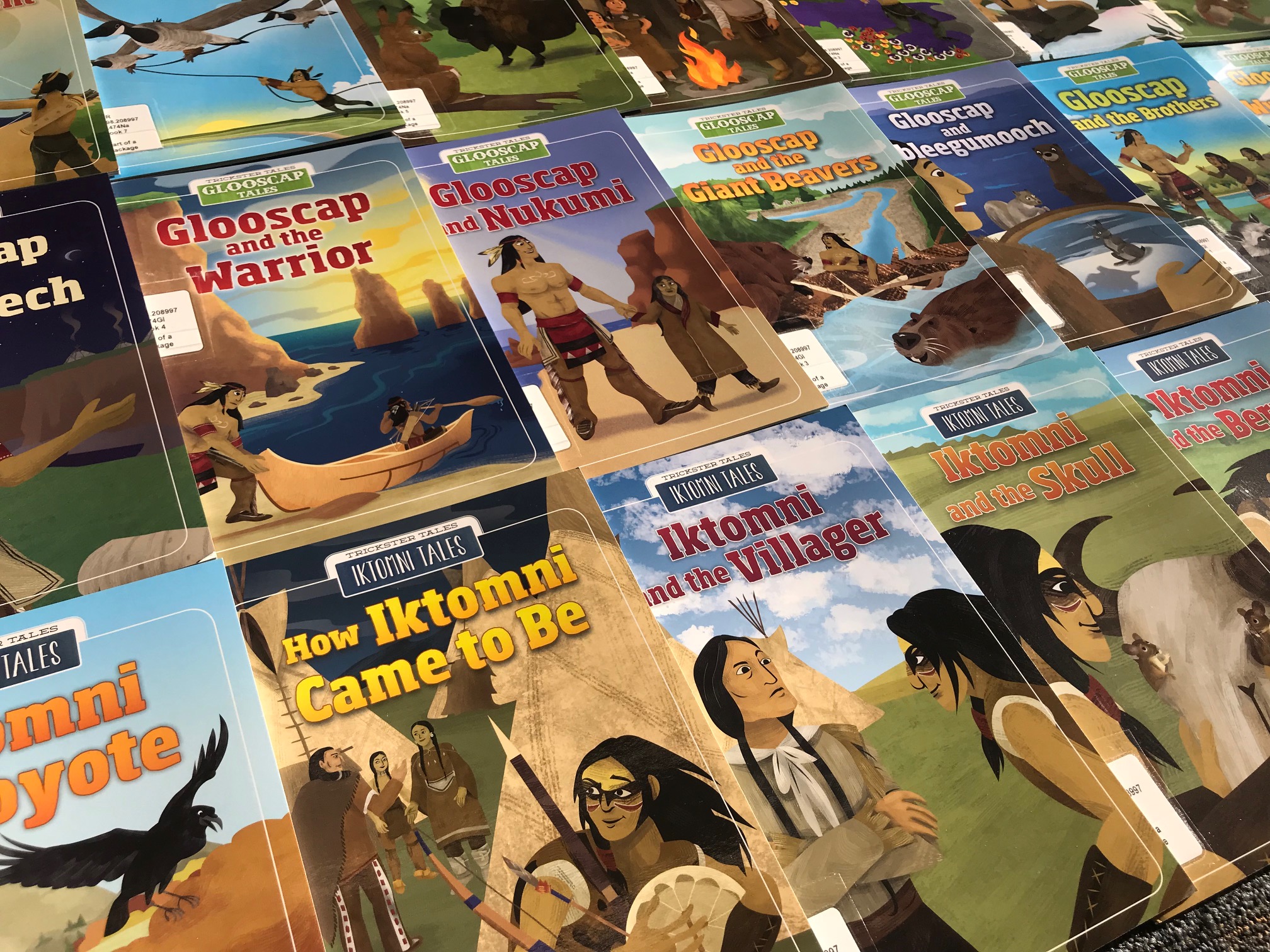 Trickster tales Series by various authors, Scholastic Canada. [Photo courtesy of Desmond Wong]
School Section: 7 – 8
LII Zistwayr Di La Naasyoon Di Michif (Stories of Our People): A Métis Graphic Novel Anthology by Norman Fleury, Gilbert Pelletier, Jeanne Pelletier, Joe Welsh, Norma Welsh, Janice DePeel; Illustrated by Carrie Saganace (2008) – This anthology consists of five tales that combine Cree, Anishinaabe, and French-Canadian stories. The stories are told in an engaging manner that brings Indigenous traditional stories into a graphic format.
Trickster Tales Series by Various Authors, Scholastic Canada (2016) – This series of levelled readers covers the tradition of trickster tales across many communities in Canada. They are written with Elders or community leaders from the communities from which these stories originate. There are also teacher cards that are available that instruct on cultural sensitivities and how to teach these stories in an appropriate way.
Call of the Fiddle by Wilfred Burton and Anne Patton; Michif Translation by Norman Fleury; Illustrated by Sherry Farrell Raclette (2011) – This story follows the journey of a young Métis boy to embrace his culture and heritage, especially through music and dancing. There is a Michif version of the text, bringing readers closer to the traditions and characters in the book.
How Things Came to Be: Inuit Stories of Creation by Rachel and Sean Qitsualik; Illustrated by Emily Fiegenschuh and Patricia Ann Lewis-MacDougall (2014) – Covering important aspects of the Inuit Creation Stories, readers are invited to learn about Inuit worldviews through a collection of nine stories. Each story begins and ends with an explanation of how these stories are applied to worldviews in a practical manner, paired with illustrations to excite the imaginations of students.
Fatty Legs by Christy Jordan-Fenton and Margaret Pokiak-Fenton; Illustrated by Liz Amini-Holmes (2010) – This is a first person account of author Margaret Pokiak's time in Residential School. The story is a lesson in human dignity and compassion in the face of cruelty.
School Section: 9 – 12
Moonshot: The Indigenous Comics Collection edited by Hope Nicholson (2015)– In this Indigenous created comic anthology, writers and comic artists from across Turtle Island collaborate to create stunning works that highlight traditional stories, Indigenous futurities and present realities in an innovative way.
Nation to Nation: A Resource on Treaties in Ontario by the Union of Ontario Indians; Edited by Maurice Switzer (2013) – This is a useful senior grade resource on the nation to nation framework that marks Indigenous peoples' relationship with the Government of Canada. It also features information regarding the background of treaties, the history behind them and their importance to Indigenous peoples. Importantly, this resource focuses on treaty relationships from an Indigenous perspective.
Louis Riel: A Comic Strip Biography by Chester Brown (2006) – Although this resource was not written by an Indigenous author, Brown meticulously researched the life of Louis Riel. Riel, who is one of the founders of the modern Métis Nation, is seen defending the rights of the Métis in Red River in what is now Manitoba. Throughout the story, readers can also see the formation of a distinct Métis identity during its birth as a distinct national entity.
Stories of Road Allowance People by Maria Campbell (1995) – This is a collection of stories from lii vyeu (Métis Elders). It is a cherished and celebrated series of traditional stories that give voice to the Métis and acknowledges their past as living in communities affected heavily by road allowances.
Love Beyond Body, Space and Time edited by Hope Nicholson (2016) – This is an anthology of Indigenous Science Fiction stories that heavily feature Two-Spirit and LGBT Indigenous characters. This anthology offers an alternative understanding of the genre of Science Fiction through the lenses of Two-Spirit writers, including Gwen Benaway and Nathan Niigan Noodin Adler.
Les ressources françaises / French Resources
Achimoona par Maria Campbell (1989) – Une collections d'histoires avec des personnages autochtones. Dans l'introduction, l'auteur décrit l'importance des histoires dans les cultures autochtones.
(This is a collection of stories with Indigenous characters. In the introduction, the author describes the importance of stories in traditional cultures for Indigenous peoples)
De Nation à Nation : une ressource sur les traités en Ontario par l'Union des Indiens de l'Ontario; Edifié par Maurice Switzer (2017) – Ceci est une ressource pour les étudiants au sujet des traités en Ontario. Ce livre contient l'histoire des traités et leur importance aux Nations autochtones.
(This is a resource for students with descriptions of treaties in Ontario. This book contains the history of the treaties and their importance to Indigenous Nations.)
Comme on se sent bien ici (Zhik gwaa'an, nakhwatthaiitat gwiinzii) par Julie-Ann Andre, Mindy Willett, France Benoit (2011) – L'histoire s'agit d'un auteur et de sa famille, et offre un aperçu de la vie traditionel. Le texte est écrit en français et aussi dans la langue Gwitch'in.
(This book presents a view of a Gwitch'in community in the contemporary period. The story follows the author and her family but also offers reflections on a traditional way of life. The text is also presented in the Gwitch'in language.)
______________________________________________________
If you bring stories of Indigenous identity and the history and legacies of Indian Residential Schools into your classroom:
Please leave a comment with your resource recommendations
Take a look at the two week outline to teaching Stolen Lives: the Indigenous Peoples of Canada and the Indian Residential Schools