In order to pursue a conversation about reconciliation in my classroom, and to ensure that my voice as a non-Indigenous teacher does not become louder than the survivors, I constantly strive to include Indigenous voices in my classroom. I want my voice to amplify Indigenous voices, not speak over them, or for them. I was fortunate enough to be given the opportunity through Facing History and Ourselves to have Theodore Fontaine share his experiences with the Canadian Residential School System in my Challenge and Change Grade 12 University class.
Preparing for Survivor Testimony
I wanted to create a safe space for this visit so I made sure to work extensively with my students to prepare them for his visit (to see the work leading up to his visit, see here). As I began teaching my students the history behind the Residential Schools and major perpetrators, reading other survivor testimonies from Stolen Lives: the Indigenous Peoples of Canada and the Indian Residential Schools, discussing the impact today and examining the use of the term culture genocide, I witnessed my students reframe their dialogue. Students' expressions of apathy at the beginning of the unit turned to expressions of outrage, as they began to learn about how we, as Canadians, could let something so horrible continue. I knew then that my class was ready for Theodore.
Before Theodore spoke to my students, they were exposed to a brief biography of his life so they were prepared for what was to come. We discussed proper etiquette towards welcoming and listening to Indigenous speakers and brainstormed questions to ask Theodore. All of this was done to ensure the utmost respect was shown while he was in the class, and to prepare students for their first experience with in life survivor testimony.
Listening to Survivor Testimony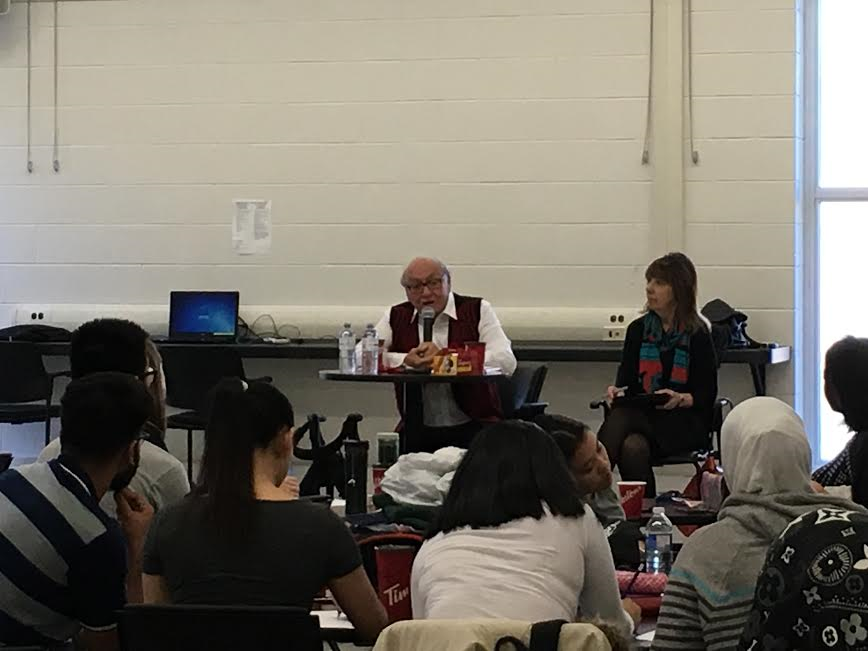 While I felt I had prepared my students as much as possible, I don't think they accurately anticipated what their reaction was going to be to Theodore's testimony. There is something about putting a face to the accounts that really impacted the students as they heard his story of life before and during residential school, and his journey towards reconciliation.
Student Responses to Theodore's Testimony
Afterwards, students went on to our class website to respond to the prompt: "How has Theodore's personal story impacted your thinking on the history of the Indian Residential Schools and the TRCs Calls to Action?" Below are a sample of student's responses.
"Hearing about [Theodore's] trials and tribulations really helped shed light on an issue that is not discussed enough in today's society. I think that in the future, along with having Holocaust survivors come to speak in front of the whole school, we should also have residential school survivors share their stories to help bring awareness to their causes. I truly appreciate Theodore having the bravery and courage to speak in front of our class, as I can only imagine how painful it must be to relive all of his vile memories as he is sharing time and time again. I only hope that I can become as courageous and have the same impact as someone like him one day."
"Theodore's personal experience with residential schools has made the [history and legacy of the Residential Schools] more real for me. Instead of these facts being mere statistics or words on an article, his talk added a face to the problem and allowed me to envision it as something that has actually happened, as (in some cases) is currently happening to the Indigenous community. The Indigenous problems are not just history that had happened centuries ago, but is something that we are facing today, and we have to address today. He also gives hope, that reconciliation is possible, and that the Indigenous community is forgiving."
"Theodore's story has really opened my mind and given me an insider's point of view of how young children were treated so cruelly at the Residential Schools. I felt awful when hearing about how the children were forced to assimilate and were forbidden to speak in their language, practice their culture and were even taught to hate their own families, simply because they were "Indians" and were considered "savages" by the instructors at the schools. It was incredible to hear that after all the pain and torture Theodore suffered, he still met with some of the perpetrators and eventually forgave one of them. It is evident that Residential School survivors not only suffered during their time at the school but still suffer from the lasting, traumatic events till this day. We need to recognize that the land belonged to the Indigenous people and that they do exist and are an essential part of Canada and it's history. We should spread awareness and information on the lasting impacts of residential schools. We should promote rights for Indigenous people through different mediums like social media and call upon the Government and different organizations to take action, amend policies, guarantee equal rights and proper resources for the Indigenous people, and investigate further on the issue of MMIW. We need to continue doing what we're doing, by discussing this topic with friends, family, classmates and our community to further develop our understanding on this topic"
"Theodore's personal story impacted the way I think about the history of Indigenous people including the residential schools and truth and reconciliation commission....Originally, just listening and learning about indigenous people never affected me, however meeting Theodore made that whole part of history so much more real. I now realize the lasting effects of the schools and the way Indigenous people are still treated are so differently. Now I think and feel that the truth and reconciliation commission should strongly be enforced and Indian Residential Schools should be a part of history that is acknowledged throughout schools...it seems all Canadians have been bystanders towards what happened and continues to happen to Indigenous people. I hope that the Indigenous get the reconciliation and rights they deserve."
Debriefing Survivor Testimony
During Theodore's testimony, students filled out a "head, heart, hands" worksheet to explore the heavy content of his story, as well as wrote down one quotation from Theodore that most spoke to them. They brought that with them into the class the following day for our debrief. Our debrief was structured to take them step by step through the worksheet: The head (their thoughts), the heart (their feelings) and the hands (the actions they want to take). We began with the head portion of their reflection.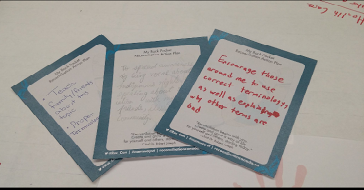 After sharing, it became very apparent to both the students and myself that the class as a whole was very moved, angry and passionate to act. They then wrote on a sticky note the quotation that most spoke to them and shared it with the people in their table groups, identifying common themes, feelings and ideas that came as a result.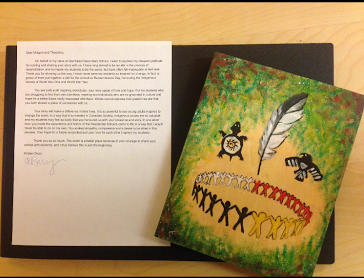 Next, each table group began to create a visual representation that connected to Ted's presentation, with the end goal of creating something to send to him. These creations were put into a scrapbook along with a letter from myself to show Theodore the impact he had on us. Students created things such as Found Poems, Visual Representations, letters and biopoems. This took place over several days, and it was amazing to see what my class came up with! Without any prompting, students began researching elements of the Sagkeeng First Nation, in order to be respectful of Theodore's culture, and then incorporated their findings through images, symbols and colors.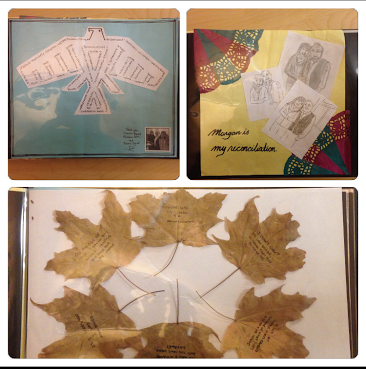 Choosing to Participate
I wanted to end this mini unit with the "hands" portion of the reflection, empowering my students to take action, and to participate in reconciliation in their own lives. They needed an outlet for everything they had heard and experienced, and were given an opportunity to respond in a productive way. I scattered prompts around the classroom on pieces of chart paper, examining the major Call to Actions from the Truth and Reconciliation Commission. In small groups, my class rotated to each prompt and brainstormed what reconciliation looks like, sounds like, and feels like. This led to an in depth conversation over our individual responsibility, as well as brought to light what it means to perpetuate the discrimination if we fail to engage. Students felt like they were called to act, even in a small way, in our school and community. I didn't want to let this go to waste, so I gave each student a piece of paper where they wrote down their own personal commitment to reconciliation, and had them tweet it out to help hold them accountable.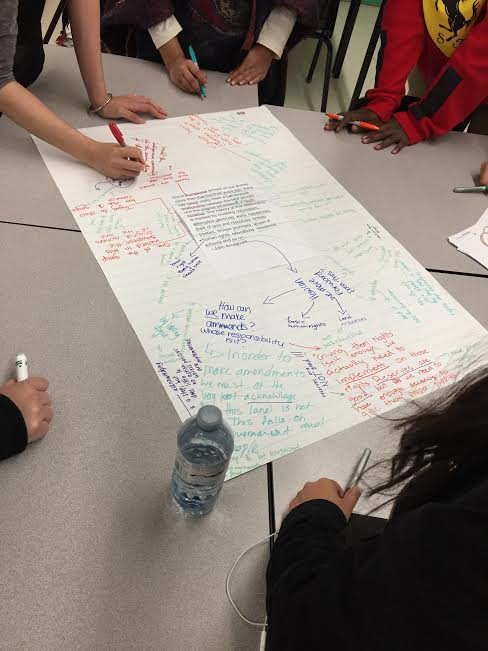 I wish I had longer to spend on this topic, as it led to some of the richest conversation in that course. In fact, on our final exam, students were drawing on specific details from this unit as they evaluated the level of inequality in our society. I heard a significant change in the way they talked about issues, both in classes and in the halls. I would like to think that their world views changed a little because of Theodore Fontaine- I know mine did!
Next Steps
Tweet us your responses @FacingCanada #kindlinghope
How do you address student apathy and raise the possibilities for creating meaningful change in your classroom?
Tell us about the work you do to respond to the Truth and Reconciliation Commission's Calls to Action
How do you debrief survivor testimony?
Interested in learning how you can bring the history of the Indian Residential Schools into your classroom? Check out the new Stolen Lives: Indigenous Peoples of Canada and Indian Residential Schools Summer Seminar, which will explore the history of Canadian Indian Residential schools, their long lasting impact, and Canada's path to reconciliation through primary source texts and survivors' personal testimonies.