Ever since I realized Malvern had their own archives, I have wanted to figure out how to use them in my Grade 10 Canadian History class(es). The "how" was key because I wanted to make the learning and use of archives authentic and also provide learning to meet curriculum expectations at the same time.
My first step was to meet the Archives committee.Vandra Masemann and team welcomed me and I had my first look at what the possibilities were. I then spent an afternoon on a PD day with the keys and had time to look more closely. As my mother, aunt and grandfather all attended Malvern, I checked out if I could find any mention of them – I did!!
I wanted to use the archives to develop inquiry skills in my students, and for them to use artifacts that were not related to war. I decided to use the unit 1945-1982 as the focus.The process started with a visit from the Toronto Museum staff who brought some artifacts from WWI. Each small group got an artifact to hold and developed questions. Developing questions is the first step in an inquiry process.
With this experience, students were tasked with searching through the archives until they found something that led them to ask questions.Those questions would be the start of their inquiry project. The goal was to then connect their artifact to what was happening in Canada at the same time.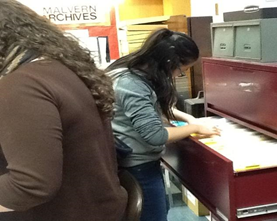 Logistically, using the archives was the most challenging part of the process, as only 10 students could go at once and of course classes are larger than that! Sometimes I had students in the hall outside, on the floor, other times I had volunteers stay with some students while I took the 10 to the archives. Also sometimes students couldn't find an artifact that they were curious about, so they required 2+ visits either during class or at lunch. Eventually all had one. Popular choices included: pages from the old Muses (yearbooks), newspapers in the files or random 'objects' in the boxes of donations.
The students found many interesting documents and artifacts.One student found a file folder that had all the details of a visit by Joe Clark. Her question became "who was Joe Clark and why he was at Malvern?" She also connected with him in her enthusiasm to find out more. Another student wondered why a 1959 yearbook page had only one African Canadian student on the page? This led her to investigate Canada's immigration and racist policies during this time.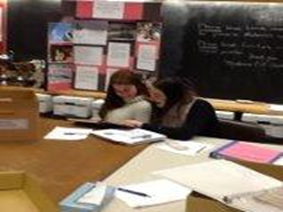 The questions students brainstormed led them to do more research and find other primary sources, often from the Toronto Star or CBC archives. To share their research, guests were invited so students could share their findings and answers. Some students used panel boards, and others created google docs or even their own websites!! Check out http://amandaarchive.weebly.com/ or http://siofrashistoryproject.weebly.com/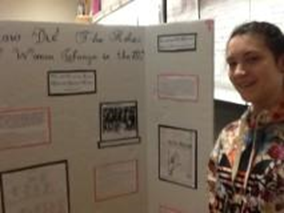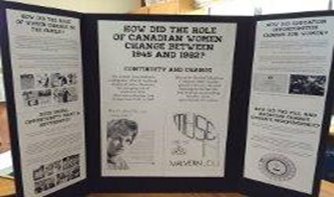 All in all, the Malvern archives provided students with great inspiration to engage in research and learning about Canada, and Malvern at the same time.