This spring, Facing History and Ourselves, in partnership with the Azrieli Foundation Holocaust Survivors Memoir Program, invited 175 students from 6 schools to layer onto their learning about the history and legacies of the Holocaust, or of Canada's Residential Schools by reading Survivor memoir. Students read Theodore Fontaine's Memoir Broken Circle: The Dark Legacy of Indian Residential Schools, or excerpts of Nate Leipciger's Memoir The Weight of Freedom, then created pieces that reflected their understanding and responses to these testimonies, which were gifted to each Survivor.
On May 14th, all 175 students from 6 schools located in Kingston, Hamilton, Newmarket, Mississauga and Toronto - gathered at Don Mills Collegiate Institute in Toronto to meet and be in conversation with Nate Leipciger and Theodore Fontaine. Students presented their memoir responses, asked Nate and Theodore questions that they had prepared, and listened to their responses.
Below is a more in depth look at a few of the projects. Click here to see an overview of all of the amazing responses completed by each school.
Mapping Nate Leipciger's Life Story Against the History of the Holocaust
Grade 10 and 11 students at Applewood Heights S.S. in Mississauga, Pickering College in Newmarket and Leaside High School in Toronto read Nate Leipciger's memoir The Weight of Freedom and watched interviews from the Azrieli Foundation Holocaust Survivor Memoir Program's Re:Collection website to study the history of the Holocaust.
At Pickering College, students created a digital book that students could use to talk about Nate's life and to teach students about the Holocaust. At Leaside and Applewood Heights, students created symbolic objects or replicas of artifacts representing different moments in Nate's life and survival during and after the Holocaust. These objects and artifacts were created to reflect their understanding of the Holocaust and the moments and stories in Nate's life that most deeply impacted them. Then, students placed these created objects in suitcases, reflecting a prominent motif in Holocaust history.
Leaside students placed their artifacts along a 20' timeline of the Holocaust and Nate's life. In doing so, students wrestled with how to understand and represent what was meaningful to Nate - and how the changing circumstances in his life took away the people and the things that mattered most. This project invited students to map the personal experiences of Nate with their understanding of the broader historical context of the Holocaust.
Leaside High School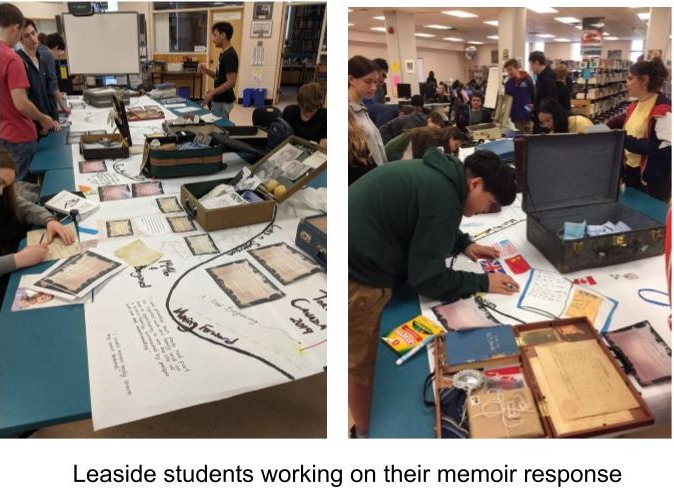 At the conclusion of the project, one student reflected: "A large take away I had was about how even entire nations can be swayed to believe certain things, and act certain ways towards targeted groups. When we learned about how Hitler achieved these things, it's quite scary to think that something similar could happen again, and that if we don't recognize events like the Holocaust, there is nothing stopping it from happening again. This responsibility of remembering and educating really stuck with me throughout the project."
Applewood Heights S.S.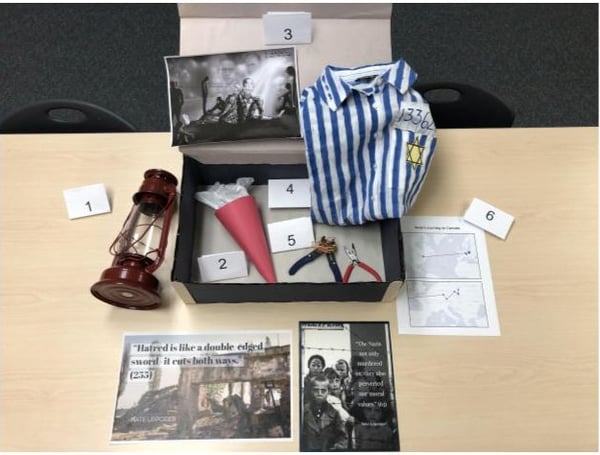 Item #3 - created by Shaquille and Ben
We chose to include a drawing of Nate and his father when they were in a concentration camp. We included this drawing because it shows...[a moment] where he barely had the strength to continue his life in the camp, but with the strength of his father they were able to make it through and live.
Item #4 - created by Sarah and Tony
We chose to make a life size striped prison uniform because it is what Nate and the rest of the workers at the concentration camp had to wear. We also decided to incorporate Nate's identification number because it represents the dehumanization of the Jewish population that took place during the war years.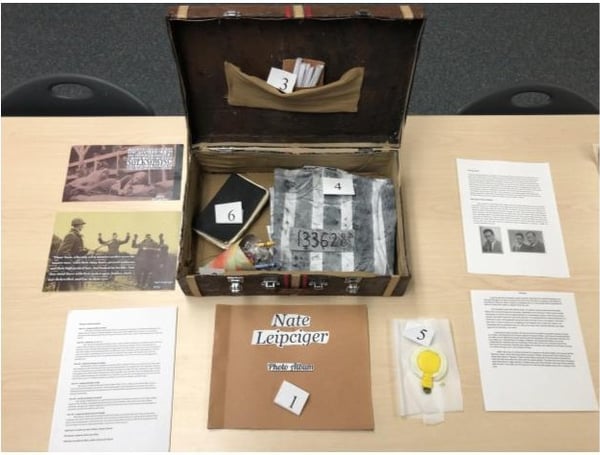 Item #1 - created by Shika and Nick
We chose to include a family photo album. It is important for people to remember that Nate had a life before the war. An album of his past would be a great way to show Nate's family and who he was as a person. Everyone will be intrigued with his surviving stories but it's good to have a basic understanding of who Nate was before.
Item #3 - created by George and Abdul
We decided to include cigarettes to represent Nate's childhood. There is one specific event when Nate was hanging out with his friends and they used old cigarette butts to put together their own cigarettes. We have chosen to showcase this to symbolize the friendships that Nate had made. This also symbolizes a sense of family and guidance from Nate's father because when Nate had gotten home his father was very disappointed. We see how Nate's father influenced and motivated him in a positive way. We also see throughout many of the future events how much of a role Nate's dad had in guiding him to survive and continue pushing through.
Item #4 - created by Emily and Nia
We chose to create an Auschwitz Striped Pajama Shirt. This is a replica of a shirt that Nate would've worn during his time spent in Auschwitz. These striped pajama shirts (along with the number) were used to identify the prisoners kept there, and symbolized the identity theft that was inflicted upon the Jewish peoples during the Holocaust.
Using Art to Teach and Tell the Dark Legacy of Residential Schools
Students from Leahurst College in Kingston, Don Mills Collegiate in Toronto, and Cardinal Newman Catholic Secondary in Hamilton read Theodore Fontaine's memoir, Broken Circle: The Dark Legacy of Residential Schools and watched Facing History and Ourselves' recorded interview with Theodore before creating artistic and written responses to their learning. Each student from Cardinal Newman wrote a personal letter to Theodore and gave their letter to him along with their words of thanks when they met Theodore.
Below are the artistic responses created by Leahurst College students: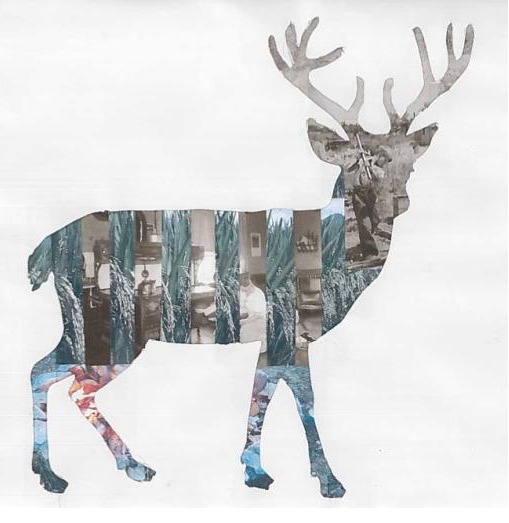 "I used hand castings to represent Theodore's four life stages. This technique allowed me to portray the pivotal themes and emotions expressed throughout these phases in his life while also depicting his physical growth in the hands from one piece to the next." - Madison
"Inspired by Joseph Cornell, a pioneer of assemblage art, I chose to illustrate my visual essay with objects collected in small wooden boxes. For innocence, I included a Batman comic book as the background because Theodore wanted to attend school to learn how to read them."- Naomi
Don Mills CI
Ben Gross (Teacher): My class read and responded to "Broken Circle". As we went through the process of reading, we began to design our response to Theodore's story. We decided to make a turtle because Theodore is Turtle Clan. In response to his memoir we each created at least one tile to make the shell of the turtle. We learned from knowledge keepers Alan Colley and Phil Cote that each mature snapping turtle is a calendar - 28 segments around the outside representing the days of each moon cycle and 13 segments inside representing the 13 months of a lunar calendar. We thought the concept of time was very important in relation to Theodore's experiences in Residential Schools, but also in relationship to the idea of healing and living with trauma. The turtle also represents Turtle Island, with the painted legs each in a colour of the medicine wheel, and the story of Theodore's survival painted and attached to its back.
The best way to see the impact of this learning is to see the student work.
You can see the whole process of creation on Twitter (@DonMillsSocGlo) or on Instagram (@mrgross.tdsb).
Katharine: Something that continues to impact me is how after returning home, Theodore hated his parents and grandparents because the residential schools had convinced him that being "Indian" made them inferior. As someone who deeply values family and heavily relies on my familial connections during times of hardship, it is so difficult for me to think about a system so abusive and damaging that it is capable of shattering such important family relationships... I am both amazed and inspired by his healing process. In many cases, it takes more than one approach to heal; personally I almost always need more than just one solution, so I wanted to reflect his use of many different healing approaches, such as writing the memoir, reflecting on the cause of his fears and drawing a picture of his first day, by depicting him surrounded by different healing plants in Indigenous culture: a braid of sweetgrass hangs around his neck, strawberry plants surround his shoulders, and sage smoke - which we used for smudging - surrounds the air around him. Although these plants, like the components of Theodore's healing journey, are different in their methods, they all serve to help him heal from his experiences.
Nala: At first, I was shocked to hear that although Fontaine hated the priest who would do the "Ménage,"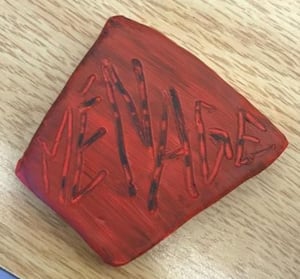 he also felt guilty for hating him. But then I understood. This was the priest who had baptized Fontaine. This was a priest he had grown up with. A leader. That is what breaks my heart and fills it with rage all at once. Before reading about Fontaine's experience, I didn't understand how deep the manipulation was. Of course, I knew about some of the horrible things that were done to Indigenous children. But Fontaine helped me to see the complexity of the manipulation of the emotions of these children. There was guilt in that hatred too, and so many other emotions behind all the trauma.
Molly: The other thing Theodore mentioned was that the reason it took him so long to write the memoir was because he felt like it was his fault.He thought that he deserved what had happened to him. I found that especially upsetting because most people who have been abused blame themselves for the abuse. It must be so hard for him to speak out about it and tell his story with such honesty .
Harun: For my turtle tile, I decided to create an illustration of Theodore's hand grasping a comic book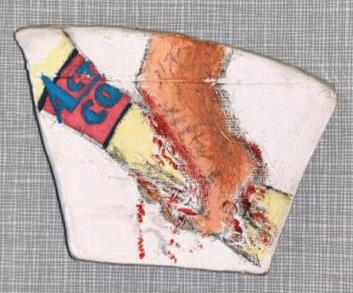 tightly, with blood dripping. My design for the tile stemmed from his statements during the beginning of the memoir regarding his motivation toward learning. Theodore on multiple occasions in interviews and in the memoir itself has stated that he was infatuated with graphic novels and comics because he did not know how to read. Seeing his elders reading them and translating them into Ojibwe to him made him envy the idea of learning how to read. Theodore does not specify exactly what comic his older siblings read but after researching I found that the "Action Comics" line was in progress during the time he was younger. This is why the logo is somewhat visible on the tile. My mindset when creating the artwork was based on the concept of apologies, more specifically government apologies. History books tell us that our government have apologized time and time again for what they have put Indigenous people through. But is it enough? Fontaine's story alone involved him being sexually abused through ménage, physically injured and mentally abused. It is for this reason that I made his hand injured. My message with the tile is to question if those apologies and compensations were worth enough. Yes, our government have made corrections with how they treat Indigenous people, but it does not change what happened and what will stay with Theodore and so many others.
You-Jin: On page 94, he speaks about the fear that they festered among the Indigenous peoples through faith: "It's unfortunate that Mom and Dad, because of their residential school experiences and the Church's presence in the community, became not only God-fearing but also Church-fearing. The respect and awe in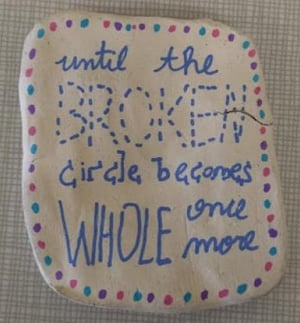 which our people held the clergy was mostly based on fear of damnation and the devil. Clergy took advantage of it. [...] Their agenda was to satisfy their contract with the government to establish power and control over our people. [...] Our spirituality became less of an influence on our people as our Creator was replaced by a punishing God." Not only that, they shamed any use of non-English language at residential schools. I cannot begin to imagine how it would feel like to be unable to speak my main language, and to later obtain a fear in speaking it. But it wasn't just their language that was shamed, it was the people themselves. He writes about a nun telling his cousin that her baby brother had died because she had been bad -- a sort of blame that no child or person should ever have to hold the burden of, and one very unrealistically placed, at that. He also writes about the abandonment and trust issues he developed after his residential school experiences, and how it took time before he could trust his parents again. These are experiences that no one should ever have forced upon them.
Here is the final turtle with the clay tiles and our lead designer presenting the turtle to Theodore.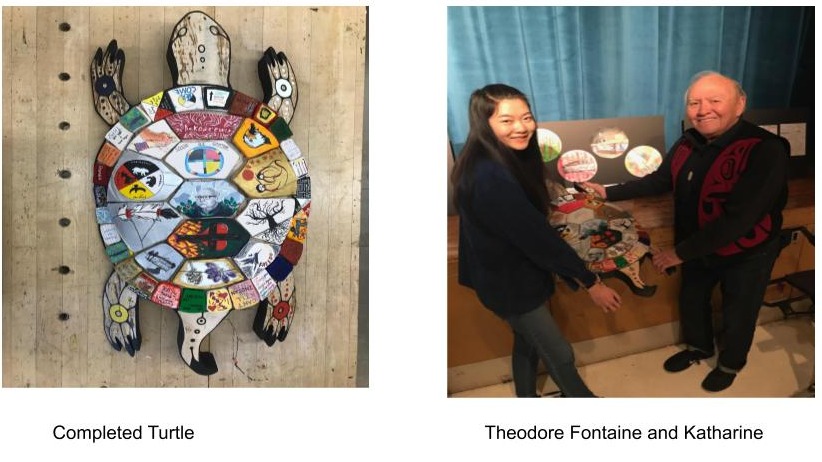 Thank you to Grace Centritto, Mike Elias, Michael Pitblado, Agniezka Chalas, Ben Gross, Joshua Armstrong, Milena Ivkovik, Karlea Kimmel and all the students who participated in this year's spring project.
Next Steps
How do you infuse memoirs into your classroom?
What mediums do you encourage students to use in order to respond to the learning they do in your classroom?