Early in my teaching career I came across Voltaire's aphorism, which states, "perfect is the enemy of good."[1] As my fifth year as a middle school teacher, and my first year as a Facing History teacher comes to a close, I developed a new appreciation for this message.
Ten months ago, shortly after participating in the Facing History and Ourselves: Holocaust and Human Behaviour seminar, I wrote a blog post detailing my plans for my first year as a Facing History and Ourselves teacher. I strongly believe in the power that the Facing History and Ourselves curriculum offers students, and I wanted to make sure I lived up to what it meant to be a Facing History teacher. During the year, I found myself chasing the "perfect" lessons, which I hoped would chain together to create the "perfect" unit, and the "perfect" year. Here is what I have learned since then.
Year in Review
After rereading my original blog, I am happy to say that I succeeded in much of what I set out to do:
I started the year using the contracting strategy to help create a safe classroom space.
My students explored the many aspects of their identity using Identity Charts, the Bear That Wasn't, and creating two-sided "masks."
We spent time throughout the year discussing the impact of choices individuals make in history through literature; we examined the roles conformity and obedience play, particularly related to "othering," ostracism and bullying (something which I will discuss in more detail in a future post).
My students utilized journals to help them be more deliberate in their thinking and to be reflective of what is happening in our classroom and the world.
I created many opportunities for students to show/know that their voices can be heard and that the choices they make can have a positive impact.
Unfortunately I did not get the opportunity to arrange for a classroom visit from a survivor, something I hope to do in coming years.
Looking back, I am proud of all that my students have accomplished. They grappled with challenging ideas and participated in difficult discussions, particularly around identity, the impact of individual choice, as well as bullying, ostracism and peer pressure. However, throughout the year I had this feeling that what I was doing wasn't good enough.
"Healthy Tensions"
Throughout the year I grappled constantly with finding the "perfect" balance between teaching Facing History materials in depth and covering breadth of history and curriculum. My biggest struggle came during our class investigation of Lois Lowry's novel "Number the Stars." I used the novel as a mentor text to introduce my students to the history of the Holocaust, and some of the moral and ethical lesson learned from it. I also used the text as a way to teach my students about making inferences. The majority of my students had never heard of the Holocaust before. For me this was overwhelming as I was unsure where and how to even begin the discussion. I struggled with how to honour the history in an 8 week unit, while making sure the information I shared with my students was age appropriate.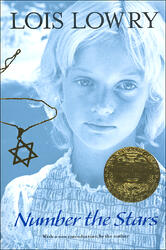 One of the philosophies shared by the Facing History facilitators at the summer seminar I attended was the idea of bringing students "safely in and safely out" of investigating difficult histories or having difficult discussions. With this in mind, I framed the unit around rescue efforts and upstanders – those who choose to stand up for the rights and protection of others. I gave my students a general background about the political and social conditions which led up to the Holocaust. However, the majority of class time was spent on analyzing choices, and looking at how everyday citizens, like those portrayed in Lowry's book, can create change.
Looking back at the Learning
Though my lessons and units may not have been perfect, I can see now that they were good. I can see the growth in my students. I can see how far we have come together as human beings. This became most apparent on the final day of school when students completed their two final assignments. The first was a monument to an idea, a theme, or a topic that we learned about that they felt had impacted them.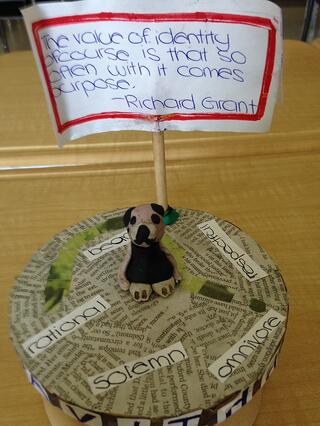 One student's monument to learning: A personal reflection on the Bear that Wasn't. Photo credit: Jonathan Temporal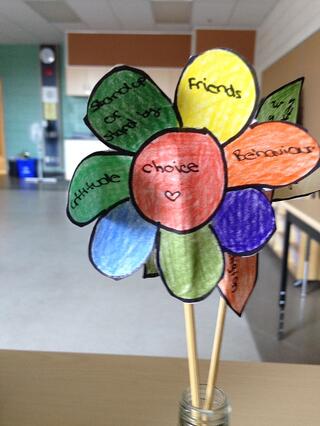 Student monument to his learning: identity influences choices, and choices determine character.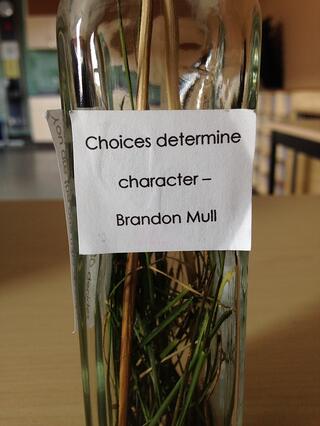 Base of the student's monument to learning. Quote by American author Brandon Mull. Photo credits: Jonathan Temporal
The second was a "Remember Me Poem", where they randomly selected a classmate's name and wrote a poem highlighting the positive attributes and memories they shared with that person. The students' work demonstrated that they developed as critical thinkers, were better able to make personal connections to the texts we read, and that they had become more aware of the social issues affecting our world and our community. Moreover, I saw a stronger sense of community in this group of students than I had ever seen with any of my previous classes.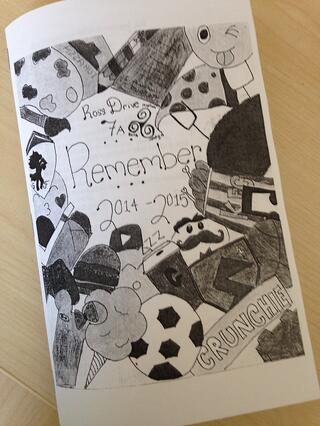 Our class poetry book: a collection of interpersonal connections and community memories. Photo credit: Jonathan Temporal
I don't know if I will ever give up the chase of perfection, but what I learned this year is that I will never let the pursuit of perfection get in the way of recognizing the good. Taking time to recognize student achievement and accomplishments, no matter how small, gave both my students and I a sense of accomplishment, and a feeling of pride.
What are some of the things you learned in your Facing History classroom this year?
[1]Susan Ratcliffe (2011), Concise Oxford Dictionary of Quotations, Oxford University Press, p. 389, ISBN 978-0199567072