As you may have read in other blogs, the "Stand Up, Speak Out" event was an incredible evening of sharing and community. For me it served to exemplify, and personify, the Scope and Sequence of Facing History and Ourselves. On that evening, half a dozen of my students took the stage along with students from three other southern Ontario schools to perform their spoken word pieces. The performances were broken down into the five steps of the Facing History Scope and Sequence:
1) Individual and Society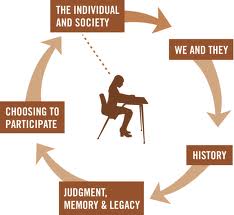 2) We and They
3) History
4) Judgment, Memory , and Legacy
5) Choosing to Participate.
In their own words, they expressed profoundly moving, challenging, and inspiring ideas about our world. I invite you to read about the Scope and Sequence of Facing History and to hear what it sounds like from the mouths of young people.
http://www.youtube.com/watch?v=R9cS7YEqNM4&feature=youtu.be