My name is Angela Nardozi and I am a guest on Turtle Island (what we now call North America), with both sides of my family originating in Italy. I grew up in Markham, Ontario, where I attended Catholic Elementary and Secondary schools. I am a certified teacher, and have spent time living, working, and researching in a Treaty Three First Nation, and my experiences there have propelled me on the path to learn more about Indigenous perspectives on history and current events, and the history and present of colonization on Turtle Island.
I introduce myself this way because I have learned from Indigenous colleagues and friends that it is important to position myself in the work I do. With just a few words, you begin to see who I am, where I am coming from, and what experiences have shaped my perspectives.
As a Settler educator (a person whose ancestors are not Indigenous to Turtle Island living on Indigenous land) bringing Indigenous content into my teaching, I believe that positioning myself is crucial. It tells my audience where I am coming from, and it reminds me that I cannot speak on behalf of Indigenous peoples.
For the past seven years I have been working in relationship with Indigenous and Settler educators at OISE (Ontario Institute for Studies in Education at the University of Toronto), educating teacher candidates and young people across the Greater Toronto Area about Indigenous perspectives on history, and the role of Settler educators in this work. I'm excited to share some of what I've learned with you!
1. Spend time remembering and unlearning your own education about Indigenous peoples.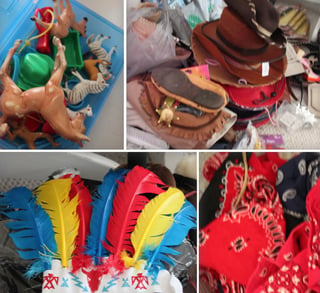 Growing up, I clearly remember the week we spent in grade six learning about Indigenous peoples at the time of contact. Our lessons mainly focused on the names of groups the first Settlers encountered, what food they ate, and what sorts of shelters they built. I also remember a long drive with my family to Manitoulin Island one Thanksgiving weekend, and buying a beaded belt at a trading post along the way. As I begin to dig below the surface, I remember stereotypes I overheard in conversation and TV shows where characters went to "Cowboy and Indian" parties.
What I've learned from my own work is that I need to uncover all that I think I know about Indigenous peoples and communities as I prepare to teach about them. This helps me ensure that what I am teaching, and how I am responding to the questions of my students is not influenced by incorrect information and stereotypes that have been passed down to me in the school system or popular culture.
What I recommend to teachers I work with is to begin by putting aside just a few minutes of dedicated time (10 max) and answer the following:
What did you learn when you were in elementary school and high school about Indigenous peoples, communities, histories or current events?

What did you learn in any postsecondary experiences you had?

What messages did you receive from your surrounding outside of school (family, popular culture etc).
The more detailed you can get the better. Many teachers I work with are afraid of offending someone, or not knowing enough. To me, answering these three questions is a crucial point on our learning journey.
(2)Listen to Indigenous peoples in terms of what they want taught.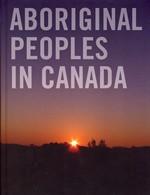 Choose texts created by or with Indigenous peoples.
My own journey teaching Indigenous history has taken place over the past seven years, during which time I have partnered with two amazing colleagues, Dr. Angela Mashford-Pringle (Algonquin) and Dr. John Doran (Mi'kmaq). Being in relationship with them highlighted for me that, from my position as a Settler, it is important for me to listen to and learn from Indigenous peoples. In the classroom, this means honouring their priorities and perspectives on what historical specifics to highlight, and through which lenses to view these moments. One of the key reminders that I learned from my colleagues is the importance of ensuring students do not leave the history classroom with the singular vision of Indigenous peoples as victims. Instead, how can we ensure our teaching also highlights the past (and present!) resistance and resilience of Indigenous peoples?
I am not suggesting you look for a so-called "Indigenous consensus" or that you feel paralyzed in your teaching if you do not have Indigenous colleagues who are wanting to think through curriculum with you. I have found looking at the Truth and Reconciliation Commission's Calls to Action, documentaries by Indigenous filmmakers (like Alanis Obomsawin), and other resources made by, or in conjunction with Indigenous community members are helpful. My favorite right now is Aboriginal Peoples in Canada. It covers so much of history that I was never taught, and highlights topics important to understanding Indigenous presence on this land.
(3) Center Indigenous peoples experiences and stories in your teaching.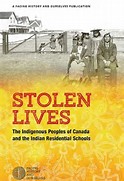 What I have found to be most powerful in my teaching, whether it be with adults or school-aged people, has been the use of primary testimony. This can be accomplished by incorporating the material gathered in Stolen Lives, inviting in guest speakers, and using videos or recorded first hand accounts, images, etc. Again, those resources which have been created by and in partnership with Indigenous peoples are growing in number. The ideal may seem in this case to have Indigenous peoples come into your classroom. Indeed, if you or your school have relationships with community members and there is a budget to ensure they are compensated fairly for their time, that is amazing!
It is also important to respect that Indigenous peoples may be busy doing good work in their own communities. If they are able and willing to come in, guests may not want to speak about some elements of their lives on each occasion, and it is important to check rather than automatically expecting them to share stories which may include traumatic memories.In my work, I have made a point to discuss what we are doing in class with the speaker and ask what they might want to share. I also ask what would make them feel most comfortable in my class and if there is any material my students should be prepared with beforehand. To see a blog on this process click here.
When working with teachers, one of the things I hear most often, before we even get to teaching history is, "I don't know enough, and I'm afraid of offending someone." If you are having these concerns, know that you are not alone. When I have felt that way (remember, we all start somewhere) I look to the words of Dr. Jean-Paul Restoule (Anishnaabe) who says that instead of asking, "Do I have the right to teach this material?" ally teachers should reframe the question as "What is my responsibility?
From what I have seen since 2008, momentum is growing as more and more teachers are now willing and ready to take up their responsibility to teach Indigenous perspectives on history and current events. At that time, the vast majority of teachers I met reported never having heard about Residential Schools, never mind other important topics like Treaties, the Indian Act, the 60s Scoop and ongoing child apprehension, etc. Many asked my colleagues and I why this material was important or even relevant to their students.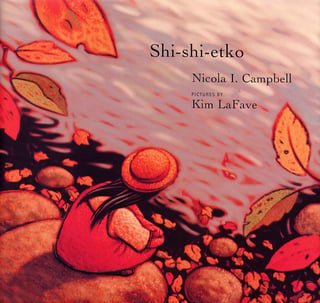 There are many children's books (like Shi-shi-etko) by Indigenous authors which introduce historical events in an age appropriate way.
With the work of the Truth and Reconciliation Commission, and the journalism, creative writing, visual art, and other media being created by Indigenous peoples and communities being circulated more widely, it is now very rare for me to encounter a Settler teacher candidate who has not at least heard of these topics. What is more, I'm doing a lot less work justifying the place of Indigenous perspectives, and have much more time to get to the actual material. I hope that wherever this post has found you in your learning journey you will continue to listen, ask questions, and make connections for your students. As educators in Canada we have inherited an education system that has been complicit in genocide, and it is now our responsibility to learn and teach these histories in order to counter the injustice and oppression that continues today.
To Learn More
Angela is the author of Listen & Learn - a free monthly email newsletter for educators featuring ideas and resources for incorporating Indigenous content into their curriculum. You can view past issues by visiting her website, or sign up here.
Learn about Facing History's new Canadian resource, Stolen Lives: The Indigenous Peoples of Canada and the Indian Residential Schools. This seminar will introduce educators to strategies and resources that will engage students in learning about this important history, while connecting to the devastating effects the residential schools have had on former students, their families, and entire Indigenous communities.
What is Canada? Who is considered Canadian? How do these beliefs impact society and how have they changed over time? What are the rights and responsibilities of Canadians? How does Canada's past inform current cultural, social, economic, and political issues? These and other questions will be at the core of this seminar which examines Canada's history and concepts of identity and membership.