In 2013, Waterdown District High School teacher Robert Flosman applied for and won a Margot Stern Strom Innovation Grant to create a Museum of History in his classroom as a way to engage students deeply and differently in the study of history. In November 2014, he wrote a post for this blog describing his museum. One year later, Rob has more to tell us about the museum Facing History and Ourselves' grant made possible.
It was a phone call teachers don't often receive.
The caller wasn't a parent or a colleague, but an historian from the UK. Dutch by birth, Dr. Jeroen Pinto practices medicine by day and studies history, especially the flyers that saved his village and liberated his country during WWII, by night. His enthusiasm for those airmen, many of whom did not survive the war, inspired him as a young boy. He grew up hearing about heroes like Robert Moulton of Brockville, who sacrificed his own life to steer his falling plane away from the Dutch village of Wilnis, thereby saving the villagers. (You can learn more here.) Dr. Pinto wanted to talk about a partnership between the Waterdown Museum of History and his own efforts to mark the 70th anniversary of Dutch Liberation on May 5th.
"These men must not be forgotten, it has been 70 years and the younger Dutch and Canadians must hear their stories! It is perfect for your museum," Jeroen Pinto said over the phone.
"How did you find out about us?" I asked
"I read about it on Facing Canada!"
The Waterdown Museum of History
Waterdown High School, sandwiched between Toronto, Ontario, and Buffalo, New York, is home to the Waterdown Museum of History. Run and guided by students, it has hosted hundreds of student and community visitors since it opened in fall 2014. Today the museum hosts important historical artifacts ranging from found missile shells, medals, letters and uniforms donated by war veterans, to carefully collected artifacts from the Holocaust such as survivors' stars and hate propaganda currency from the Third Reich.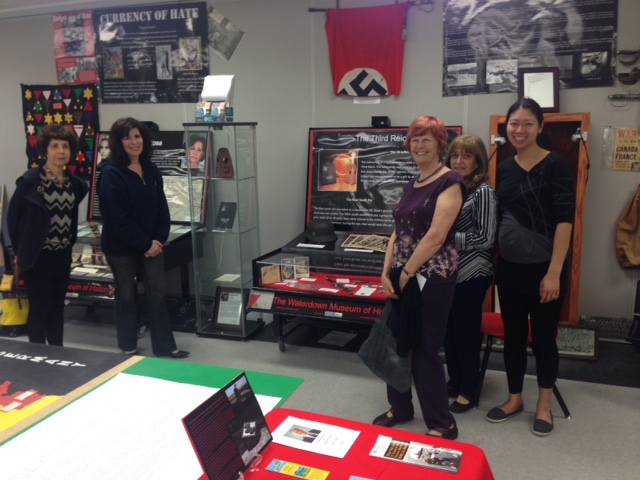 Facing History and Ourselves Canada board members pose for a photo after touring the museum with student guides earlier this month. Artifacts donated by community members are displayed with informational panels written and researched by students. Photo credit: Rob Flosman
The museum is a way to reflect history and the way it impacts our community today. We put this history into the hands of our grade 11 Genocide and Crimes Against Humanity Course students, who have worked to bring our community's history back to the community. Prior to guiding visitors through the museum, students are immersed in a study of history through a Facing History lens: They learn to see the connections between history with identity, they study the morality of choices individuals made, they ask complex questions, and encounter personal testimonies from some of humanity's darkest moments.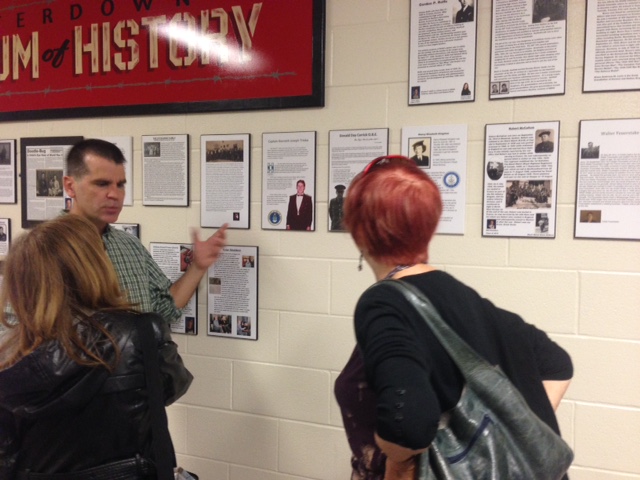 Rob guides Facing History Canada board members through the Museum of History's Hallway of Heroes. Each plaque tells the story - researched and written by a student - of his/her family member. These plaques connect students to Louis Riel, hidden Holocaust survivors, rescuers, and more. Photo credit: Jasmine Wong
Making Global Connections
Across the Atlantic, Dr. Pinto has been a passionate and steadfast champion of keeping the memory of the Canadian and allied pilots who liberated his country alive. To honour the lives of these pilots, Dr. Pinto arranges memorial services on Royal Canadian Air Force bases in the UK/Europe each year and during the service, plays popular 1940's big band music from one of the three 1930's gramophones that he purchased to bring listeners back to the time in which these pilots lived. These gramophones have played on the airfields from where pilots took off in their Lancaster and their Vickers airplanes to help liberate his country from Nazi oppression.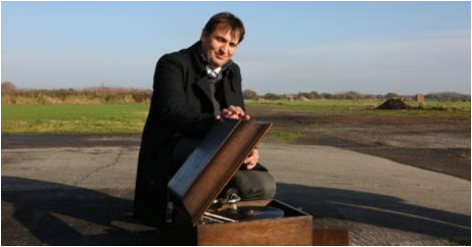 Dr Pinto and his 1930s gramophone
Dr. Pinto's passion led him on a search to find people across Europe and North America who could spread awareness about this history to the younger generation. He was looking for a place to honour these pilots outside the UK and the Netherlands. Dr. Pinto knew that these heroes were respected and honoured in the Netherlands because their stories were ubiquitous and memorials were held in their honour each year. But what about in their home countries? After reading about our museum on this blog, Dr. Pinto sought to partner with the students of Waterdown High to host one of his gramophones and to honour the pilots whose service and sacrifice were so important to him/the liberation of the Netherlands.
After establishing Waterdown's Museum as a host, Dr. Pinto sent the gramophone to the War Plane Heritage Museum in Mount Hope, Ontario. The amazing curator there, Erin Napier, embraced the project and brought the gramophone to the museum before taking it on tour around North America. (Learn more here.) Because of Dr. Pinto's passion and tenacity to raise awareness for and remember the past, this year's students and tour guests experienced an unforgettable memorial for Canadian heroes who made the choice to make a difference 70 years ago and an ocean away.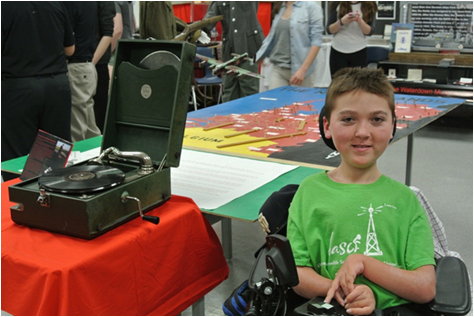 Ben Flosman enjoys the gramophone: April 29th, 2015. Waterdown Museum of History
The Waterdown Museum of History continues to collect donations of WWII artifacts from members of the Greater Hamilton Area and build new display cases to properly showcase these important pieces of the past. If you would like to make a donation in support of this amazing and unique classroom museum, or arrange a 2015 fall or 2016 spring tour, please contact Rob at rflosman@hwdsb.on.ca