On November 6, 2014 Facing History and Ourselves co-presented an evening with Professor Dr. James Waller, discussing the role of Nazi doctors in the persecution of gay men during the Holocaust.
Explore the culture, psychological, and social factors that drove Nazi policy against gay men and justified, in the minds of Nazi doctors, their perpetration of such atrocities.
Earlier this year, Facing History blogger Michael Grover reflected on hearing Dr. Waller talk, and the connections he made between human behavior, and the power each of us has to be upstanders in our own communities.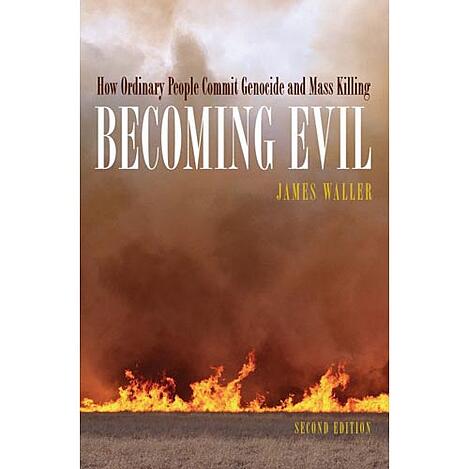 Becoming Evil: How Ordinary People Commit Genocide and Mass Killing
Why and how does genocide so easily repeat itself throughout history? On April 10, 2014, as part of Genocide Awareness and Prevention Month, Facing History sponsored a talk with Dr. James Waller, the Cohen Professor of Holocaust and Genocide Studies at Keene State College in New Hampshire and author of Becoming Evil: How Ordinary People Commit Genocide and Mass Killing. Dr. Waller presented findings from his research on genocide and painted an important, and somewhat surprising, portrait of the perpetrators of genocide: not one of mythical monsters or megalomaniacal villains, but rather as caricatures of ourselves.
Instead of "othering" evil unto fictional archetypes, Dr. Waller forced us to look in the mirror and be honest about what we see. The potential for evil is not an external threat lurking on our periphery, he explained, but is something that is ever-present within our society if left unchecked and unexamined.
Perpetrators are people like you and me
To help explain "how" genocide has continued to take place throughout history, Dr. Waller argued that the undertaking of genocide requires the organization and willing participation of thousands of perpetrators. He let us wonder, Where do all these perpetrators come from? Who are they? What he revealed, through reviewing documents from the Nuremberg trials of 1945-1949 and his own extensive field research in places like Bosnia and Rwanda, is that perpetrators of mass violence are "everyday" people like you and me. Quoting the poet W.H. Auden, Dr. Waller argued that, contrary to more comforting assumptions, "evil is unspectacular and always human."
External Influences Matter to Individual Behaviour
Evil is not strictly the stuff of comic villains, Dr. Waller said, but very much the result of external influences on our own individual behaviour. He spoke of the cultural construction of our worldview (e.g. how we are taught to respond to requests from authority and how - or if - we distinguish between a request and an order), how we are taught to see "the other" (e.g. "us" vs. "them" thinking), and the dynamics of group behaviour (e.g. how our desire to fit in drives human behaviour). As a former Facing History teacher and current high school guidance counselor, Dr. Waller's arguments about the impact of group dynamics on human behaviour and the cultural construction of our worldview made me think about Facing History's Scope and Sequence, the journey of discovery about oneself and others that is at the heart of every Facing History lesson.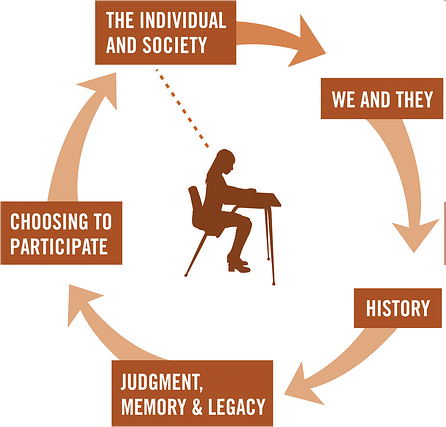 Facing History and Ourselves' scope and sequence approach to studying a moment in history
Teaching an Understanding of Human Behaviour
Each Facing History lesson begins with an examination of the self by looking at how both individual and national identities are formed, as well as how these identities influence behavior and decision-making – very similar to Dr. Waller's focus on the individual. From there, a Facing History lesson will look at "we and they" – how national and collective identities can help people connect, but also contribute to, misunderstanding, stereotyping, and conflict. Dr. Waller's exploration into how perpetrators learn to separate "the other" from the group illustrates this concept. He explained how necessary it is to understand the motivations of the perpetrator, not in an attempt to humanize or excuse them, but to facilitate the prevention of such behaviour in the future.
Facing History lessons go on to explore historical case studies and then issues of judgment, memory, and legacy. Ultimately, they conclude with a look at how understanding the past can connect us with the issues of today. Facing History students explore how history is made every day by ordinary human beings and that through their own actions, they have the power to change the course of history. We call this "choosing to participate." Dr. Waller concluded his own talk with an encouragement to "choose to participate":
Start where you are,
Use what you have,
Do what you can.
- Arthur Ashe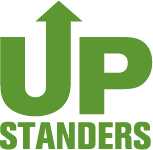 Creating an Environment and Capacity for Ethical Reflection in Education
Since hearing Dr. Waller talk, I have continued to revisit his messages on the importance of facing the dark side of ourselves if we want to uphold the light, and have continued to ask myself how these messages relate to my own work with young people. As educators, are we teaching critical thinking skills that will help students to navigate negative influences in their own lives? As guidance counselors, are we explicitly helping students to develop to be self-reflective individuals? As school leaders, how are we promoting and building an environment that fosters critical reflection of social norms and of individual capacity? As mentors, are we developing future citizens that examine their own actions, not just those of others? As counselors, how are we preparing our students to be critical self-reflective citizens and social upstanders? I don't have perfect answers to any of these questions, but I know that they are the questions that I need to ask so that I can empower my students to connect the dots between the ethical choices they'll face in life and the positive outcomes they can create in their community and the world.
If you plan to bring students to this event, check out Facing History and Ourselves' resources on the life of homosexual men during Nazi rule and the legacy of Paragraph 175 or email jasmine_wong@facing.org for a big paper quote you can use in the classroom on "unveiling the truth behind a prejudice."