The beginning of any Facing History and Ourselves journey is an investigation of identity and membership. As we study these concepts in history, we see the impact that they have on the way that people see the world and the choices that they make. We all have our own individual and group identities – but how do we expand those? How do we include more people, more 'others,' in our universe of obligation?
It is my personal belief that travel, meeting people who live very different lives, changes us and our world. In two weeks I will be travelling with my family to Kenya and Tanzania for a trip that we have been planning for a very long time. I have felt a connection to East Africa for as long as I can remember. My father has worked in the field of International Development for my entire life and I have strong memories of visitors in our house from all over the world throughout my childhood, but East Africa was always the place I was drawn to the most.
This is not my first visit. My first two trips were with my sister. We backpacked across Kenya, Tanzania, Uganda, and Rwanda. Our first trip was four weeks long. It was so good that the second trip was almost eight weeks long! My next three visits were leading groups of young people from southern Ontario participating in cultural immersion and volunteer trips with Me to We and Free the Children. Over the years, I have gone on safaris in the Serengeti and the Maasai Mara, visited a family of mountain gorillas in the Parc National des Volcans in Rwanda, climbed Mount Kilimanjaro, and white water rafted the source of the Nile at Jinja in Uganda. These were all extraordinary experiences – but it was the ordinary ones that brought me back.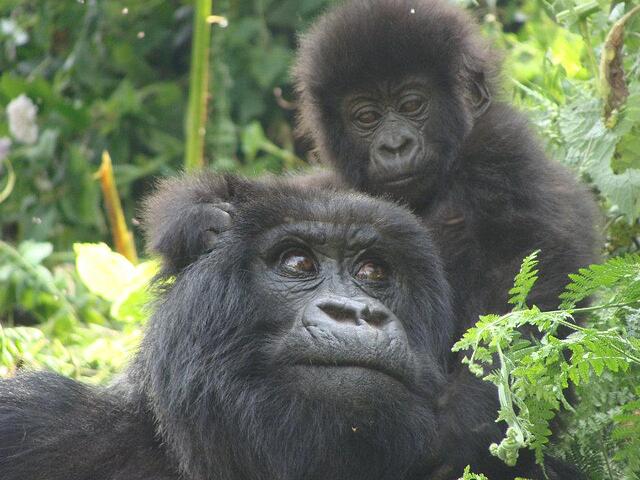 Mountain gorillas from the Hirwa family in the Parc National des Volcans, Rwanda.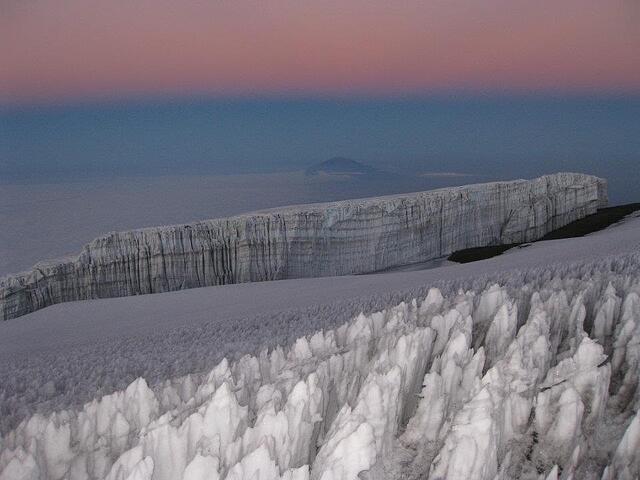 Glaciers just below the summit of Mount Kilimanjaro, Tanzania.
I remember very distinctly the most obvious form that culture shock took for me.
As I stood surrounded by people in a busy market, including local friends of mine, I was overwhelmed by the noise and by my lack of ability to make meaning out of it. I call it "noise," but really it was words in a language unknown to me. It was voices coming from very friendly faces as they spoke to me and to each other in words that I did not understand. I never thought about what it would be like to be surrounded by people speaking real words and have no idea what was happening around me. That experience has stuck with me as I try to navigate the complexities of teaching young people who have backgrounds from all around the globe. I have kept with me the feeling of how overwhelming life can feel, especially as a young person, even in the midst of friendly faces. All because of an afternoon in a market.
I remember finishing a several kilometer-long water walk with local mamas (term for addressing women who are mothers) in Kenya. We were all amazed at what water actually meant – and perhaps more accurately – what not having easy access to clean water meant. We sat down that evening as a group to discuss statistics about water usage and access to water. As students learned that the water that they had spent hours collecting would barely afford them a five-minute shower at home, the reality of our position in the world sunk in even deeper. We spent the better part of that evening deeply engaged in conversation about what it meant to respect and appreciate what we had while working towards ensuring that others had access to life giving resources around the world.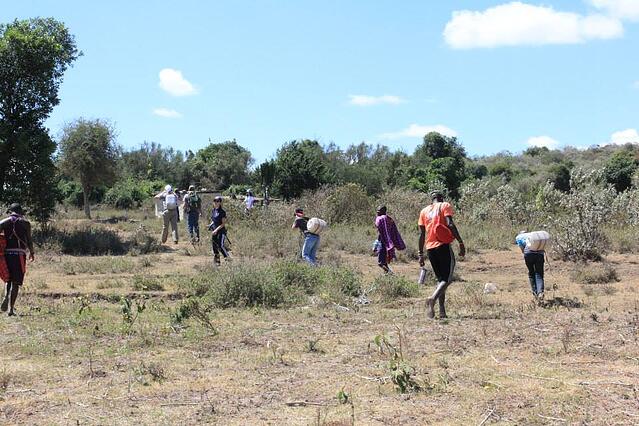 Approaching the end of our water walk near the Maasai Mara in Kenya.
As the evening wound down, we began to talk about our highlights of the day. For the students, the water walk was a highlight. The challenge of it and the thrill of completion along with the deep learning made it a no brainer. However, one student said she had a different highlight. At the end of the water walk, one of the mamas who had been walking with her most of the time, came up to her, smiled, removed a bracelet from her wrist and gave it to her. No words were spoken other than the student stating a breathless "asante sana, mama" (thank you very much). This moment, this connection with another person outside of spoken language, was the backbone of the trip for that student – and of her truly understanding that other people were most definitely people. On that trip we learned Swahili, went on safari, helped build a school, and saw the musician Nelly Furtado perform with the Kenyan Boys Choir, but that moment with the mama, at the end of it all, was the highlight of her trip.
When we travel to East Africa, this is what I hope to share with my family: the things that we call ordinary, but that are anything but. We will doubtless witness things that we have never seen before, the extraordinary, while on safari and as we travel across these two beautiful countries. However, I find that it is exactly the things that we deem ordinary that are so powerful. We will meet people who are far away from us in so many ways and who we may never see again, but in those moments we will realize their humanity and our closeness. They will change from being unknown others into a real person, with a universe of their own that we have been lucky enough to be a brief part of. And so will we for them. These are the things that expand our universe of obligation – that make the world a smaller, better place for all of us.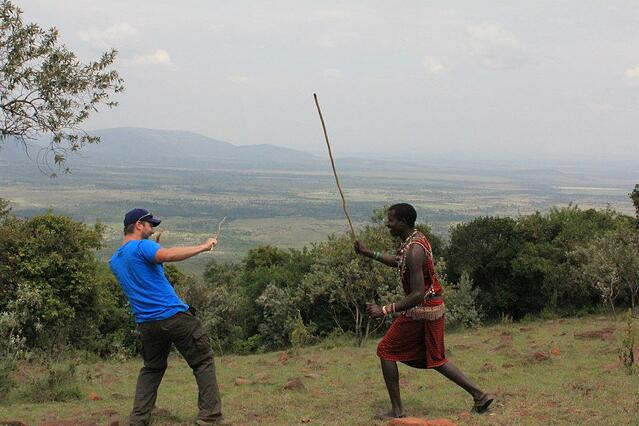 My friend Jono, who I will have the absolute pleasure of introducing to my family on this trip, and I using our goat herding sticks improperly. One of many people who has shown me the human face of the other side of world and expanded my universe.
What experiences have you had that expanded your universe of obligation? How do you share those experiences with others?