What happens when we support and empower students to bring history and identity into our school community? Meet Nyjah, a Toronto-area student who wanted to see more black history and contributions reflected in her high school, and decided to do something about it. The following interview was contributed by Nyjah about her experiences.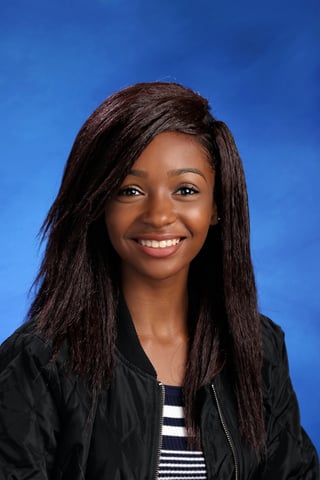 "Black History Month is a very important month to me because it highlights my history and my family's history. I believe that it is very important to honour and bring awareness to those who came before us and paved the path for future generations.
Throughout my entire high school career, black history was not talked about as much as I believe it should have been. With this year being my last year [in high school], I wanted to make sure that this history was celebrated because black history is not just the history of black people but the history of the world. I hope that after I leave [High School], the students and teachers carry on what I have done with the help of my peers and teachers.
When I first asked Mr. Grover,my History, Law, and Politics teacher, if the history department was planning anything for black history, I was somewhat disappointed to learn that nothing was being planned. It was then that I decided to speak to my peers about participating in creating an African Heritage Club. Unfortunately, I did not get a great response. People were very reluctant about joining and the only reason I was given is that they didn't have enough time.
After explaining this to my teacher, he brought up the plan to have the students who had math in second semester to go see the movie Hidden Figures. I was in charge of helping another teacher plan a lesson to teach the students about the civil rights movement. I gathered some of my friends and peers and together we put our talents of public speaking, singing-I [sang] Sam Cooke's A Change is Going to Come- guitar playing, and spoken word to create an assembly that would hopefully give [others] a better understanding of the message that we wanted to convey: Black history is not just for black people but for everyone because without it, we would not have a lot of the privileges we have today such as the street light or the refrigerator.
How does Nyjah's experience connect to, extend or challenge your thinking about how teachers or schools can support the teaching and learning of black history?
Do you have a story to share about how you empowered a student to learn more about their identity, community and history? What ideas have your students developed to celebrate Black History Month? Please share with us and our readers!
Looking for Curricular Resources to Deepen Your Students' Knowledge of Black History?
Follow our twitter account @FacingCanada this month as we especially highlight a few of the innumerable black men, women and youth whose work and ideas have shaped, and continue to shape our lives
If you teach law, consider engaging students in Bryan Stevenson's Just Mercy, an amazing and eye opening book that documents his fight against systemic injustices in the legal system in the United States.
If you teach English/Language Arts, bring Melba Pattilo Beals' powerful memoir on her experience as one of the Little Rock Nine for your middle school class, and download the Teaching Warriors Don't Cry guide. If you teach To Kill a Mockingbird in a secondary school English class, be sure to download our study guide to enrich students' understanding with historical context and deeper analysis into the themes and questions raised by this novel.
If you teach U.S. History, take a look at our resources on Race and Membership, The Reconstruction Era, The Choices in Little Rock, or the film "Freedom Riders" which highlights an important black civil rights fight to test anti-segregation laws.
Check out this list of films put together by the National Film Board of Canada to celebrate the history of the Black community in Canada. The films feature "Incredible stories in the Black community of strength, courage and perseverance in the face of adversity date back to the beginning of time, yet are not easily found in mainstream history books."
Do your students love fashion (and hair)? Our staff stumbled on Braided, an excellent 20 minute video that's fun and fashion but with an identity, history and ethics twist. The short film features Lupita Nyong'o, rapper Young M.A. and author Ayana Byrd. You could pair this with a big paper conversation around the quote below from Chimamanda Adichie's TED talk The Danger of a Single Story featured in Facing History's resource book, Holocaust and Human Behavior:
It is impossible to talk about the single story without talking about power. There is a word, an Igbo [a language spoken in Nigeria] word, that I think about whenever I think about the power structures of the world, and it is "nkali." It's a noun that loosely translates to "to be greater than another." Like our economic and political worlds, stories too are defined by the principle of nkali: How they are told, who tells them, when they're told, how many stories are told, are really dependent on power. Power is the ability not just to tell the story of another person, but to make it the definitive story of that person.