As an educator, I used to think true learning was my teacher content knowledge level or how much information I could get out there to students. Here's what I thought should happen: students would learn information,reproduce it in the way I wanted them to, and then that would be a good measuring stick for how much they knew. However, In the 21st century with a world of information availability at your fingertips, this approach has become more and more obsolete.
Yet, this approach is a go to for rookie and veteran teachers alike. When I thought about it, I decided to switch gears and challenge myself to look at my role in a completely different way. Instead of focusing on giving the information, I would shift my focus to how the students meaningfully processed and expressed it.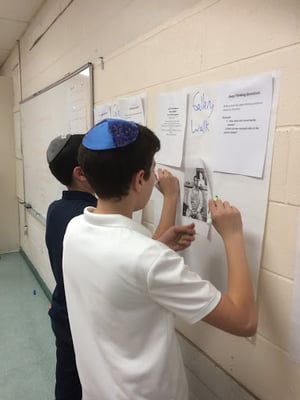 While teaching in a co-educational orthodox elementary Jewish middle school (Netivot Hatorah in Toronto, Ontario) I decided to pilot this approach in my grade eight holocaust Facing History holocaust and human behaviour course. Students had learned through text, video and independent work, information on identity construction. In the Facing History curriculum teachers are blessed with templates of past projects. I tried this approach with the identity project.
I decided I did not want students to just focus on the Jewish part of their identity, so I told them to isolate five moments in their lives that were critical to themselves as people. We then unpacked those moments and learned tools to express those moments. Students articulated verbally and then mapped out those moments on a timeline. It was interesting that I never once told them how to construct the timeline or which moments to choose. This was all self-discovery. I was very self-aware that my role had changed from the giver of knowledge to one who facilitates students to become empowered to construct and deconstruct their own knowledge and experiences. I asked the students to present those moments on a poster board or slideshow with each moment connected to a visual and a reflective piece of writing about why they chose each moment, and what that moment meant for them.
Due to the vast amount of open choice, they self selected a wide and diverse set of experiences to reflect upon. These included major moves in their lives, births of siblings, sicknesses they endured, injuries, life cycle moments, deaths, celebrations, bar-bat mitzvahs, family trips to Israel, and meaningful school and summer camp experiences.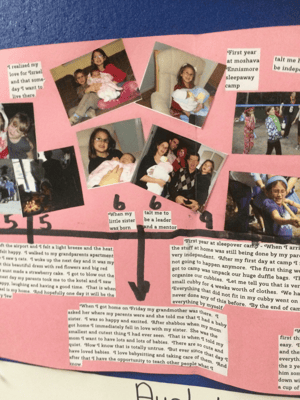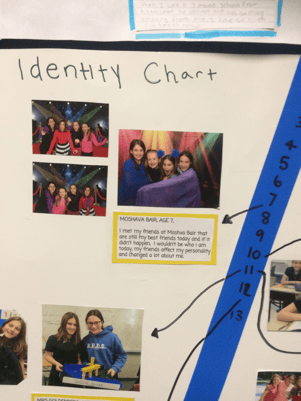 After they presented to their peers, the projects were posted on a public bulletin board for the whole middle school to walk by and engage with. I noticed the deep interest the students from all grades had. The reason? It was not their teacher's knowledge but their own construction of their own experiences.
My biggest take home is that the art of teaching in the 21st century is empowering students to know how to be self-aware, self reflective and expressive. When they can do this, they can be much more impactful than I ever could at facilitating a learning experience for themselves and their peers.
Next Steps
If you are interested in learning more about Facing History, Facing History Pedagogy, Facing History Resources and/or upcoming Facing History Professional Development opportunities please click here!