This is the 1st blog in a 2 part series. Part 1 discusses the project and art as a critical tool of inquiry. Part 2 explores the process and approaches to putting together testimony and historian research methodologies for educators interested in teaching students what active historian work looks like.
How can we creatively engage with survivor testimonies and make them accessible to high school students? "We need to find something else, new approaches to testimony collections, telling the story of the Holocaust in a richer, deeper way, and more meaningful way."

This is a question that historians and humanities educators are wrestling with as in-person testimony is becoming increasingly unavailable. This challenge propelled Dr. Charlotte Schallié to launch a compelling research action project which brings together Holocaust education professionals, artists and survivors to create unique graphic novels that will introduce archival testimony and documents to classrooms in rich, meaningful and accessible ways.
In this blog post, Dr. Charlotte Schallié, Chair of the Department of Germanic and Slavic Studies at University of Victoria, and her project partner Dr. Ilona Shulman Spaar, Education Director and Curator of the Vancouver Holocaust Education Centre (VHEC) share their process, early findings and a few panels for classroom exploration.
This interview offers insight into the kinds of questions that they raise as historians, educators and museum professionals, and shows how art and graphic novels can be used as tools for critical inquiry in a Humanities or Social Science classroom. As teachers, you will also have the opportunity to pilot the educational resources in your classrooms (keep reading to learn how to apply!).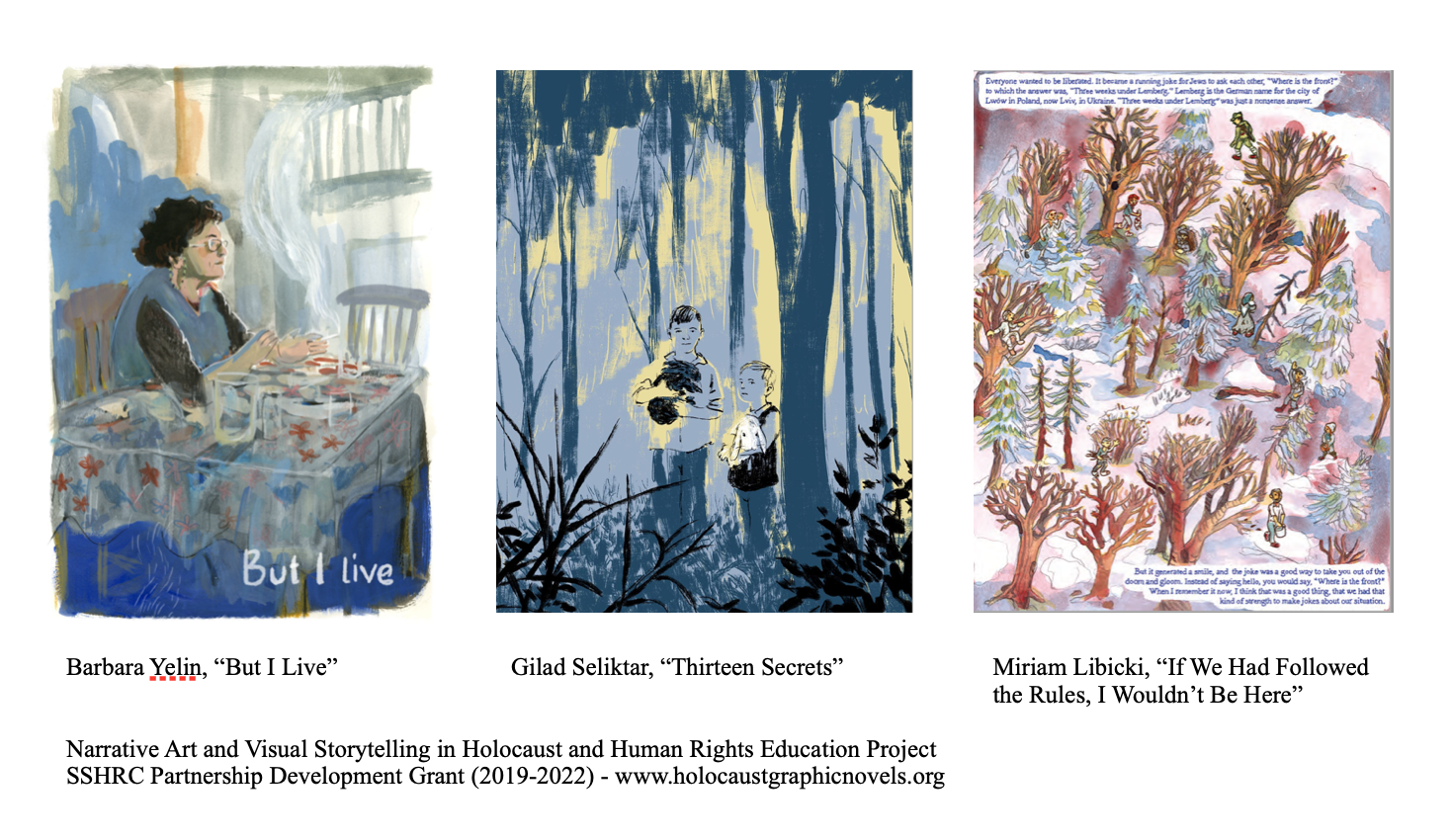 Part 1: "Drawing is about finding new questions": Graphic novels and art as a critical tool of inquiry in classrooms
What is this project?
Narrative Art and Visual Storytelling in Holocaust and Human Rights Education is a three-year Social Sciences and Humanities Research Council grant funded project.
It began with the pairing of three award-winning graphic novelists with four Holocaust survivors. Each artist/survivor team then worked together to co-create 35-page graphic narratives based on the survivors' lives.
Slated to be published in Spring 2022, these graphic narratives will become the foundation of free multilingual downloadable teaching materials (teachers' guides and lesson plans, student activities, discussion prompts) for in classroom and remote learning around the world.


Ilona:

You initiated this project in 2019. What inspired you to do so?
Charlotte: Graphic art is ideally suited to teach the Holocaust within the larger framework of social justice and human rights education.
In early 2015, I initiated a community-based research project (Using Graphic Novels to Teach the Holocaust Across the High School Curriculum) with three local educators in Victoria, BC and the Greater Victoria Art Gallery's high school "New Extreme" outreach program. It was a deeply meaningful experience for me and the students, so I was encouraged to pursue a larger community-engaged project. I am immensely grateful that the Vancouver Holocaust Education Centre is a project partner.


Ilona:

The three artists approached the survivors' personal testimonies so differently in their visual storytelling both regarding the process and style. Can you share with us some specific aspects that moved you and how it might affect teachers and students in their learning about the Holocaust?
Charlotte: It has become apparent that the collaborative process between the artists- Miriam Libicki, Barbara Yelin and Gilad Seliktar- and survivors—Emmie Arbel, Nico & Rolf Kamp, and David Schaffer—yielded three personal narratives. At our most recent "Artist Café", Barbara Yelin reflected on the role of art as a critical tool of inquiry. She explained that "drawing is about finding new questions".
Students who will be working with these graphic novels will be encouraged to probe the visualizing techniques and representational strategies artists use to convey testimony. There are many questions that can be explored in the classroom:
How can memories be visualized?
How does the interplay between text and images help us reconstruct a narrative?
What is being revealed in these drawings, and what remains a secret?
How can fragmented memories be given a voice?
How does the relationship between the artist and the survivor shape our understanding of traumatic memories?
What do these stories teach us vis-a-vis traditional Holocaust testimonies?
How can a testimony be co-created between two people?
Adopting a trauma-informed pedagogy, we may ultimately approach one of the most difficult questions: What can these works of art tell us about the immediate and long standing impact of violent histories?
This short film documents the first meeting between graphic novelist Gilad Seliktar and Holocaust survivors–and brothers–Rolf and Nico Kamp, the subjects of a new graphic novel telling the story of their survival.
This short film documents the making-of the graphic novel "If We Had Followed the Rules, I Wouldn't Be Here" featuring Holocaust survivor David Schaffer and graphic artist Miriam Libicki.
A nine-minute film documenting Barbara Yelin's creative process and the relationship between her and Holocaust survivor Emmie Arbel.
Charlotte:

To use graphic narratives as a teaching resource in the classroom is nothing new. In what way are these different?
Ilona: Graphic narratives facilitate and support students' ability to visualize and understand complex ideas. They foster students' engagement with critical thinking and 21st century multimodal literacy skills. Reading graphic narratives can be motivating for struggling students and reluctant readers.
For me, the uniqueness about these three graphic narratives lies in the collaborative creation process that prominently includes survivors and artists, but also many others who acted in the background including Holocaust and Human Rights educators, teacher educators, librarians, historians, and student researchers.
We asked Dr. Schallié and Dr. Shulman Spaar for a sneak peek that educators could use to begin exploring art and graphic novels as a jumping off point for critical inquiry.
Looking at these sample pages, we also invite you to explore the following questions:
What is distinct about the storytelling?
What is unique about the panel configurations?
How might these graphic narratives teach us something different compared to traditional Holocaust memoirs?
How do you see the graphic narratives raise questions about how testimony can be co-created?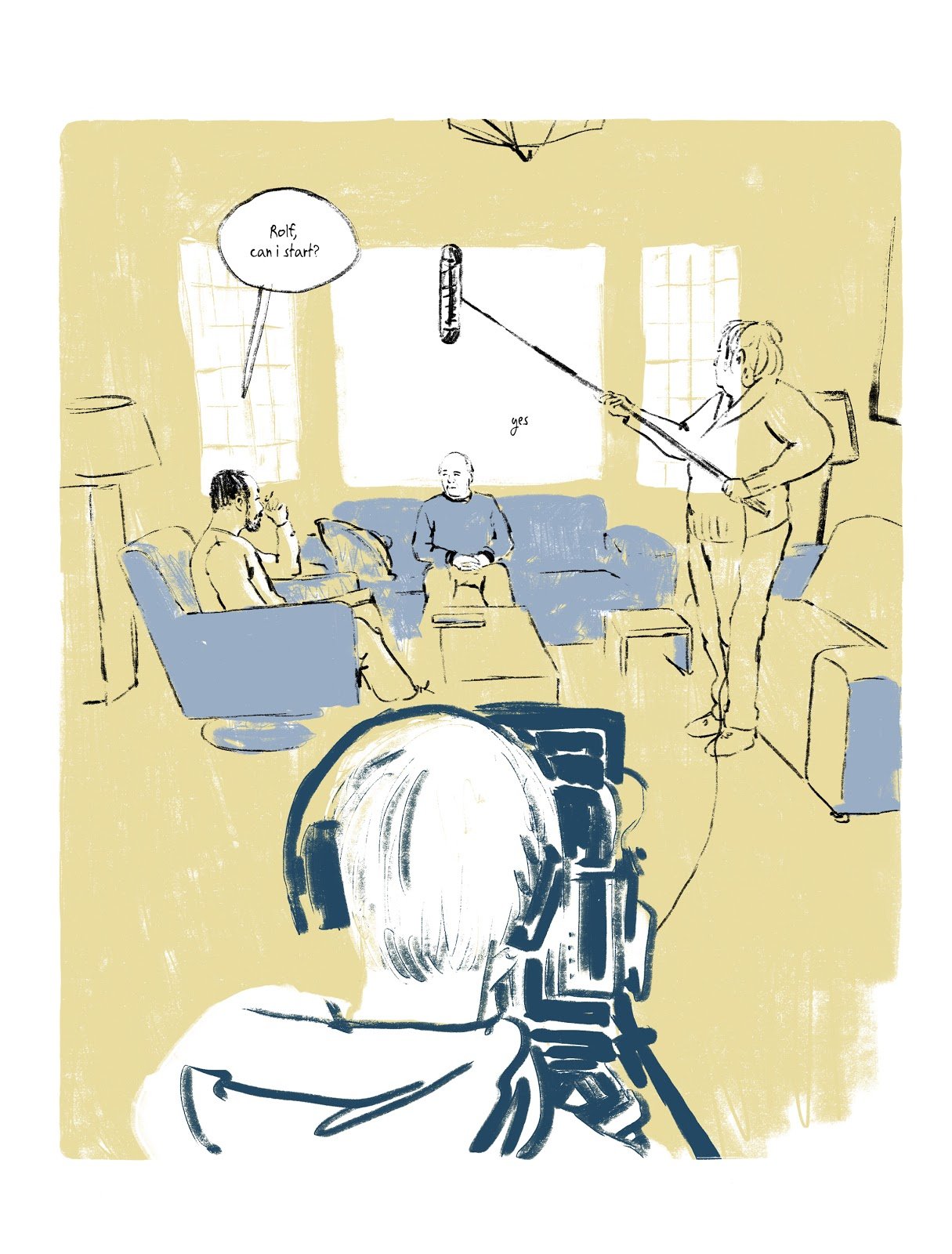 Gilad Seliktar "Thirteen Secrets"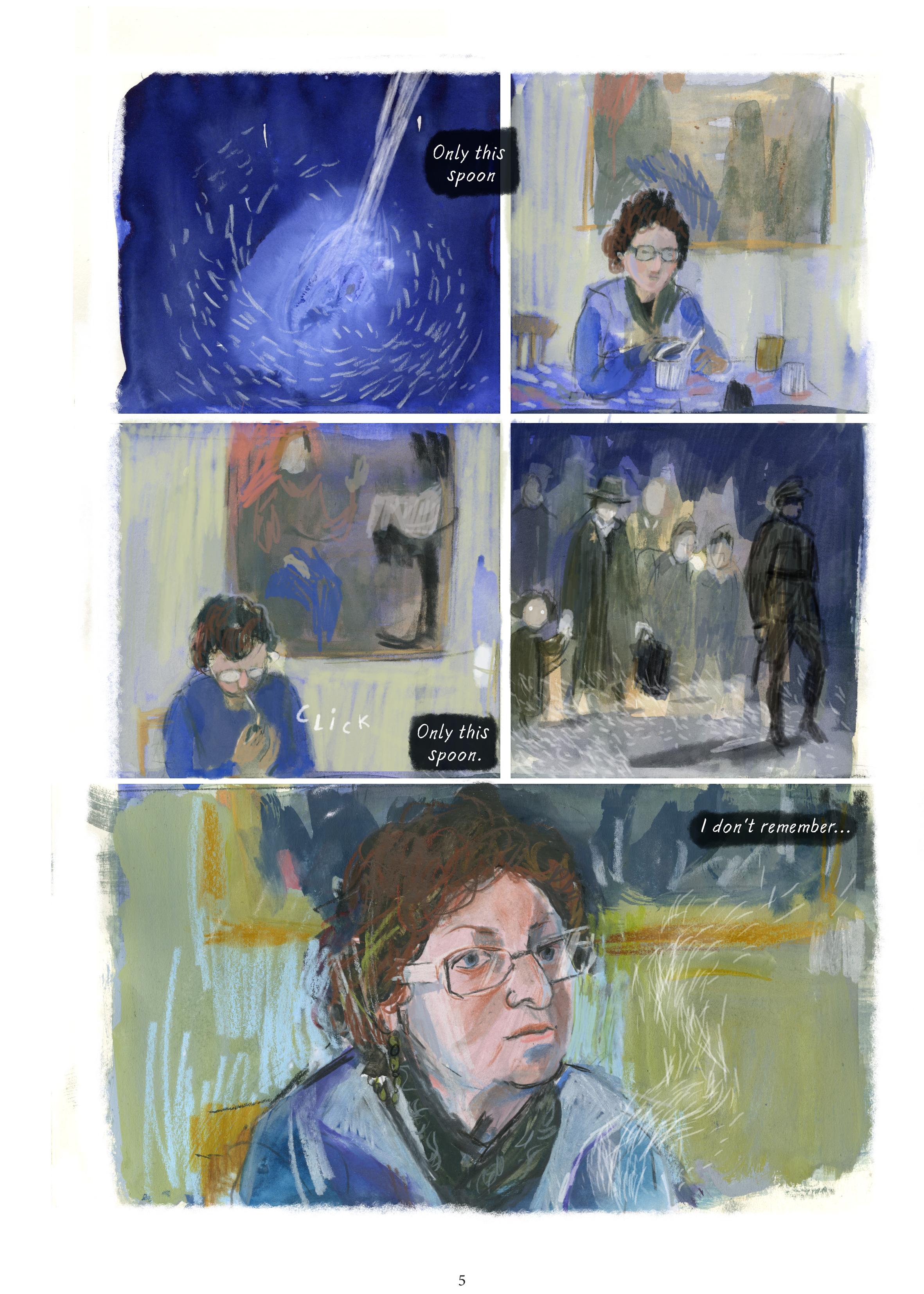 Barbara Yelin "But I Live"
Miriam Libicki "If We Had Followed the Rules, I Wouldn't Be Here"
If you are interested in piloting this teaching material please contact Dr. Andrea Webb (andrea.webb@ubc.ca) by October 1, 2021.
Acknowledgements
The graphic narratives will be jointly published in spring 2022 by the New Jewish Press (Toronto), and C.H. Beck in Germany. We have a dedicated team of educational experts in Canada, Germany and Israel (Andrea Webb, Arie Kizel, Noa Mkayton, Danny and Maja Sturm, among others) who will create and pilot the accompanying educational resources. With the support of our digital scholarship librarian, Matt Huculak, these materials will be made available on our website on a rolling basis; they include teachers guides, lesson plans as well as audio-visual testimonies, transcriptions of all interviews, and three short docs featuring the artists and survivors working with one another. All materials will be translated in French, German, and Hebrew.
---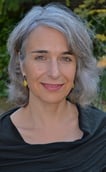 Charlotte Schallié, PhD, is a professor of Germanic Studies at UVic. Her research interests include post-1945 German literature and film, memory studies, visual storytelling, Jewish identity in contemporary cultural discourse, teaching and learning about the Holocaust and human rights education. Together with Agnes Hirschi, Charlotte co-edited Under Swiss Protection: Jewish Eyewitness Accounts from Wartime Budapest (Ibidem, 2017; Kalligram, 2019; Limmat Verlag, 2020).
Ilona Shulman Spaar, PhD, is the Education Director and Curator of the Vancouver

Holocaust Education Centre (VHEC). She is in charge of the centre's school programming, educational resources and professional development events for teachers. Ilona is the curator of the museums' original exhibitions Treasured Belongings: The Hahn Family & the Search for a Stolen Legacy (2019), In Focus: The Holocaust Through the VHEC Collection (2018) and Faces of Survival: Photographs by Marissa Roth (2018).