Remembrance is an act of humanity and it is about humanity. At Facing History and Ourselves, we often ask ourselves, How do we help students (and ourselves) to remember more than names, dates, and battles? How do we help students to connect to the humanity: the people behind the names, the lives, ideas, and cultures lost, and the legacies that extend beyond the signing of a treaty that signals the end of war?

With Remembrance Day, November 11th, just around the corner, many of us are asking our students to create meaningful ways to remember those who survived, served, or died in war. At Facing History, we often think about remembrance because it is such an important part of a journey into the study of historical atrocities and genocides. Not only do we feel the moral obligation to remember past atrocities, we also want to help our students to remember the past in a meaningful way that connects to them personally—in head, heart, and moral being. We want to honour the memories of those fallen—or murdered—in a way that builds a better tomorrow.
Here are several lesson ideas to explore on Remembrance Day and during the week to deepen students' learning:
1. Bring Firsthand Stories and Voices to Life using Reader's Theatre
Choose a few moments from texts such as a diaries, interviews, or other firsthand accounts from war that give students insight into the experiences—the everyday life experiences of individuals, or the experiences of individuals through critical moments in history. You can choose texts that represent different aspects of conflict (i.e. love, loss), roles (soldier, political leader, resister, or spouse), or times (beginning, middle, end) in a war.
Reader's Theatre is an effective way to help students engage in primary text and historical perspective. Through this strategy, students process dilemmas experienced by individuals in a text. In this activity, groups of students are assigned a small portion of the text to present to their peers. As opposed to presenting skits of the plot, Reader's Theatre asks students to create a performance that reveals a message, theme, or conflict represented by the text. Find additional diary excerpts or readings related to 21st century genocides.
2. Bring Testimony into Your Classroom
At the crux of learning about the history of genocide is hearing testimony from those who were targeted and survived. Meeting a survivor gives students the opportunity to encounter history personally.
Although the victims of the genocides surrounding World War I and World War II are not typically the focus of Remembrance Day, their voices and stories can help us go deeper into thinking about war: When and why do we enter into war? What can happen those who are vulnerable, under the cover of war? How does war take a toll on the norms of a nation? Can soldiers play humanitarian roles in war?
You can find survivor testimonies on our website, or through websites such as the Shoah Foundation's IWitness site. One way to ask students to debrief these testimonies is through a 3-2-1:
In a journal, write:
3 things that you heard/ learned in the testimony
2 things that you connected with
1 thing you will do, or stop doing in response to hearing the testimony
When we debriefed survivor Max Eisen's testimony at a Peel District school during Holocaust Education Week, we asked students to share their connections with each other, and then to share one on a large post-it note to give to Mr. Eisen. Students themselves placed their notes on the banner provided to spell HOPE.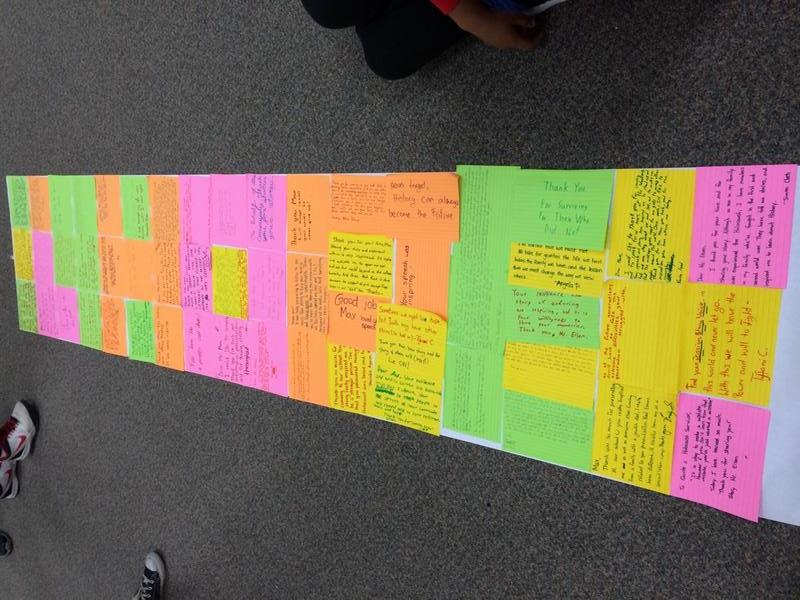 The Woodlands' create a banner of personal reflections for Mr. Eisen following his testimony. Photo credit: student, The Woodlands.
3. Read and Create Poetry
Facing History teacher Ashley Watts used poems this year to help her students think about how our collective Canadian identity is shaped by the World Wars. First she introduced the poem "In Flanders Fields" to students using Reader's Theatre, then she gave groups additional poems to perform using the same teaching strategy. The poems she chose give voice to Canadians who survived the Holocaust, the Armenian Genocide, Japanese internment during WWII, and contemporary refugees of war.
Another suggestion is to try Found Poetry. Found poems are created through the careful selection and organization of words and phrases from existing text. Writing found poems provides a structured way for students to review material and synthesize their learning.
4. Create a Memorial and Stand in Honour of Those it Commemorates
Students can synthesize what they have learned about a historical moment, an individual, group of individuals, or even an idea through the creation of a memorial. The poppy is one enduring symbol of our remembrance for those who fought and died during the Great Wars. We can explore what this symbol represents today as we wear our pins, and what other memorials exist that help us to remember. What other events, individuals, or groups should we remember? What is the best way to remember?
Creating memorials allows for rich differentiation, as students can create their memorials in so many ways: songs, poems, films, paintings, photographs, wordles, or physical monuments are just a few examples.
Facing History teacher Clint Lovell and his class in Barrie, ON honoured the sacrifice of Canadians who gave their lives by creating and laying out crosses for each of the 80 men from Barrie who did not return from WWI. You can read about their work here in the Barrie Examiner.
5. Exploring the Aftermath of Conflict Through Photography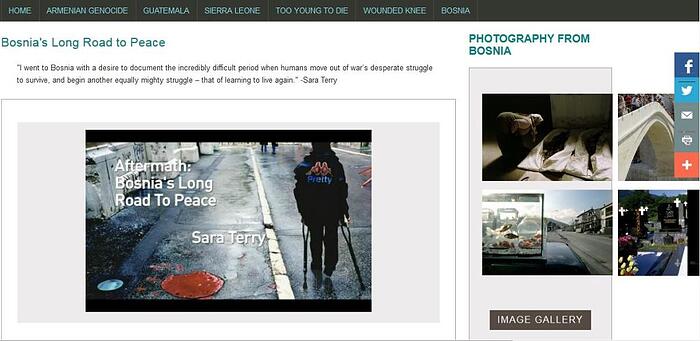 As Sara Terry, the director of The Aftermath Project states, if we do not examine the aftermath of a conflict, we are only learning half the story. The Aftermath Project encourages students to ask questions about what happens after a conflict - how do people rebuild? How does a society learn to heal or move forward? What are the responsibilities of citizens to bring justice and remembrance? What is the price of peace?
Within this resource you can find fantastic photographs, strategies and questions to explore these and other questions—and to inspire students to ask their own questions. If you are looking for an additional photographic collection you could use, try the World Press Photo Exhibitions.Remembrance Day reminds us that we must remember those who lost their lives in war—as well as those who worked to bring peace, rebuild their lives, our communities, and our nations after war.
Remembrance Day also reminds us of our responsibility to learn from our past. We must remember because it is through remembrance of the tragedies of war that meaningful and informed action takes place to end further conflict. We must remember because remembrance of the past is intertwined with a responsibility to bring justice to those who are wronged, to repair the world—Tikkun Olam—and to create safeguards for the future.
Beyond Remembrance Day, how will you continue to help your students understand our role as Canadians in conflicts past and present? How will you help your students remember so that those who suffered did not do so in vain?