Looking for resources to

weave disability representation

into your literature equity and inclusion work?

Interested in receiving a free class set of books by disability justice warrior, Judith Heumann? (first come first serve, read below to find out more!)
Are you a middle and/or high school teacher of English Language Arts, humanities, social studies, civics and/or Special Education?
Facing History & Ourselves' 2022-23 All Community Read will be a collective journey of transformation supported by an educator workshop and author event. We will engage in conversation around the young adult and adult versions of Judith Heumann's memoirs:

Being Heumann

: Unrepentant Memoir of a Disability Rights Activist &

Rolling Warrior:

The Incredible, Sometimes Awkward, True Story of a Rebel Girl on Wheels Who Helped Spark a Revolution (edition adapted for young readers)


"One of the most influential disability rights activists tells her personal story of fighting for the right to receive an education, have a job, and just be human."
-Penguin Random House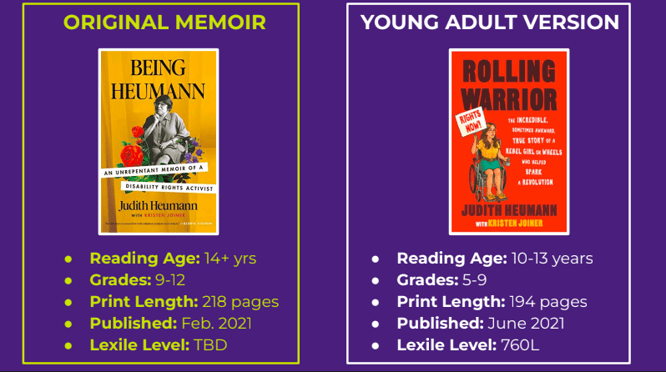 Summary: "A story of fighting to belong in a world that wasn't built for all of us and of one woman's activism—from the streets of Brooklyn and San Francisco to inside the halls of Washington—Being Heumann recounts Judy Heumann's lifelong battle to achieve respect, acceptance, and inclusion in society." - Penguin Random House
Noteworthy Quote: "But camp was completely different. Camp was for us. It was designed specifically with our needs in mind and our parents paid for us to be a part of it. Our participation wasn't contingent on someone else's generosity; it was a given.... At camp I didn't have to worry about what I needed, or how much help I could ask for at one time. I didn't have to secretly rank what I needed in order of importance so as not to ask for too much at once. I didn't have to feel that bad feeling I got when something was inaccessible and someone said no to something I knew I could have done myself if my whole world had been accessible. Camp, I thought, was what it would feel like if society included us." (pp. 27, Being Heumann)
Themes: identity, membership, belonging, and agency, resilience, activism, pride
December 8 from 10:00 am- 3:00 pm EST, FREE
"Some people say that what I did changed the world. But really, I simply refused to accept what I was told about who I could be. And I was willing to make a fuss about it."

(pp. 3, Being Heumann)
Literature has the power to nurture our capacity for empathy and to strengthen our communities. Heumann's memoirs allow us to explore themes of coming of age; belonging; civil and human rights; and choosing to participate – and to address accessibility and inclusion for all people within our schools and communities.
Both texts lend themselves to interdisciplinary connections between literature and pivotal moments in US history, and could quite possibly change the way you think about teaching for equity and justice. Being Heumann discusses the US political system and while in a different context it invites educators in Canadian classrooms to think about drawing parallels between what civic action can look like and also invites us to consider who the contacts are that move legislation forward.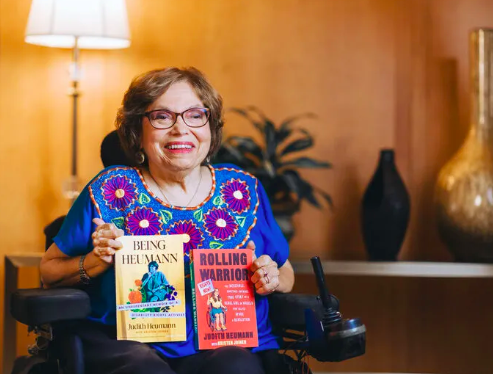 Interested in receiving free class sets AND planning on joining the December 8 event? (*you must join the event to receive the books)
We have a grant that allows us to provide class sets of either Being Heumann OR Rolling Warrior on a first come first serve basis (UPDATE: All have been taken). Please contact jasmine_wong@facinghistory.org to inquire about free class sets and include answers to the following:
How many students do you teach?
Which book do you want?
What is your mailing address?
*The free class sets have been generously donated by the Indigo Love of Reading Foundation.
We know you are busy and we want to equip you as best as we can given how many things we know are on educators' plates. Following the all community read, Facing History will be sharing ready-to-use lessons to support teaching of the books.


Next event: Online Author Event with Judith Heumann
March 1 2023 from 12-1 pm EST (registration coming soon!)
See event flyers here if you'd like to share this opportunity!