This is the 2nd blog in a 2 part series. Click here to read Part 1 which discusses the project and art as a critical tool of inquiry.
In this blog post, Dr. Charlotte Schallié, Chair of the Department of Germanic and Slavic Studies at University of Victoria, and her project partner Dr. Ilona Shulman Spaar, Education Director and Curator of the Vancouver Holocaust Education Centre (VHEC) share their process and approaches to putting together testimony and discuss community-engaged and arts-based research methodologies for teachers and educators.
This interview offers insight into the kinds of questions that they raise as historians, educators and museum professionals, and highlights the importance of developing reciprocal and trusting relationships in this work. As teachers, you will also have the opportunity to pilot the educational resources in your classrooms (keep reading to learn how to apply!).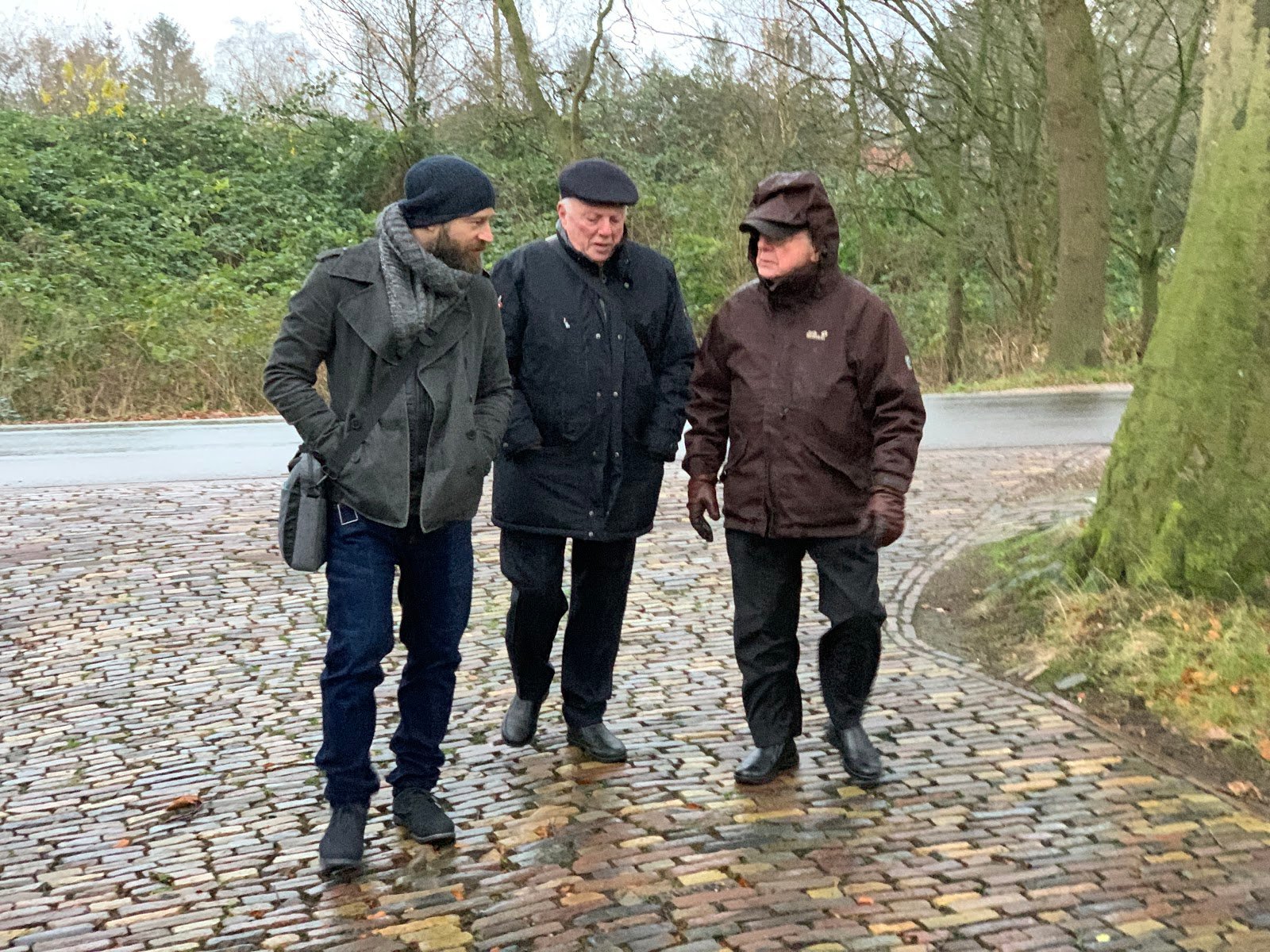 Artist Gilad Seliktar with Holocaust survivors and brothers Nico and Rolf Kamp (Achterveld, the Netherlands, 15 December 2019). Image credit: Charlotte Schallié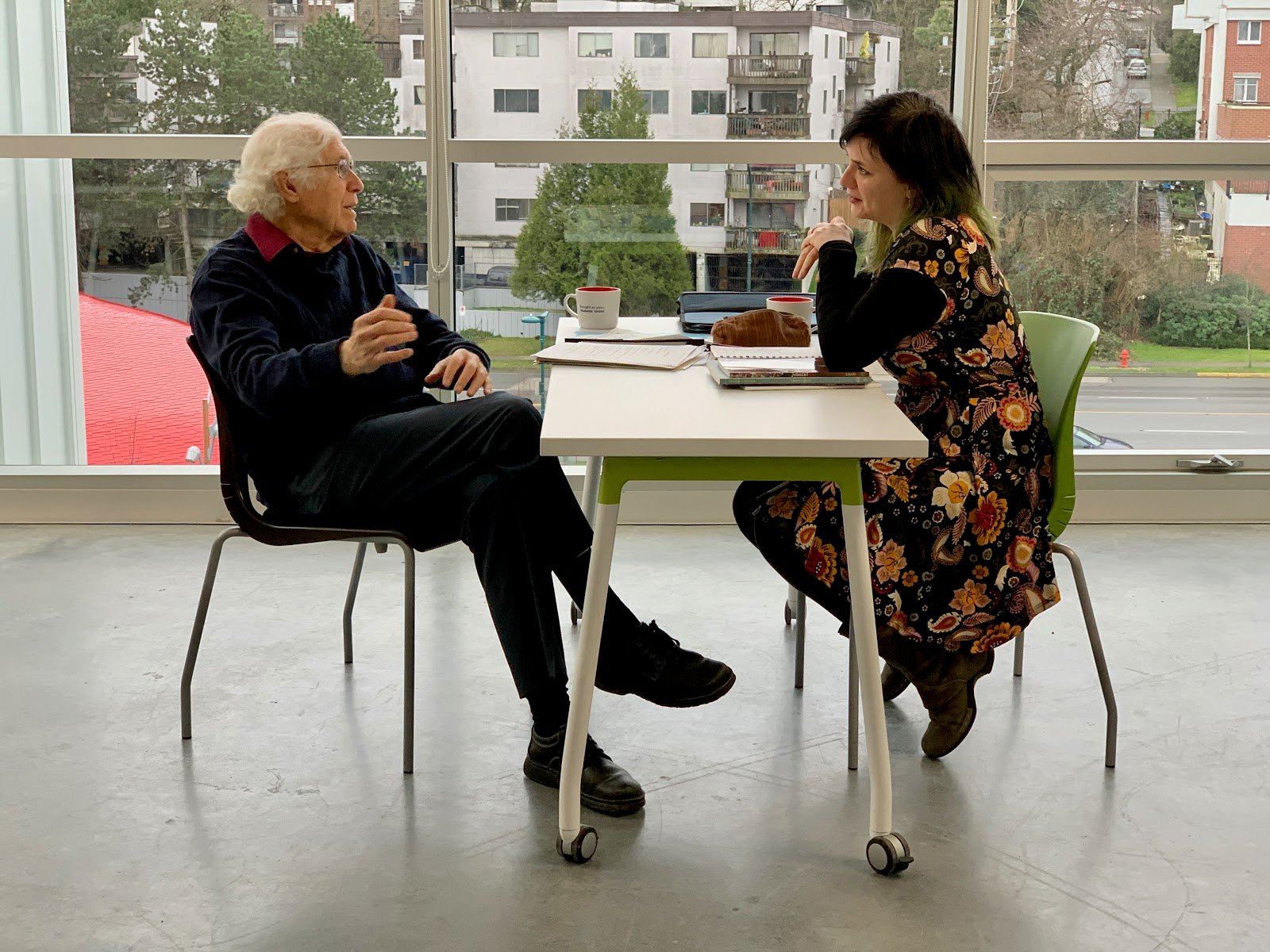 Holocaust survivor David Schaffer and artist Miriam Libicki (Vancouver, Canada, 2 January 2020). Image credit: Charlotte Schallié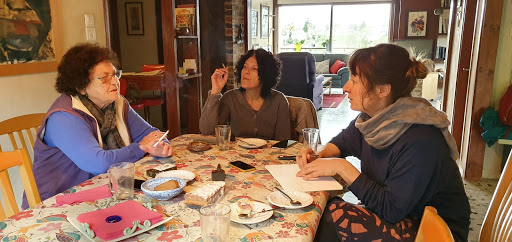 Holocaust survivor Emmie Arbel with daughter Orli and artist Barbara Yelin (Kiryat Tiv'on, Israel, 8 February 2020). Image credit: Gilad Seliktar
Part 2: Project Process & Research Approach
Question: What is this project?
Narrative Art and Visual Storytelling in Holocaust and Human Rights Education is a three-year Social Sciences and Humanities Research Council grant funded project.
It began with the pairing of three award-winning graphic novelists with four Holocaust survivors. Each artist/survivor team then worked together to co-create 35-page graphic narratives based on the survivors' lives.
Slated to be published in Spring 2022, these graphic narratives will become the foundation of free multilingual downloadable teaching materials (teachers' guides and lesson plans, student activities, discussion prompts) for in classroom and remote learning around the world.
Charlotte: The first phase of this project included connecting the artists with the Holocaust survivors. Based on these meetings, the artists began to create the graphic novels. Can you speak about this process? What were some challenges and highlights?
Ilona: Not only does it take time, coordination and organization to establish a connection between the artists and the survivors as basis for the graphic narratives, yet the most important component that is needed for such a project is trust. Trust is not just something that you "organize", it's earned over time. It's crucial that the survivors, who - after all - share their profound personal experiences of suffering and survival, gain a certain level of trust. Vice versa, it's also significant that the artists feel comfort while they create their artistic interpretations of the survivors' experiences and therefore, to a certain degree, express their emotions through art.
One of the highlights was to witness how the survivor/artist relationships manifested over time, spanning over different countries and time-zones, including diverse languages and cultural backgrounds, all in the context of a global health crisis (COVID 19). The virtual "Artist Cafés" with participating team members provided a completely new and at times exceptionally moving and emotional experience of personal interconnectedness.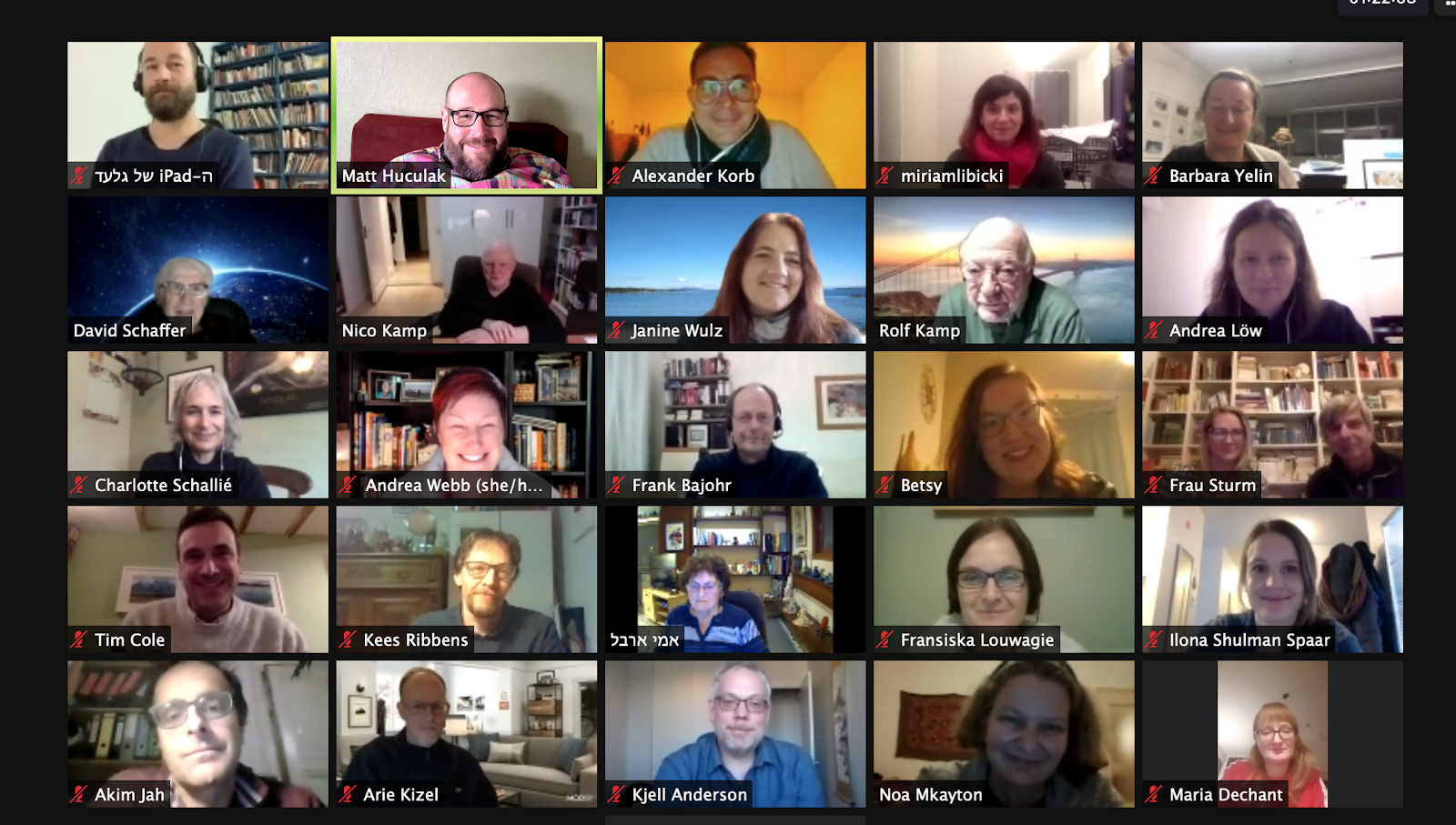 Artist Café Project Meeting (December 3, 2020) with Holocaust survivors, artists, scholars and students from Canada, Germany, the Netherlands, Israel, and the UK.
Charlotte:

The graphic narratives and accompanying teaching resources are developed by an international team. How did the team embrace the countries' different Holocaust and Human Rights education approaches? How do the graphic novels fit into the Canadian curriculum?
Ilona: During the initial meeting in Berlin in 2019 it became clear that our project partners shared different preferences within the Human Rights approach to Holocaust education. For instance, the approach of project partners from Germany and Israel differed from those of Canada which makes absolute sense considering the diverse contexts that play into Holocaust education. The project team tries to be respectful of the countries' different approaches and preferences, and simultaneously it attempts to create resources that also work within the countries' specific educational practices.
The graphic narratives and their accompanying resources will be in alignment with the Canadian curriculum and 21st Century learning, aiming to foster critical thinking and reflection on social justice and human rights, as well as individual and social responsibilities among students. Courses in which the graphic narratives and resources can be used include Social Justice incorporating Genocide Studies, Citizenship Education and English Language Arts.


Ilona:

How are the teaching resources for the graphic novels being developed to fit into the Canadian curriculum?
Charlotte: The development of educational materials is going to begin in spring 2021. In addition to the engagement with the graphic narratives by teacher candidates in Germany and Israel, Dr. Andrea Webb, chair of the Education Committee and faculty member in the Department of Curriculum and Pedagogy at the University of British Columbia, will be working with five teacher candidates from UBC who will be developing educational materials in English and French for use with the graphic narratives. Connecting the British Columbia Social Studies curriculum with historical resources and archives from our partners, these teachers bring their expertise in classrooms, including teaching Genocide Studies 12, as they develop unique learning experiences for secondary school students. The next phase of the project includes refining the materials and piloting the lessons and activities in classrooms across B.C. and Canada in the 2021-22 academic year.
If you are interested in piloting this teaching material please contact Dr. Andrea Webb (andrea.webb@ubc.ca) by October 1, 2021.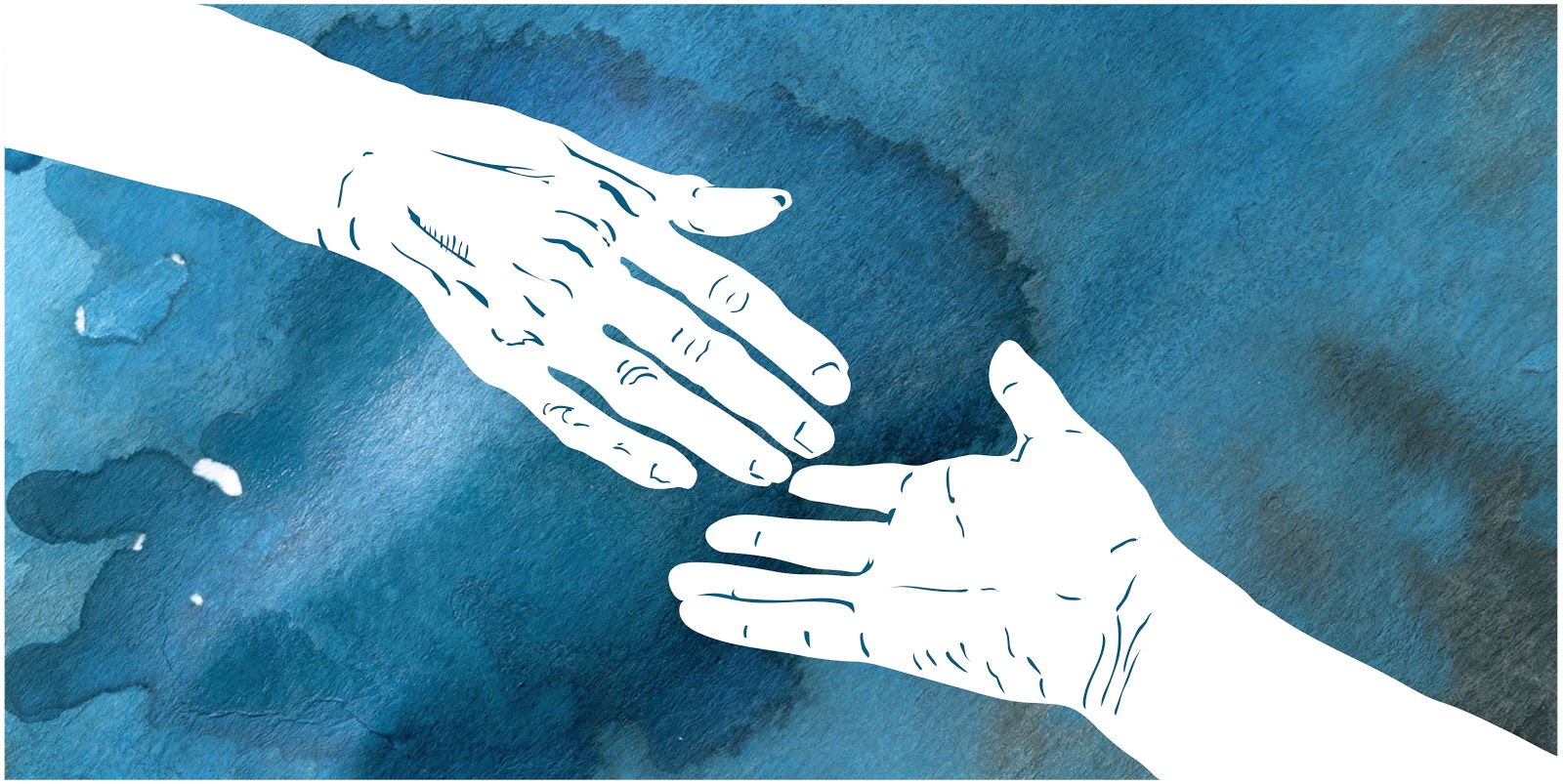 Project logo for Narrative Art and Visual Storytelling in Holocaust and Human Rights Education created by Miriam Libicki
Acknowledgements
The graphic narratives will be jointly published in spring 2022 by the New Jewish Press (Toronto), and C.H. Beck in Germany. We have a dedicated team of educational experts in Canada, Germany and Israel (Andrea Webb, Arie Kizel, Noa Mkayton, Danny and Maja Sturm, among others) who will create and pilot the accompanying educational resources. With the support of our digital scholarship librarian, Matt Huculak, these materials will be made available on our website on a rolling basis; they include teachers guides, lesson plans as well as audio-visual testimonies, transcriptions of all interviews, and three short docs featuring the artists and survivors working with one another. All materials will be translated in French, German, and Hebrew.
We are profoundly grateful to the Social Sciences and Humanities Research Council of Canada (SSHRC) for their Partnership Development Grant that makes this project possible.
---

Charlotte Schallié, PhD, is a professor of Germanic Studies at UVic. Her research interests include post-1945 German literature and film, memory studies, visual storytelling, Jewish identity in contemporary cultural discourse, teaching and learning about the Holocaust and human rights education. Together with Agnes Hirschi, Charlotte co-edited Under Swiss Protection: Jewish Eyewitness Accounts from Wartime Budapest (Ibidem, 2017; Kalligram, 2019; Limmat Verlag, 2020).

Ilona Shulman Spaar, PhD, is the Education Director and Curator of the Vancouver Holocaust Education Centre (VHEC). She is in charge of the Centre's school programming, educational resources and professional development events for teachers. Ilona is the curator of the museums' original exhibitions Treasured Belongings: The Hahn Family & the Search for a Stolen Legacy (2019), In Focus: The Holocaust Through the VHEC Collection (2018) and Faces of Survival: Photographs by Marissa Roth (2018).