This week is #MuseumWeek, where museums from around the world will be convening with museum lovers on twitter to journey behind the scenes, to explore the grounds, and to share ideas about what we choose to remember for the future.
To kick off this week, we're republishing Robert Flosman's blog post which originally appeared last year on our sister blog, Facing Technology, as well as offering some ideas to help you use museum visits and ideas in your classroom below.
I begin each year of my teaching with one hope: to inspire my students with history. I want to help our students become the keepers of history in our community. I want them to not only learn the history, but to live it and work in it. Educators – and schools, communities, and parents –do many things to help our students become active learners of history. Among the things I'm trying this year is building a mini-museum inside my Grade 11 Genocide classroom at Waterdown District High School in Hamilton, Ontario.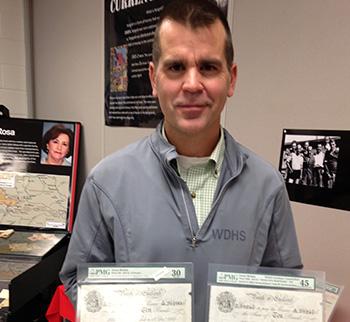 History teacher Rob Flosman with currency from Operation Bernhard. Photo by Abigail Cukier, published in The Canadian Jewish News.
How does one build a museum inside of a classroom?
One of the first steps is collecting the artifacts you will display. Our classroom is collecting letters, diaries, and interviews from family and community members about their experiences in World War II. One of the second steps is to design the area that will hold those artifacts. With support from a 2013 Margot Stern Strom Innovation Grant, my students and I are designing a "Case for History." We have had classroom discussion, brainstorming, and hands-on sketching sessions on how to design the perfect one. I also had the opportunity to speak about the project with the head curator of museums in Hamilton, Ontario. His advice was that a viewer should be able to walk into the classroom and see one featured item on display." That is the key," he told me. "One special piece of history." As my students and I brainstormed what our case should look like, we settled on four key elements it had to have:
1) Room for Text. We hope to design a case that is both beautiful to look at and helps viewers see the information inside – our case will be made of glass and have plenty of room for text.
2) Mobility. Our class knows that we use the space of our classroom – but we don't own it. Our case needs to be portable so that we can move it, share it, and bring learning with us wherever we go.
3) Security. We realized that we are putting a lot of work into our case, and that as keepers of the history we are collecting, we are giving ourselves a big responsibility. Our case will need to be lockable so that the items inside are safe and will be there for future students and classrooms to use.
4) Accessibility. The case should be accessible to learners and educators of all ages and grade levels. Our case must be at a height and vantage point for all.
Rob Flosman is assistant head of history at Waterdown District High School in Hamilton, Ontario. He is the recipient of a 2013 Margot Stern Strom Innovation Grant from Facing History and Ourselves.
Four More Ideas Inspired by Museums
If you also love the idea of creating a museum in your classroom, consider these lessons and projects that classroom teachers have shared:
Winnipeg area teacher Jamie Harrison toured the Canadian Museum of Human Rights earlier this year and wrote a great post about how that visit inspired her to think about her classroom and teaching practice.
A trip to the museum can be an opportunity to explore historical thinking skills and raise inquiry questions that further our work as educators in the classroom. Before your next visit to a museum discuss the criteria for historical significance developed by historians and the questions we ask about primary source evidence from the past. During the visit, have students consider how criteria for significance has been applied by museum curators (and funders): How did the curators define what constitutes a historically significant event? How do the artifacts provide evidence for the narrative the exhibit tells? On returning to the classroom, students will be better prepared to engage meaningfully in a time capsule, scrapbook project, or classroom museum project.

A time capsule or scrapbook project can be a great culminating project where students can show their understanding of historically significant events over a particular geography, time, and point of view. In this hands-on approach, students choose moments in history (i.e. the history of Canada 1914-present, or the story of a particular person such as a genocide survivor) to represent with artifacts such as made-objects, poems, songs, or artworks that convey the significance of the moment. For each artifact, students explain the moment or event that the artifact represents. Teacher Michael Altwerger asks his students to connect the artifacts they create to convey a genocide survivor's story with Stanton's 10 Stages of Genocide. For the capsule or scrapbook, students formulate a reflection on what narrative the collection tells the viewer. The projects are then placed on display, as they would be in a museum and students can conduct a gallery walk of the projects.


"Swarm", Collaboration between David Feinberg and Daliya Jokondo, daughter of The Sudanese Civil War survivor, with contributions from Chris Charbonneau, Sarah Hiatt, Silvia Mangia, Mike Zitlow, and Joni Christenson. Source: University of Minnesota Center for Holocaust & Genocide Studies

Take your students on a trip to the zoo in your own classroom like teacher Michael Grover did through historical photographs of human zoos in the era of eugenics to raise questions about the importance of museums in shaping what we know about ourselves and others.


"Expo 1931 Bali" by Editions BRAUN - SCAN de CPA. Licensed under Public Domain via Wikimedia Commons