In this interview, we asked Rob Simon, Assistant Professor of Multiliteracies in Education at OISE/University of Toronto (Dept of Curriculum, Teaching and Learning), to tell us more about the Teaching to Learn Project so we could better understand how and why collaborative (teacher-adolescent) curriculum planning worked, why he chose Elie Wiesel's Night as the study text, and where he got the idea to ask project participants to paint on the pages of the text as a form of reading response.
The images below are the culmination of those responses, which were mounted in an exhibition titled After Night.

Rob Simon is an Assistant Professor of Multiliteracies in Education at OISE/University of Toronto (Dept of Curriculum, Teaching and Learning). A former classroom teacher and teacher educator, Dr. Simon's research draws upon practitioner inquiry and sociocultural theories of literacy to explore teaching, learning, and teacher education from the perspectives of practitioners and students. He recently completed a multi-year study of the collaborative inquiries of a community of literacy teachers, and is the principal investigator for the Teaching to Learn Project, a Connaught-funded study that investigates a collaborative research community made up of teacher candidates, early-year literacy teachers, and adolescents. For his work on the Teaching to Learn Project, Rob was awarded the 2013 Distinguished Contributions to Teaching Award from OISE/University of Toronto.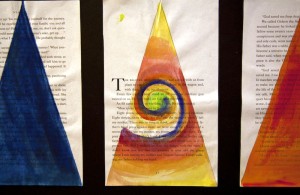 "Triangles", from the After Night Exhibition Exhibition images courtesy of Laura Darcy
Jasmine: In the Teaching to Learn Project, you brought together teacher candidates, graduate students and high school students to work together. What were you interested in exploring?
Rob:
The Teaching to Learn Project grew out of my interest in teacher inquiry communities as a basis for professional development and school change. In the 1990's, I worked with a group of teachers and activists in partnership with the mayor's office in San Francisco and a self-help rehabilitation program for former adult offenders and drug addicts called
Delancey Street Foundation
to develop a high school,
Life Learning Academy
, designed for adolescents who had been constructed as failures, and blamed as individuals for systemic problems they faced.
Life Learning Academy
was based on the idea that differently located individuals could come together and generate meaningful alternative approaches to teaching and learning. We built our school with our first cohort of students. They put up walls, and painted them.
In the intervening years, I've been involved in communities of educators in the US and Canada that drew upon similar principles of collaborative inquiry, most recently the Teaching to Learn Project in Toronto. Our work has involved youth from Rexdale, an ethnically and economically diverse community in West Toronto, collaborating with working teachers, graduate students, and teacher candidates at OISE to investigate issues related to literacy curriculum and pedagogy. We were interested in exploring interrelationships of research and practice—investigating how, collectively, teachers and adolescents might develop insights into teaching and learning. Over the past two years, we have created opportunities for participants to explore issues in teaching literacy and literature. After Night was the culmination of this work.
Jasmine: Can you tell me more about what project participants did, the roles each played, and the dynamic between groups? What did you learn through this process?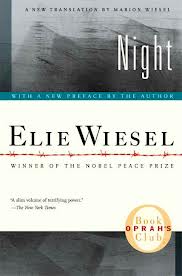 Rob: Our investigations into the text Night have evolved over the past year-plus. With the help of Facing History last January, we invited youth and teachers to author curriculum for the novel. We worked with adolescents to write their own responses to the text, exploring how this book can be a catalyst for social change. We shared some of the youths' reactions and questions with Professor Wiesel, who responded with an amazing letter, which we included in the After Night exhibit. For example, many of them had questions about maintaining faith in the midst of or in the wake of the Holocaust. Wiesel wrote: "Even in the camps I never lost my faith in God. However, I protested against God's silence. Yes, I still believe in God, but my faith is a wounded faith."
For each stage of this project, we began with the text. We used excerpts from Night or from Wiesel's writing about it, drawn from his Nobel acceptance speech and other public talks, the introduction (to the 2006 edition), etc. We worked in smaller groups to explore aspects of Night—themes, passages, and questions that came from the group. Facing History activities like "Big Paper" helped us to bring the text into our classroom, and build our conversations, analyses, and artistic responses from close readings. This extended into our use of art as a form of inquiry for the After Night exhibition.
One of the most surprising aspects of this approach was how it revised traditional classroom hierarchies. Individuals often assumed different positions, in relation to the text and in relation to each other. In reviewing transcripts of these collaborative investigations over the past two years as a part of our study, we have found that it is difficult to tell who the teacher is in group conversations. This basic observation has impacted how we think about teaching and research. What might it mean to explore more horizontal relationships in classrooms?
Jasmine: You chose a very emotionally and philosophically challenging memoir for students to read as part of this project. How did you decide on Night, and did you or any of the participants have any apprehensions about working with this text? How did teacher candidates and students work together through this text - were there particular challenges that presented themselves and if so, how did participants approach these challenges?
Rob: I have been a teacher educator for ten years, for three years at OISE. As a former English and social studies teacher working with adolescents who had experienced systemic violence and significant school failure, and as a grandson of holocaust survivors, I feel a responsibility to make Holocaust studies part of my teacher education practice. As social justice educator Linda Christensen has noted, in a world plagued with injustices, we need to question them, and investigate the roots of injustice.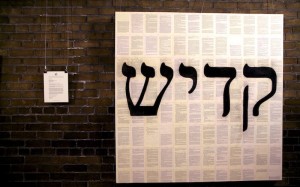 "Kaddish", from the After Night Exhibition photo courtesy of Laura Darcy
In his speech given at Yad Vashem in 2005, Elie Wiesel described the importance of Holocaust education. It is not about sharing stories, but about remembering in the service of building a better world. Our role, Wiesel tells us, is not merely to listen to the messages of survivors, but to become the messengers. This is a resounding response to Paul Celan's tragic observation: "No one bears witness for the witness." Can we change that?
Night is a challenging text. This is in part due in part to how clearly and economically it is written. For a book that is barely over 100 pages, it has extraordinary descriptive power. As I mentioned previously, many participating adolescents first read Night last year. We asked them to read the book again for After Night. I wouldn't say that it was a surprise, but it was moving to see how they brought new lenses to the book the second time. Teachers and youth were remarkably sensitive to the issues at the heart of Night, offering nuanced readings, sophisticated interpretations, and empathic responses. It suggested to me that some of our common practices in schools might be revised. For example, what are the possibilities of rereading in classrooms? How might our readings of history and literature be oriented toward meaningful change?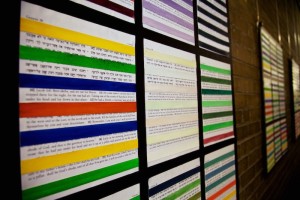 "Ladders", from the After Night Exhibition photo courtesy of Laura Darcy
Jasmine: Why did you decide to have students create artwork in response to reading, Night and why did you choose to have participants paint on the pages of the book? Where there any reservations about painting on the pages of a memoir? What guidance was given to the participants in order to produce these moving the pieces?
Rob: Many years ago I had the opportunity to work with the artist Tim Rollins on an exhibit for the Jewish Museum in San Francisco. Over several decades, Tim Rollins has invited "at-risk" youth in The Bronx, New York—who he refers to as "Kids of Survival"— to use art as inquiry into literature. Rollins' work is incredible: Large scale paintings on pages of texts ranging from great works of literature to musical scores. I drew on similar approaches as a teacher at Life Learning Academy, inviting students to explore historical moments, for example the civil rights movement, through painting on book pages from Warriors Don't Cry.
After Night was inspired by my interest in art and experiences as a teacher, but also by a desire to want to create new ways to explore the education and professional development of early year and preservice teachers. Rather than talk abstractly about curriculum or approaches to novel study, why not collectively engage with a text in more material and creative ways?
The other inspiration was more of a challenge. I was a student of noted Jewish American printmaker and sculptor Leonard Baskin. Baskin didn't begin to address the Holocaust in his artwork until the end of his life. When I asked him about this, he noted that the Nazis did such a thorough job of documenting their atrocities—how, he wondered, can an artist compete with images of mass graves? Or to paraphrase Adorno, what is the use of art after Auschwitz?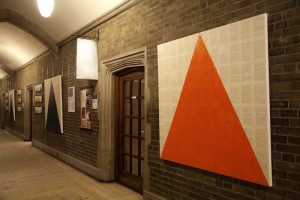 "Triangle I" from the After Night Exhibition photo courtesy of Laura Darcy
What we found is that the materiality of art—its organic, symbolic and representational power—allowed us to directly address some of the central themes of Night in a way that simply wouldn't be possible otherwise. For example, we re-imagined the symbol of a triangle—a symbol, as you know, that Nazis used to designate individuals as undesirable in ghettos and concentrations camps—as a symbol of community, individuality, diversity and solidarity, much as activists in the gay rights movement reclaimed the pink triangle as a form of protest and a symbol of pride. Students and teachers painted hundreds of triangles on individual pages of Night—The range of choices they made, in color and design, are incredible. We were only able to display a fraction of them in the exhibit, but may be able to incorporate more of them on the website we are developing.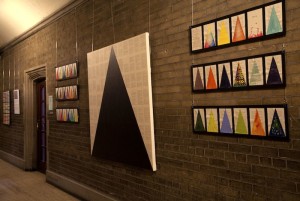 "Triangle II", from the Ater Night Exhibition photo courtesy of Laura Darcy
We might have discussed the problem of scapegoating, and historicized the use of the yellow star. We did this in our discussions of the text. But art provided an additional layer, an opportunity for and a way of responding to these events. Returning to Wiesel's message, art was both a form of inquiry into the text, but also a means of carrying the message of the text forward, shaped by our own readings, our experiences and cultures, and our commitments to make the world better.
Jasmine: What did you learn from this process that could inform the way teachers teach, or develop lessons on challenging texts?
Rob: Too often in schools, the "unit of analysis" is the individual—individual readings, individual responses, papers, test scores—rather than community. If educators are, as I believe we should be, concerned with social justice, are there ways to invite students to work together for social change? How might these inform our approaches to teaching texts like Night?
Inviting students to collectively and creatively engage with texts like Night has the potential to make their readings more meaningful, memorable, and actionable. In other words, have more impact in their own lives and the lives of others.
Jasmine: Where do you see the intersection between this project and Facing History and Ourselves?
Rob: As a teacher many years ago, encountering Facing History and Ourselves was a revelation. The mission of Facing History was not to convey linear timelines, facts and figures of history, but rather to invite students to do the work of historians: To develop their own archival and genealogical approaches to mining and interpreting events, and more importantly, to do something meaningful with their understandings.
After Night was encouraged by the idea that individuals have responsibilities to the communities in which we live, that history and literature can inspire us to develop empathy and understanding for others as a basis for making our communities better and more just places. A similar commitment to connecting students and teachers to use investigations of history as a basis for working for social change animates Facing History's work.
I see this as a natural extension of the creative and activist spirit that inspired me in my first encounter with Facing History curriculum many years ago. My hope is that the youth and teachers who joined us in our investigations of Wiesel's text in the Teaching to Learn Project are similarly inspired to continue this work in their own classrooms and communities.
Many thanks to Professor Rob Simon for his time in responding to these questions, for inviting us into his classroom, and for sharing these insights with us.