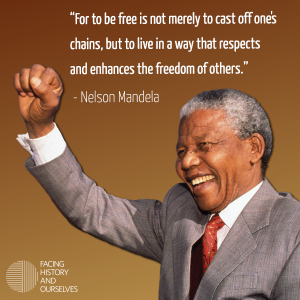 Today, former South African President and civil rights leader Nelson Mandela turns 95. In honor of his birthday, citizens around the world are donating 67 minutes of their time to the greater good in honor of the 67 years Mandela dedicated to public service.
If you are donating 67 minutes today, we'd love to hear what you're doing.
I wanted to do my 67 minutes – theoretically, shouldn't we do this every day? – but when I started thinking of what to do, I struggled. I often think that my work as a program associate for Facing History is contributing to the greater good. In fact, I think of teachers in schools worldwide as leading lives of public service. So aren't we, I thought, kind of exempt from such calls to action?
But that feels too easy, (and a bit lazy). So let me ask you, as teachers, are we living lives of public service and, if so, to what aims? What would it look like if we were to commit 67 minutes of our classroom time to public service in a way that would truly honour Mandela?
With that frame in mind, I wonder if we teach and interact in a way that promotes the respect and freedom of students? Do we as educators actively promote peace, integrity, and conscience in our students? Do we fight for equality amongst our colleagues? Do we structure our classrooms and schools to promote harmony and provide equal opportunities for all our students?
And when we speak about Mandela (if that's how we choose to honour him in our 67-minute class), how do we connect him to our students so that they see him in the monumental way that he spoke to our generation? When we speak about his legacy and his aims, do we address the inequities, the racism, the unofficial apartheids that exist in our communities, or the violence that continues today?
How will you use your 67 minutes of Nelson Mandela-inspired service?
_________________________________________________________________________