UPDATE (Feb 2015): Thank you to all those who joined our chat! While the Toronto #FHChat for Book of Negroes has ended, you can continue to be in conversation with us on how to bring this important novel and mini-series into your classroom on our blog.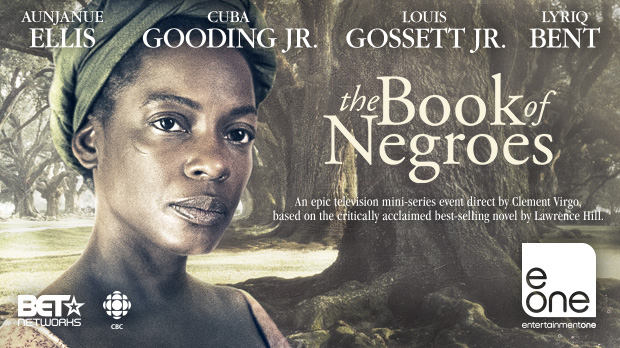 Image source: c21media.net
Beginning this Wednesday, January 7th, CBC television will air The Book of Negroes, a six-part miniseries based on Canadian author Lawrence Hill's 2007 award-winning novel about Aminata Diallo, an 11-year-old who was abducted from her village in West Africa, forced into a slave coffle, and sent across the ocean to an American plantation. The series airs Wednesdays through February 11 at 9 pm/9:30 NT.
The popular novel touches on the themes and questions that are at the heart of our work as educators, and as an organization:
What can history, in this case the history of slavery, teach us about who we are today?
What does it mean to be human in the face of great injustice?
What are the legacies of history?
How do individual choices make a difference?
What responsibilities do we have - and what actions can we take - as individuals to create a more just world, free of hatred, racism, and bigotry?
The Facing History Canada staff will be watching the miniseries each week, and we invite you to join us along with Facing History teachers between 9 and 10 PM as the show airs, and for 30 minutes following each episode, as we share resources, reactions, and questions in conversation on Twitter. We hope this will be a great opportunity to talk about the connections we are making to the series, and ways in which these themes can be brought into the classroom.
Join the Conversation!
Sign in to Twitter and search #FHChat to join us as we talk about #BookofNegroes each week from 9 - 10:30 pm EST. And be sure to follow me (@jsmnwng) and Facing History Canada Office Director @LeoraFHToronto on Twitter today!
On his website, Lawrence Hill describes his story this way:
Abducted as an 11-year-old child from her village in West Africa and forced to walk for months to the sea in a coffle—a string of slaves—Aminata Diallo is sent to live as a slave in South Carolina. But years later, she forges her way to freedom, serving the British in the Revolutionary War and registering her name in the historic "Book of Negroes."
A sweeping story that transports the reader from a tribal African village to a plantation in the southern United States, from the teeming Halifax docks to the manor houses of London, The Book of Negroes introduces one of the strongest female characters in recent Canadian fiction, one who cuts a swath through a world hostile to her colour and her sex.
In the United States, BET will also air the miniseries starting next month.
Will you tune in? Comment below!