After recently watching the movie Indiana Jones and the Last Crusade with my sons, a thought hit me. In the movie, Indiana accidently comes across the gigantic map room where Nazis are secretly planning their conquests. Leaders and rulers – and everyday citizens – throughout history (like Winston Churchill, for example) have had map rooms. My students needed one too.
As a history teacher at Waterdown District High School in Hamilton, Ontario, so much of what I teach requires an engagement with geography. For the student of history (especially for the tactile learners), a gigantic map of Europe that is present during every lesson would allow each student to chart the progression of events from the Schlieffen Plan of the early 20th century, to Hitler's conquest of Europe, to the spread and location of the concentration camp system, to the division of Europe in the Cold War.
This year my students and I built a map for our classroom – a huge one, and one that is interactive. Asking a grade 10 student to find Sudetenland on a map can be tough, but putting a puzzle piece in their hands that contains the area and asking them to build it….well that's another story!
We built our map out of three4'X8' panels. Together it is 12'X8'. It lies on the floor and has all of the areas covered by a standard 1914 map. We created an overlay for 1919, which allowed students to see how the area changed over the course of World War One. Over this we made cut outs of places like the Rhinel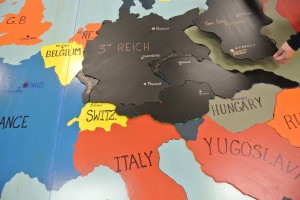 and and Sudetenland, areas that came into formation in the years following the war. We will add these as we study the years after 1936. Although the post-Versailles map is colorful, the pieces of Hitler's conquests are black. They chart the Nazi conquest of Europe one puzzle piece at a time. Czechoslovakia will be blue for example, but will have three black overlay pieces: Sudetenland, the protectorates of Bohemia and Moravia, and Slovakia. The other important tool this map can provide is to show the extensive concentration/death camp system. It always amazes young people how many camps there actually were. So students can read about life in the camps and research the history of what led to the camps, and then go to the map, walk on it, and physically make marks to the areas where the camps were located. It becomes a hands-on way for students to see how extensive the Nazi system of repression was and how it grew over time.
Interested in doing something similar in your classroom?
You will need:
Three 4' X 8' plywood/particle boards. CAUTION: plywood warps over time and may not stay aligned. Building centers often have cheaper and more warp resistant materials like particle board.
Paint. Choose a few primary colors and go to town. Use the same color for Belgium, Sweden, and Switzerland for neutrality (Yellow).
Varethane or similar varnish. Careful…consult your paint store in order to get the correct product that will not distort your colors underneath.
Strong and colorful Sharpies or markers for writing place names.
Instructions:
Lay the three 4' X 8' plywood sheets on the ground and paint a light blue base coat for the oceans.
Project an overhead of the maps you will be using. Prop the three panels up and trace the map of 1914 Europe. Now take two more panels and place them in front of middle, central, and Eastern Europe (you won't need to change the western panel as Spain, Portugal, Ireland, and the UK do not radically change). Now trace Europe 1919. Now you may use a sixth and seventh panel to trace out Hitler's conquests. (NOTE: Maps of 1914 and 1919 must be the same ratio.)
Invite students (thank you to my volunteers Abigail and Jessie) to paint the countries.
Meanwhile you (the teacher) must cut out the overlay pieces. (NOTE: the 'puzzle pieces must also be of the same ratio and be cut out so that they match up together. In order for the pieces to fit together, they must be cut out from each other and share the same border. Simply tracing and cutting out pieces on what you think is the same size will give you headaches. I learned this the hard way.)
Paint and label.
Varathane or varnish the whole thing.

We are in a world of technology and change. Yet the student engagement with a puzzle; a map on the floor that greets them every morning with the next lesson, provides continuity in learning as well as a tactile engagement in history.
---
Rob Flosman is assistant head of history at Waterdown District High School in Hamilton, Ontario. He is the recipient of a 2013 Margot Stern Strom Innovation Grant from Facing History and Ourselves. This post is part of a series on our sister blog, InterFacing, that highlights the classroom and school work of the 2013 Margot Stern Strom Innovation Grant winners. These teachers are thinking outside the box to transform schools and impact student learning and their projects are helping students worldwide to become more active, concerned citizens.