Grade Levels: 7-12
Time: 1-2 hours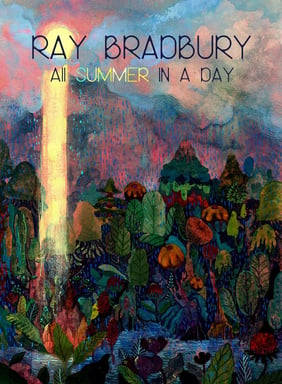 Subjects: ELA and/or Social Studies
Resources
These past few weeks have meant many changes for all of us. Some of us - myself included - are scrambling not only to create course work for our students but to ensure it is meaningful and challenging as well.
This lesson uses a short story by Ray Bradbury to look at how easy it is to 'other' and the lasting impacts this has. Students are also able to use the text to explore both the good and the worrying things they are seeing and feeling in our communities.
Beginning the Conversation Safely
Living through a time of global crisis is difficult; students need an opportunity to have a brave space to talk about their experiences and to have opportunities to both reflect and share collaboratively. I try to use FHAO's scope and sequence to ensure I can safely enter and exit tough topics with my students. As many of you know, it looks like this: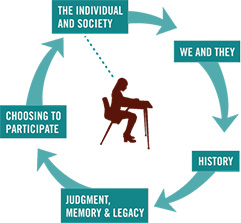 Lesson Activity
Part I: Exploring Students' Experiences
1. The Individual & Society: Using Google Meet or your classroom online discussion board, discuss with your students how the changes they have experienced over the last few weeks have affected them. Here are some prompts I used:
What is the one mundane, everyday thing you miss most?
What impact does physical distancing have on how you feel?
What are you doing to help you feel better at this time?
2. We and They: Continuing our discussion, one way people react to a crisis is to turn inward, find an other to blame and see the world as a competition between 'us' and 'them'. Other people band together and become closer as a community. We can explore students' experiences of these human behaviours by asking:
Can you share an example of people in our communities who have responded to recent events by turning inward, blaming others, or choosing competition? What examples can you share of people in our communities who have responded to recent events by banding together and growing their sense of community? Some examples students might share include:

Hoarding toilet paper, racist acts and slurs, reselling Lysol wipes…

Why do we have such divergent reactions in times of crisis? What are ways we can encourage people to take the positive and inclusive approach rather than closing doors and minds?
Thinking about our Actions: How do we make sure we work to care for those who are most vulnerable in our society? What might individuals or leaders do to support people experiencing crisis who live in other countries?
Each modern pandemic teaches us diseases do not see borders, so we need to think about safeguarding health in the same way. Create a working (i.e. unfinished) definition for the term global health as a class. Create a causal model to describe the values, causes and outcomes that lead to global health.
Some responses might include:
Global health is the health of all people regardless of their location
Value 1: the health of one is the health of all
Value 2: helping one another also helps us (e.g. sharing medical knowledge helps use slow the spread of diseases)
Value 3: we are all connected today in many ways. What happens on the other side of the globe can affect your health, finances, human rights, politics….anything and everything!
Part II: Deepening Students' Learning through Short Story Exploration
3. Story: Have students read the short story. When they are done, have them work on the character map and short story questions.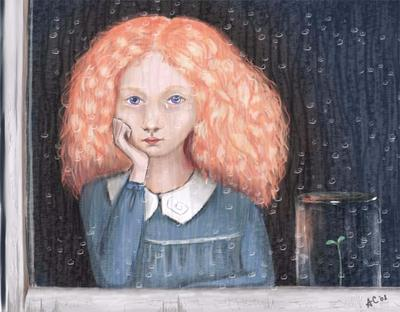 4. Judgement, Memory & Legacy: The real crisis of the story is not only the thoughtlessness and cruelty of the children but also the length of time this act will impact Margot.
Create a reflection (written prose, poem, collage, art piece, song…) which explains your view on what impact this will have on Margot's life and on her classmates
Your piece should also explain if, and how you think reconciliation can be achieved.
Share and explain your work either on a digital gallery walk ( a new twist on the classic in-class strategy) with your class or through a google meet.
5. Choosing to Participate: I often think of this as my safe exit. I need this step to make sure the heavy topics we discuss and delve into do not leave my students feeling powerless. For this lesson, themes of inclusion and community are important. Margot was powerless to stop what happened to her. Here are a few ways for your students to use their new understanding of the power of working together through a crisis and the dangers of othering:
Write a card to mail to your favourite neighbourhood local business, family doctor, or a person in your community who might need an extra bit of support at this time. Remind the students to not only give encouragement but to also share a memory they have of this person and the way they help the community.
Have students make suns or hearts for their windows which face the street so physically distanced walkers have a reminder we are all in this together (Vancouver is already starting this! Thanks for the idea!). If you have already done this take some sidewalk chalk and add some motivational quotations or art to your driveway!
Create a class picnic on google meet and invite everyone in the class to eat together. Some homes are very busy with siblings and family right now, but some of us might be home alone. A chance to just hangout and eat together could brighten all of our days!
Create a Random Acts of Kindness page on your classroom or portal for students to share quick comments or upload pictures of ways they are helping those around them (dropping off food for their neighbours, walking their sister's dog, shoveling the sidewalk before mom and/or dad can ask, reading to younger siblings, filling bird feeders on their block, etc.)