Recent Posts
A Mindful Classroom: Establishing A Safe Space for Sensitive Topics
Many of us have seen the importance of mindfulness in our classrooms and personal lives. Being present and aware are integral to truly absorbing what is around you. How mindful are we of exactly what is around us in the classroom? The physical space we build for our students is often an afterthought to efficiency and more intangible metrics of behaviour and dynamics. This year, I made it my goal to be mindful of the materials within my classroom and how well they represent the values I hope we exercise within these walls.
Read More
Topics: Art, Student Work, Indigenous History, Social and Emotional Learning, Middle School, Culturally Responsive and Relevant Pedagogy, facing history pedagogy, Treaty, Facing Canada, cross curricular teaching and learning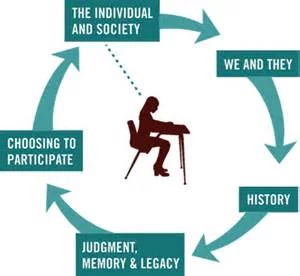 Why Cross Curricular?
We know that time with students is limited, so taking advantage of repeated themes which exist between courses to help build bridges between knowledge gaps is an effective strategy. We also know that in the hecticness of a regular school day, these great concepts are often just that- concepts- because we don't have time to take on anything more between teaching, marking, meetings, that varsity game you promised to attend, and the play you are helping find props for. Here are a few ideas with ready-to-use resources so that, if one speaks to you, you can easily use it within your classroom sooner rather than later. Remember, trying out one of these ideas on your own first and then looking to next year to work collaboratively can be a starting point, if finding an interested colleague to collaborate with proves difficult.
Read More
Topics: Culturally Responsive and Relevant Pedagogy, facing history pedagogy, Treaty, Facing Canada, cross curricular teaching and learning