Meet Deborah Brown, one of the 20 finalists in our Facing History Together Teacher Recognition Contest.
Leora, Jeannette, Gillian, and I are so fortunate to work with so many amazing educators from across Canada: Educators who inspire us through their love for teaching, their enthusiasm for learning, and most of all, through their commitment to students. A number of individuals nominated one of these amazing teachers in this year's Facing History Together Teacher Recognition Contest: Her name is Deborah Brown and we want you to meet her.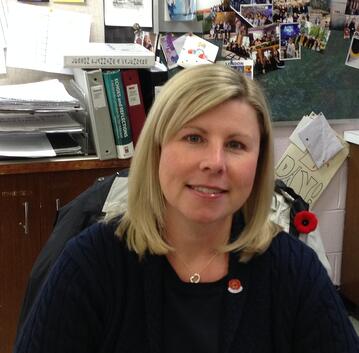 Deb has been a teacher with the Hamilton Wentworth District School Board for 18 years, and the History Department Head at Sir Allan MacNab Secondary School since 2002. Throughout this time, Deb has demonstrated her commitment to engaging students in challenging and inspiring lessons about historical and everyday choices that matter.
Deb is a dedicated and courageous classroom teacher who creates opportunities for students to engage in rigorous academic, emotional, and ethical learning. In addition to bringing survivor testimony into her history classroom, she runs Senior History trips during March breaks, such as one through "Holocaust Europe," visiting Germany, Poland, Austria, the Czech Republic, and Hungary—and death camps such as Dachau and Auschwitz—so students can learn firsthand the impact of critical moments in the history of humanity.
In 2010, the province began offering a grade 11 elective Genocide and Crimes Against Humanity course. Deb launched the course at MacNab Secondary that year. The course journeys students through the complex relationships between identity, membership in society, and human behaviour, past 20th century atrocities in Armenia, the Ukraine, and Rwanda, covers the Holocaust, and looks at the legacies of these moments. Throughout the course, students make personal connections with the past, and the choices that have mattered, so that they can recognize and actively participate in their own campaigns to fight injustices in their own lives, their communities, and the world they live in. It is this course that brought Deb to partner with Facing History in the summer of 2011 when she took a "Facing History and Ourselves: Holocaust and Human Behaviour" seminar.
"Deb's ability to connect theoretical concepts from the classroom with real-life examples had a huge influence on how I view myself as a global citizen, and largely ignited my passion for speaking out against human suffering and injustice," wrote a former students, who nominated Deb for the contest.
Outside MacNab Secondary, Deb helps students across the Hamilton Wentworth school board connect history to their own lives by organizing a student seminar with the Hamilton Jewish Federation. She also works with other area organizations to bring Holocaust education to students from public, Catholic, and private schools in her role as an educational leader.
Her own educational journey led her to Yad Vashem in Israel for a summer international educators seminar on the Holocaust in 2012 and to several Yad Vashem conferences in 2013 and 2014.
Today Deb continues to help students learn from history and recognize their own responsibilities to fight modern day injustices seen within their own lives and the world in which they live.
When asked what she would do with $5,000 to spend toward her classroom, she responded:
If fortunate enough [to receive the grant], my plan is to use the money to support my students through bringing much needed technological resources into the classroom; technology is critical in not only engaging students but also...in supporting critical literacy and higher order thinking processes as student strive to make personal connections with those who bear witness to injustices. [Technology can also] empower students to become engaged and active citizens within their own communities, making the world they live in a better place for all."
Congratulations to all of our teacher nominees. We are so lucky to work with you all. Deb, good luck in this contest—we wish you all the best!