What can we do to support students during unpredictable and challenging times? How can we create communities where people hear and see each other, treat each other with dignity and respond together as a community? In this blog post, which borrows much of its content from the Back to School with Current Events teaching idea, we will share resources and approaches for addressing current events in the classroom during the first few days of school.
As the summer of 2021 comes to a close, the news is full of complex and far-reaching events. Your students may be following - or personally impacted by - stories including the ongoing COVID-19 pandemic, mass graves found at Residential Schools, the US withdrawal from Afghanistan and the Taliban's return to power, the political and humanitarian crisis in Haiti, and climate-related disasters around Canada and the world*. Right now, reading or watching the news might fill you and your students with emotions ranging from hope for change to deep anxiety about our future. For yourself and for many students these events are not simply headlines they read about, but events that they or their family members are intimately experiencing.
Before you dive in to the Back to School with Current Events teaching idea, take the time to consider what many educators have indicated about what they need and reflect on your own needs: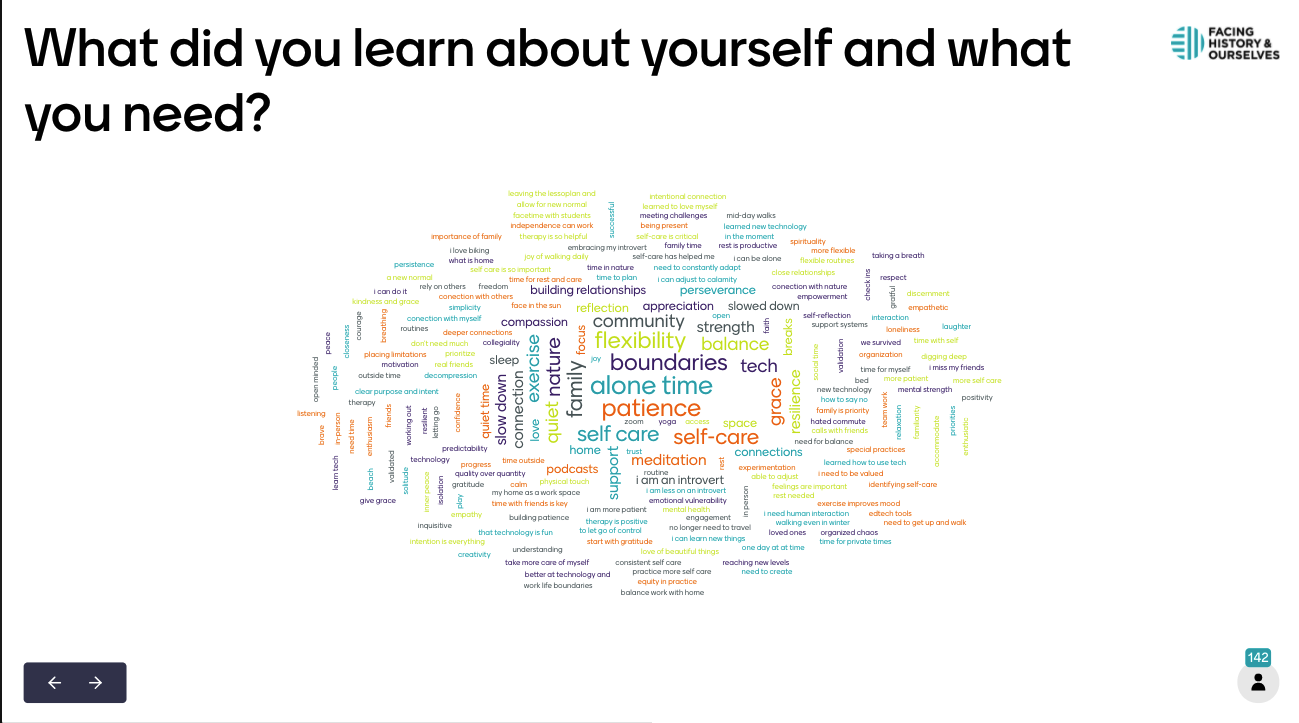 Who am I? What is impacting me?
How do I care for myself? What boundaries do I need to set for myself or those around me? When can I schedule time to practice self care?
Who are my students? What is impacting them?
How do I care for them? How do they care for each other? How do they care for themselves?

You can find these and other important reflection questions in plan ahead for the first days back.
Throughout this school year, we will be creating current events resources to help you explore key issues in the news with your students, but we recommend beginning the school year with activities that can help you build relationships with your students, learn about their interests, and foster class community. Students are more likely to engage, take risks, and support each other if they feel a sense of trust and belonging with their classmates and teacher.
The Back to School with Current Events teaching idea will help you review the events of the summer with your students, learn more about how they are processing the news, and discuss what current issues resonate most with them. The teaching idea is divided into three distinct sections for discussion and follows these guiding questions:
What news happened over the summer?

How do you feel about the summer's news?

What issues do you want to follow this fall?
We recommend using this Teaching Idea alongside the resources in our collection Back to School 2021: Building Community for Connection and Learning. This accompanying on-demand webinar walks you through the teaching toolkit and highlights some of the strategies and resources.
Centering Student Care
We encourage you to pay special attention to the ongoing need to prioritize connectedness, predictability, flexibility, and empowerment. Begin with co-creating your space this year so students feel a sense of empowerment and belonging in the classroom community. In this blog post Alexis Wright, Facing History Curriculum Developer and longtime educator, urges us to: "Ask [our students] what a shared space should look, sound, and feel like… How can collective and individual needs be met when we're all in the same place?"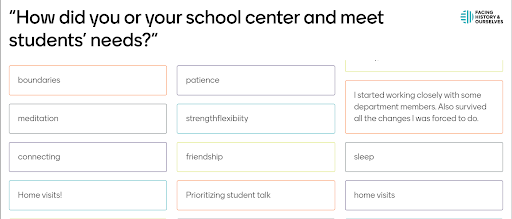 To see more educator responses, click here (note: there was a glitch and some responses and questions may not match up)
Putting Connection, Flexibility, Connectedness and Empowerment to Practice: Educator Crowd Sourced Tools for your Toolbox:
Educators were so creative while teaching during the pandemic in developing classroom communities while adhering to COVID protocols. What will you be introducing and continuing in your practice? We've heard of some amazing ideas:
Facilitating classes outdoors
Daily student

walk and talks

Office hours and more 1-1 time

Game

-based learning

Podcast

walks
Class music playlists
& so much more!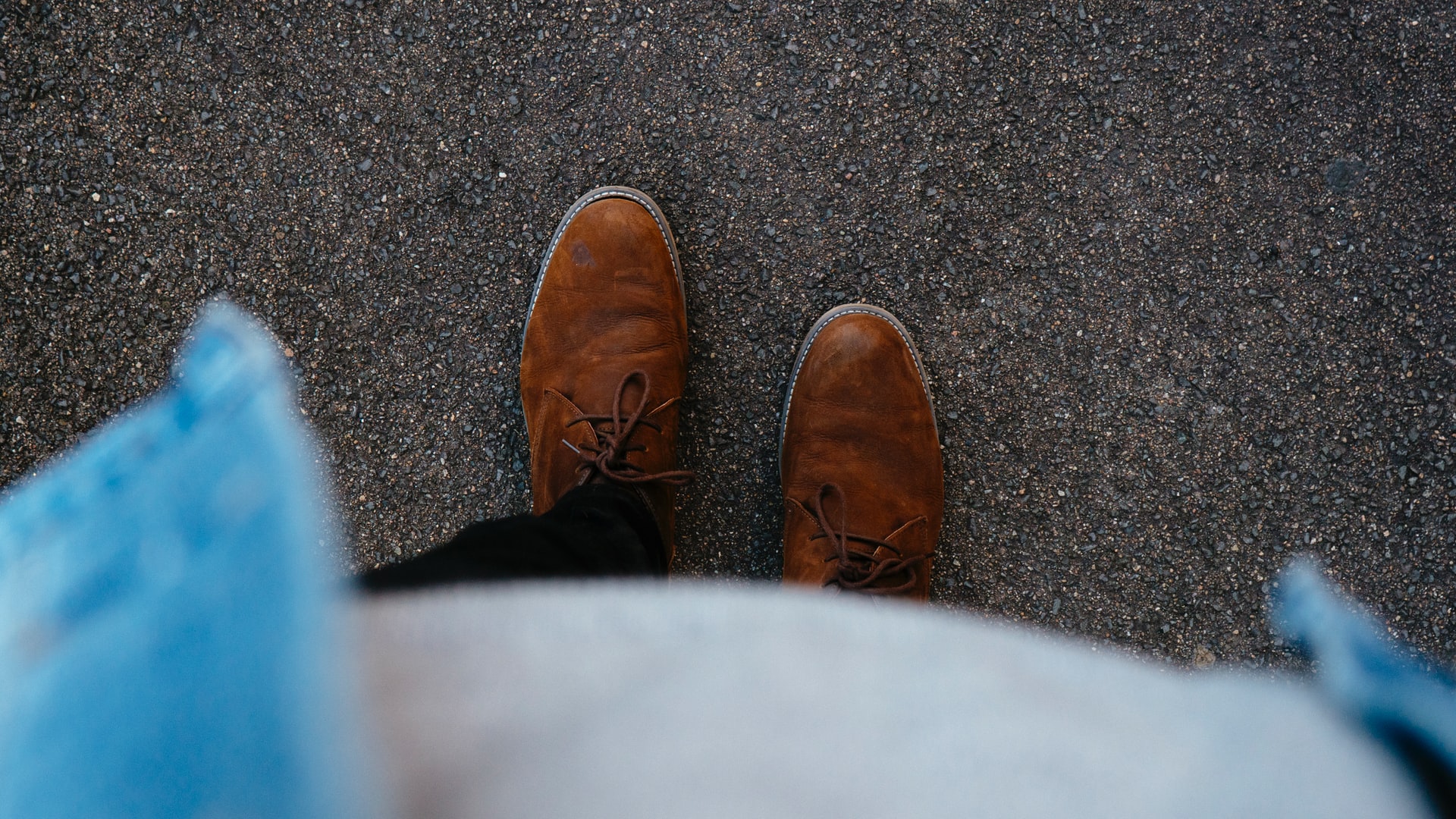 In these difficult and overwhelming moments, history can help us to find our footing. There is a lot happening right now and this is an opportunity for us to look at our own history and the choices that we, as individuals and a collective, have. This is a moment where we can take time to reflect, listen, learn and also Choose to Participate.
Centering student care this back to school means creating structures that students can feel safe in and creating space for academic learning and sharing collective joys, as well as space for mourning and grieving as a community, when possible. We look forward to supporting you throughout the year to help you foster a brave, courageous and reflective classroom community.
*This list is not intended to be exhaustive but rather to reflect a snapshot of some of the current events that have been unfolding.
Additional Current Events Resources:
Teaching With Current Events in Your Classroom

throughout the year: Use our

resources

to foster thoughtful classroom conversations and build your students' capacities for critical thinking, emotional engagement, ethical reflection, and civic agency.

Plan Ahead with Our Current Events Checklist

which includes a checklist of things to consider before you start teaching current events, including recommended news sources, teaching strategies, and media literacy tools.
Image Analysis: We recommend using the teaching strategy

See, Think, Wonder

which will help students intentionally analyze and better understand the potent images they see in the news and on social media.

Teaching Idea: Young People Respond to Climate Change

explores the reasons why young people are calling for action against climate change and strategies they can use to make a difference on this issue or other issues they care about.