The Facing History and Ourselves All-Community Read of Judith Heumann's memoirs Being Heumann and the YA adaptation Rolling Warrior allows teachers to spotlight disability rights. I picked up Rolling Warrior after learning about Judith Heumann in the documentary Crip Camp, and I quickly realized how little I knew about disability rights, especially in the Canadian context. In preparation for teaching Rolling Warrior, I scoured the internet and libraries for some student-friendly resources. Teachers may find the following resources helpful to incorporate learning about disability rights in Canada into their All-Community Read.
Start With Yourself: Teacher Background Knowledge
For teachers to develop their background knowledge about disability, Facing Canada has previously shared two helpful articles. These blog posts are excellent starting points for teachers to broaden their understanding:
One examines th

e

medical and social models of diversity

The other suggests

several book titles for high school classrooms

that help teachers integrate disability representation into their text selections
Another valuable background resource for teachers is About Canada: Disability Rights by Deborah Stienstra.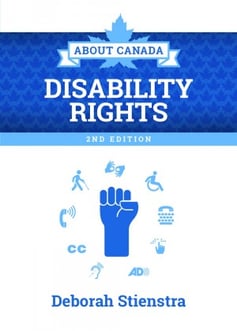 The short book draws attention to the evolution of disability rights legislation on a federal and provincial/territorial level. It outlines what still needs to happen for people with disabilities to benefit from these rights.
Teachers should also add Demystifying Disability by Emily Ladau to their reading list. Ladau compels the reader to use inclusive language and to become allies for people with disabilities by suggesting dos and don'ts. Excerpts of the text could also be adapted for use with students, specifically the section on language. The "Say This, Not This" handout is excerpted from this excellent book.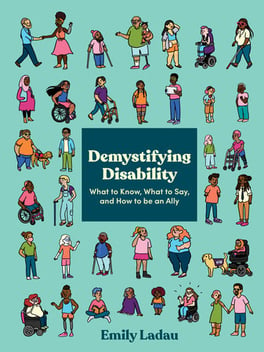 Lesson Ideas
Teachers can consider constructing a unit around the essential question, "How have disability rights evolved in Canada?" As classes read Judith Heumann's memoirs, they can engage in these activities to add Canadian context to the conversation.
Idea #1: Looking to pair the memoirs with a Canadian resource? An extremely valuable book to read alongside the memoirs is The Disability Experience: Working Toward Belonging by Hannalora Leavitt, with illustrations by Belle Wuthrich, published by Orca Books in Canada. Though the book does not exclusively focus on the Canadian context, it is one of the few books for students about disabilities written by a Canadian author that I could find. Teachers could use the Jigsaw Strategy to read sections of this excellent non-fiction book to broaden students' perspectives of people with disabilities. Students could also use the book as a source for inquiry about a disability-related topic they wish to learn more about, as there are intriguing sections on engineering, technology, and sports.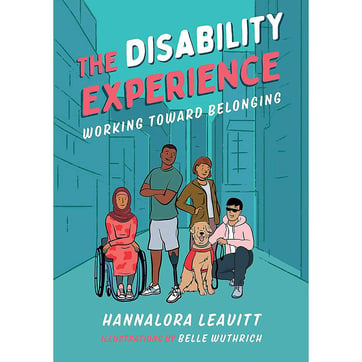 Idea #2: The Disability Justice Network of Ontario has published an infographic timeline that includes key events about disability rights in Canada and the United States. Students can connect events from the timeline with what Heumann writes about in her memoirs. They might complete a short research project on key events to create a timeline. Depending on the age of students, teachers may also teach students about eugenics as part of an exploration of the troubling moments that accompany the evolution of disability rights.
Idea #3: Petra's Poem (4:14) can be streamed through the National Film Board, which features Toronto artist Petra Tolley, who has Down syndrome. Students could discuss how the visual components of the film complement Tolley's spoken-word poem. Students can create a Starburst Identity Chart for Judith Heumann and another for Petra Tolley. They can discuss the terms both women would use to describe themselves and the contrast between how others may see them. Students could also use the medical and social models of disability to enrich discussion about the labels they include on their identity charts.
Idea #4: For younger learners, consider using the articles, comics, and infographics in the September 2022 Kayak Magazine issue highlighting disability rights in Canada. One article describes the history of schools for children with disabilities in Canada. Students could consider their school's built environment and its accessibility. A broader conversation could also be held about the attitudinal beliefs that result in the inclusion or exclusion of people with disabilities.
Idea #5: Draw students' attention to Ben Bourne Flosman's essay "You Are Unique." In his powerful article, Bourne Flosman discusses the importance of using your voice to advocate for your needs. It perfectly complements the message Heumann weaves throughout her memoirs and would be an excellent transition to a culminating project. Students could create a Found Poem from Bourne Flosman's essay.
Idea #6: As a culminating project, students could focus on the essential questions:
Who are Canada's changemakers for disability rights?

Who are Canada's Judith Heumanns?
Students could create a short infographic or Bio Poem to highlight the achievements and advocacy of various people with disabilities in Canada. These projects could be arranged as a gallery exhibit displayed prominently in the school. Students might select a changemaker from the Canadian Foundation of Physically Disabled Persons list of Hall of Fame inductees or Special Olympics list of 50 Movement Makers. Students should also be encouraged to research Canadians whose disabilities are not represented on these lists.
I hope these resources help you integrate disability rights in Canada year-round in your classes. In the comments, please add to the list and share resources that you like to use in your classroom.