On March 31st, 2019, Facing History and Ourselves in collaboration with the Art Gallery of Ontario partnered with Durham District School Board, Kawartha Pine Ridge District School Board, Peel District School Board, Toronto District School Board, Toronto Catholic District School Board and York Region District School Board to host a day long educator conference to discuss ways educators and institutional leaders have worked, and can work to decolonize and Indigenize education.
The day was planned in collaboration between Facing History and Ourselves staff, and Indigenous education leads at each of the participating boards. Educators from each of these boards began the day in a workshop and gallery tour (which you can read about in participant Debbie Donsky's blog post), followed by a talk with institutional disruptors and leaders, Niigaan Sinclair and Wanda Nanibush (the videotaped recording of their conversations can be viewed here).
The day concluded with time for educators to have breakout conversations as primary/junior classroom, intermediate/senior classroom, and school or systems administration groups. Below are just a sample of the ideas that were discussed and captured on paper.
NOTE: If you would like to facilitate a conversation with your colleagues on the recorded conversation, scroll to the bottom to find debrief questions you can use.
*A very big thank you to Andrew McConnell, Natasha Bascevan, Towana Brooks, Cheryl Payne, Jack Nigro and Antonino Giambrone for your work developing these questions and leading the discussions that took place on March 31st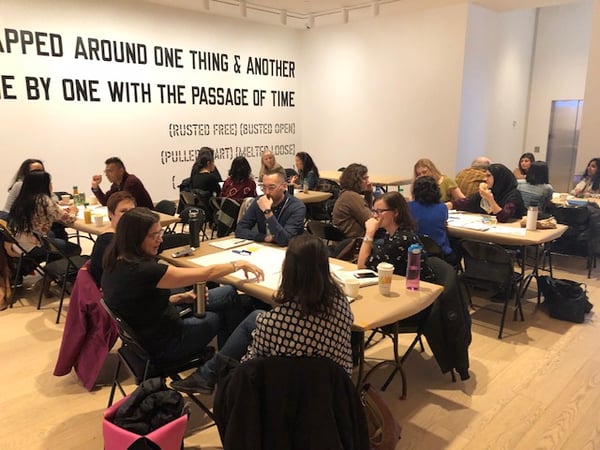 Educators from the 6 participating school boards work in small groups to discuss the implications of the day's learning, and to translate the big ideas into next steps for their own contexts. [Photo credit Jasmine Wong]
Primary/Junior Teacher Insights:
It's a responsibility and an honour to be a part of decolonizing and Indigenization
find authentic resources to use in the classroom, it's our responsibility
move beyond history; make relationships with community members
structuring learning spaces to honour indigenous knowledges
be intentional about indoor and outdoor learning, as well as fluid and connected learning rather than individual subject based teaching and learning
Begin with contemporary examples of First Nations, Metis and Inuit peoples first, to avoid relegating Indigenous peoples into the past
Primary/Junior Teacher Ideas and Resources
Introduce a word of the day in a First Nations, Metis or Inuit language using posts from language teachers on Twitter
use primary sources in our classes (guest speakers, videos, texts)
include picture books that are developmentally appropriate to introduce Indian Residential Schools: Stolen Words, Not My Girl, When I was Eight, Shi-Shi Etko (Fr/En), Shin Chi's Canoe (Fr/En),
Go to the First Nations, Metis, Inuit Education Association of Ontario for a list of resources
Natural Curiosity, a resource and professional learning for building Indigenous perspectives into children's environmental inquiry
Middle/Senior Teacher Insights:
give yourself permission to make mistakes, but ensure your intentions are centred upon and point toward justice, equity and reconciliation
feel responsible, not guilty. Guilt debilitates. Responsibility motivates.
make the invisible visible, i.e. recognize and consider plural regimes and languages
know the truth before we begin the work
teaching from a different perspective involves taking a deeper look at the curriculum and adopting a non-Eurocentric approach; however don't just remove the products of colonization, centre Indigeneity - both are processes, but not the same thing
be comfortable holding multiple paradigms
build relationships - but recognize that this takes time
Middle/Senior Teaching Resources:
Administrator Insights:
funding needs to be a priority; if it can be cut, what does that say about our commitment to reconciliation?
we need to examine our hiring practices; do we have high expectations for all incoming teachers to have capacities, sensitivity and knowledge to teach Indigenous students?
interrogate the structure of student council and ambassador programs; are they set up as part of a hierarchy structure or are student voices recognized as equal, as reflective of First Nations decision making structures?
Who do I need to support me?
community partners, especially those within our local region
friends and colleagues
grade partners
administration
colleagues at the board
What support or resources do I need?
time, knowledge, voice
increase the number of consultants available at the board
professional development for staff, particularly in Culturally Responsive and Relevant Pedagogy
students can be resources
book lists, authors, artists, musicians
Indigenous speakers
entry points for primary students
the freedom to make mistakes
field trip sites that provide authentic voices and knowledge
ministry or board mandates for Indigenous studies courses
How can I build allyship in my role?
build reciprocal, trusting relationships from the heart - and honour the time it takes to do so
provide colleagues with PD opportunities so we can learn together
be brave: acknowledge my starting point
normalize diverse ways of being
acknowledge areas of growth and historical responsibility
create space for Indigenous voices
challenge stereotypes, silencing and misinformation
avoid teaching a single narrative
examine and question hiring practices
---
Take the Learning Into Your School
If you are interested in hosting a discussion with your colleagues and surfacing insights, ideas and next steps at your next faculty or administrative meeting, we invite you to host a viewing party of Wanda Nanibush and Niigaan Sinclair's conversation with your colleagues, and to use the questions we developed in collaboration with our planning partners* as a guide (or develop your own!):
Debrief
1. What new insights have you gained about decolonizing and Indigenizing institutions?
2 What did you hear that excited and inspired you?
3. Write down 5-10 ideas and resources that you have for what could happen in your classroom, school or system to decolonize and Indigenize. Share your favourite 3 ideas with a group
Developing Commitments to Decolonizing and Indigenizing
4. As a group, what ideas stand out as something you could implement next week?
which idea do you connect with most personally?
which is most likely to have the greatest (positive) impact?
Create if/then statements to clarify what the impact of the ideas discussed might be
5. Record your personal commitment
From Commitment to Action
6. Who would I need to support me?
7. How can I build Allyship in my role?
8. What resources do I need to see this to fruition?
9. What is a reasonable timeline for me to get this done?