On March 31st, Facing History and Ourselves, in collaboration with the Art Gallery of Ontario invited University of Manitoba scholar Niigaanwewidam Sinclair and Art Gallery of Ontario Curator Wanda Nanibush to discuss institutional disruption, decolonization and Indigenization, as part of a day-long conference for educators. This event was recorded and can be viewed here.
Wanda Nanibush and Niigaan Sinclair use humour, scholarship and storytelling to share their unique insights into the decolonization and Indigenization of their institutions. This free public event was part of a full day educator conference, which you can read about in educator and participant Dr. Debbie Donsky's blog post, Balancing the Responsibility to Decolonize with the Reality of my Own Whiteness. We also captured some of the end of day discussions and ideas, and the guided questions we used for decolonizing and Indigenizing classrooms, schools and systems in a blog post here.
Wanda Nanibush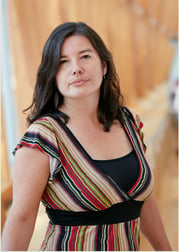 Wanda Nanibush is an Anishinaabe-kwe curator, image and word warrior, and community organizer from Beausoleil First Nation, located in Southern Ontario. Nanibush has a Master's degree in visual studies from the University of Toronto. Over the past two decades, Nanibush has served in a wide range of capacities from programmer and festival coordinator to Aboriginal arts officer and executive director. Her curatorial credits include the exhibitions Toronto: Tributes + Tributaries, 1971-1989and Rita Letendre: Fire & Light. Nanibush has published widely on the subject of Indigenous art as well as women's issues, and is currently at work on her first book, titled Violence No More: The Rise of Indigenous Women. Most recently, Wanda curated Gershon Iskowitz Prize-winning artist Rebecca Belmore's solo-exhibition titled, Rebecca Belmore: Facing the Monumental, which is currently touring.
Niigaanwewidam (Niigaan) Sinclair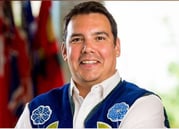 is Anishinaabe from Little Peguis, Manitoba and is an Associate Professor at the University of Manitoba. He is an award-winning writer, editor and activist who was named one of Monocle Magazine's "Canada's Top 20 Most Influential People" and one of the CBC Manitoba's "Top Forty Under Forty."
He is a regular commentator on Indigenous issues on CBC, CTV, and APTN, and his written work can be found in the pages of newspapers like the Winnipeg Free Press, The Guardian and online with CBC and CBC books: Canada Writes.
This event was presented by Facing History and Ourselves in collaboration with the Art Gallery of Ontario, and in partnership with Durham District School Board, Kawartha Pine Ridge District School Board, Peel District School Board, Toronto District School Board, Toronto Catholic District School Board and York Region District School Board. Generous funding for this event is provided in part by the Government of Canada.