This blog post is the 3rd in a multi-part series. Natalie Steele, an educator with Peel District School Board in Ontario, shares additional resources and strategies for your classroom on the topics of Black identities, humanizing stories, amplifying missing voices in the curriculum, and correcting the systemic abuses of history in schooling. This particular piece reflects on FacingToday's blog post "Black Women Educators' Roundtable on Teaching and Current Events".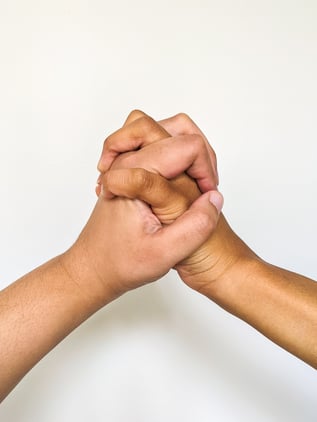 My sister and I holding hands, supporting one another as sisters and black female educators
Let me tell you a story about my very first day of school.
I went to kindergarten, showed up on time and I didn't cry when I was dropped off even though I was unsure. I met my teacher and my classmates. It was pretty uneventful until the end of the day, when all the kindergarteners were being picked up by their parents, nannies or older siblings.
Just like the other students, I waited for my older sister to pick me up so we could walk home together. I saw her walking up to the kindergarten area. She smiled and waved at me. I smiled back so she could see that I had an OK day. I was excited to go home and to tell her about it - after all I had just accomplished a milestone: my first day of school.
My sister approached the gate to pick me up, just like all the other parents, siblings and nannies had done before. I had my backpack ready and hurried to the gate so I could walk home with her. However, when I got to the gate, the teacher stopped me and wouldn't let me go with my sister. I was confused. I called out her name, reaching for her, desperate to make contact, and telling the teacher, "She is my sister." Why was this happening? I didn't understand in the moment - but later, I would: It was happening because my sister and I didn't have matching skin tones and the teacher concluded that we could not be related.
From there, I remember calling out my sister's name. This time, with a distinct tone of distress and reaching out for her, but to no avail. I was scared. What happened after? My sister, being the clever individual she is, found a teacher who knew her, explained what was happening and had that teacher vouch for her that she was my sister. Neither my words nor our matching last names were enough to confirm that we were siblings. Eventually, we did walk home together. My sister focused on comforting me and getting my mind off of what had happened. My first day of school, which started off so promising, had ended in tears and confusion.

Canada has long since been mythicized as a bastion of multiculturalism - as the country that American slaves escaped to for freedom and equality. But those are half-truths; Black people in Canada face the same levels of discrimination that our American counterparts do. The difference? Racist words and actions in Canada tend to be subversive… polite. I have experienced many instances where the words and actions of others suggest I don't 'belong' in places, particularly places of wealth, power or privilege. This subversive, subtle discrimination doesn't call attention to itself like hurling a racial slur at someone or posting signage outside of businesses that deny specific ethnic and racial groups access.
It is easy for people who do not share these experiences to be blind or unaware that they exist. This year, the Black community across North America stood up and said, Enough. We demanded that the attacks on our communities, the discrimination, and the ignorance to our plights come to an end. We are pushing for changes that carry the promise of equality actualized.

To this day, when I think about what happened, I still tear up… that's the lingering effect of trauma. My first day of school was also my first encounter with discrimination at school. That memory has stayed with me my whole life and would not be the only incident of discrimination that my sister and I would experience.
When I read Pamela Donaldson's "Black Women Educators' Roundtable on Teaching and Current Events" it struck a chord with me. I felt everything that Butler, Gadison, Williams and the 30 year old educator had to say because just like them, I have been on both sides of education.
Funny enough, my older sister is also a teacher and we work within the same school board. She teaches in the elementary panel and I in the secondary panel. You would think that after 30+ years of adventures in education as Black women, that we would see positive changes from what we experienced 33 years ago in September 1987 - and in some ways we have:
Firstly, there are more racialized educators than what we had growing up, although in my entire educational career, I never had the pleasure of having one.
Black History Month is observed in schools, something I never experienced from elementary to high school.
Also, I had the distinct privilege of teaching at a secondary school one semester that had a Black female principal and two Black female vice-principals. Let me tell you, working under that admin team for a semester felt like being around superheroes for me. The energy was incredible. When I think about that semester, I still smile even though it's been a few years since then. The radiance of that admin team still shines.

Other than that, changes in education in dismantling anti-Black racism have been slow, but right now change appears to be happening. I hope we can keep the momentum going.
As an educator, I am exhausted.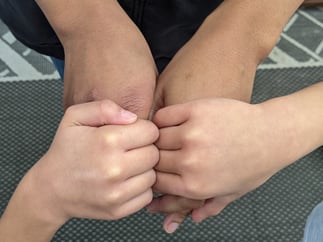 I am constantly on edge when I walk down the hall because I am not just a teacher, I am a Black teacher. I need to keep my head up even when all I want to do is collapse, because I cannot let my students see me like that. I have to be a role model and fight for rights, equality and recognition in the hopes that all this effort will finally bring the future we want; so that younger generations can exist without anti-Black racism haunting their lives. (Image: My sister and her fraternal twin daughters)
While we have progressed forward somewhat since 1987, we still have a long way to go. Despite my hope that my nieces wouldn't have to experience a day at school like my sister and I did in September 1987, my sister and her eldest daughter relived my first day of school experience. Funny enough, with a school in the same school board I attended. This time my niece was the little girl on her first day of school waiting for her mother, my sister, to pick her up. Excited to tell her mother about her day and then stopped from going home with her by her teacher.

The difference in this historical repetition?
This time, the teacher sent out someone else's child to my sister, a little boy who matched her skin tone, even though he clearly said "That lady isn't my mom" and my niece clearly and loudly stated that "that lady is my mother", their voices were unheard. Again, my sister transformed into a hero to correct the injustice placed before her to spare her daughter from trauma. Two steps forward, three steps back right? Definitely not a scene from the future we wanted.
As a Black Canadian educator I hope you will read

this post

so you know you are not alone. There aren't many of us, and we don't usually have opportunities to come together, share our struggles, support one another and celebrate our successes. But I see you and when one of us shines we all do.


As a non-Black educator I hope you will read this post and my first day of school experience and feel what my sister and I went through. I hope that feeling stays with you and makes you more mindful in what you say and do around your racialized students. I hope you heard the impact that assumptions made on the basis of skin tone can have on individuals.


It's been 33 years, but I still remember what happened like it was yesterday. Every time I do think about it, my eyes well up with tears. That experience shaped my interactions with teachers for years.