As many of you have already heard, our dear friend, mentor, and teacher Theodore (Ted) Fontaine passed away last week. Like many of you, we are deeply saddened by his passing and sending our love and support to his family. We are also immensely grateful for his friendship and for the legacy that he created with us.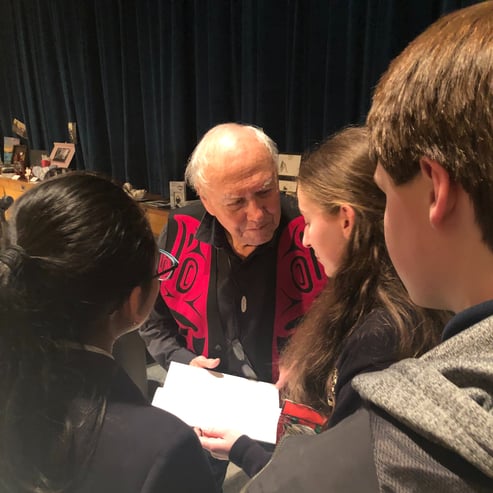 Students sharing their responses to reading Theodore's memoir Broken Circle:The Dark Legacy of Indian Residential Schools, and listening to Theodore's testimony
Photo courtesy Facing History staff
Remembering Theodore
Facing History and Ourselves is hosting a time for remembrance for teachers and students who have had the privilege of knowing Theodore. If you would like to participate in this time of remembrance, it will take place over zoom on Wednesday May 26th at 7 pm EST, please email us at canada@facinghistory.org for more information.
Thoughts and memories can be shared on this tribute wall.
Theodore's funeral took place on Wednesday May 19th and will be available to view online at richardrosin.ca on May 22.
As stated in his obituary: "Proud member and former Chief, Sagkeeng Anicinabe First Nation, Theodore (Ted) was a knowledge keeper, Elder, author, educator and public speaker. Our beloved husband, father, grandfather, uncle, nephew, and cousin was peacefully called home on Monday, May 10, 2021 by the spirits of his great-grandfather Niizhota, family members and ancestors.
His Ojibwe spirit name, Sabe, the spirit animal Sasquatch, represents honesty, and is the touchstone of the teachings by which he lived every day."
Theodore's courageous honesty transformed our staff personally, taught and guided us as an organization. At a time when many Canadians were unaware or uninterested in hearing the testimonies of survivors, and the challenging journey through trauma to victory, Ted spoke the truth. He generously brought us on our own journey of facing history and ourselves, and with kindness, humour and grace, shepherded the development of Stolen Lives: the Indigenous Peoples of Canada and the Residential Schools. He willingly shared his trauma and his daily triumph.
In his foreword for Stolen Lives: the Indigenous Peoples of Canada and the Residential Schools, he writes:
"The Truth and Reconciliation Commission calls Canadians in all walks of life to take action, with multiple recommendations specific to education of youth, newcomers to Canada, and both public and private sectors. I believe that educators are those who will make the most difference, helping generations of youth to build relationships among Indigenous and non-Indigenous Peoples based on our seven sacred teachings of knowledge, love, honour, courage, honesty, humility, and truth."
Part of Theodore's legacy is to continue sharing his story and we are so privileged to have a video recording of his testimony. His wishes, as well as his family's, is that we share it and we will be posting it in the coming weeks so that his story will continue to touch students and educators across Turtle Island.
Student Responses to Theodore's Testimony
His honesty opened listeners to confront the need to champion transformational change while guiding us with a vision for hope. Through the years, over deep conversations, family gatherings and many meals, he shared wisdom, hopes, pain and immense joy; joy in the knowledge that his experiences, his wisdom and his testimony was met with reciprocity, humility, and love by the teachers, students and community who heard him speak.
The pieces below are some of the responses teachers and students shared to his testimony and/or memoir Broken Circle, and a beautiful reminder of how Theodore inspired respect, love and hope in so many others:
To all those who shared your love and support, we know that your heartfelt reciprocity motivated Theodore to keep traveling, keep speaking and teaching. We know he would want us to continue carrying his testimony, sharing his wisdom and acting on his vision for change. Let us honour his memory and his legacy together in doing so.